The harvest has continued to reward all our hard work with trugs full of produce in August and there is no sign of it slowing up as we head into September. We are currently experiencing a glut of beans and tomatoes and enjoying every minute of it! Despite its cold start, the weather has been warm and sunny for most of the month; a joy for crops and gardeners alike. Consequently, much of our work this month has involved watering and harvesting.
This month we have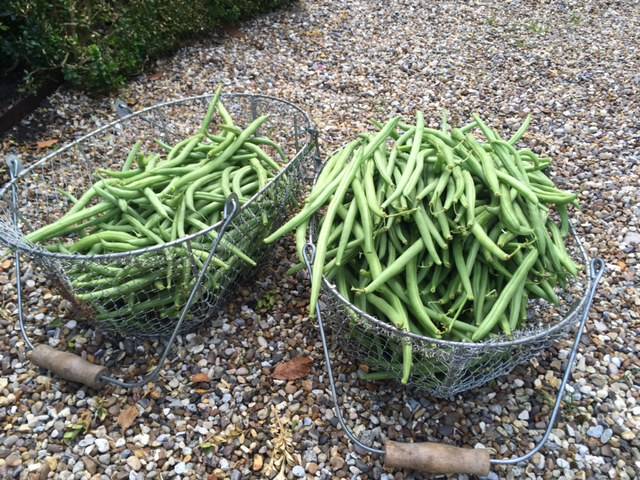 been harvesting more than we can eat, which means there has been much to do in the kitchen as well as in the garden. Our produce is shared with friends and colleagues, but we also like to store as much as possible to see us through the winter months. The beans are blanched and frozen and also used to make chutney and the excess tomatoes are made into passata and chutneys. The larder, already home to shallots, garlic and early potatoes, is filling up with jar upon jar of homemade preserves.
It has been a bumper year for soft fruit. We have bags of frozen berries in the freezer ready to make puddings and juices later on. We have also been making lots of jam. This year we have had an enviable glut of peaches from our new trees, so our shelves are home to jars of peach jam too. Our blackberries, given a new pergola support a couple of years ago which has allowed the plants to stretch out, are also treating us to huge amounts of fruits without a wasp in sight (so far…). We need a ladder to pick the fruit at the top of the support, but the big juicy fruits are worth the effort. Later in the year when the weather is chilly and summer is a distant memory, it will be such a treat to open a jar or freezer bag and enjoy the taste of summer.
Our red onion crop was also harvested this month. The bulbs are a really good size and were dug up in the middle of August and left to dry in the summer sunshine on chicken wire panels raised off the ground with bricks. They are now stored in a bag in the larder alongside the shallots and garlic.
Along with harvesting and storing, a lot of our time has been spent watering and feeding to keep our plants happy in the sunny, dry conditions. My favourite time of day to water is in the evening, but I often get out early in the morning to water before the sun hits the garden as well. Our squash and courgette plants have 2 litre plant pots sunk in the ground at their roots which we fill with water every day, and include a seaweed feed root drench once a week. So far, they are thriving and the fruits are swelling nicely.
All around the garden, plants in pots benefit from a daily water. Whilst the hose is easier, I prefer a watering can so I can add feed and know how much water the plants are getting. Its good exercise too and a lovely job for a warm summer evening.
Crops grown in the ground have fared well with occasional rainfall keeping the soil wet. When rain has been insufficient, we have turned on the soaker hoses to give them a good drink once a week. When rain is forecast, we sprinkle a feed of fish blood and bone on the soil to be washed into the roots for a nutrient boost.
Where rainfall has on the whole been welcome, it has caused some problems and once again our potato crop has succumbed to blight. Overnight the haulms of our Desiree crop turned brown and were cut off at the base and disposed of. A week later, the Cara crop suffered the same fate. The tubers are now in the soil and will be harvested in a couple of weeks. They are left to allow the skins to thicken a little before digging them up. We have suffered from blight for a few seasons now and don't really want to change the varieties we grow as they are so reliable (and delicious!). Next year we are going to try a different system of growing; planting them under weed membrane. Hopefully this will prevent any blight spores present in the soil from splashing up onto the leaves when it rains. It will be an interesting trial as it is not a system we have tried before.
August is the traditional month for hedge clipping in Stephanie's Kitchen Garden; and there is a lot of hedge to clip! We have box hedges surrounding the main beds in the Kitchen Garden as well as a parterre and flower bed edging in the wider ornamental gardens. The Kitchen Garden is also surrounded by an impressive yew hedge. And, of course, there are our standard bay and olive trees.
The task of hedge clipping usually takes us most of August, alongside the usual gardening maintenance that is always required. Earlier in the month we began with the box hedging in the Kitchen Garden and the wider ornamental gardens and moved on to the standard trees. The yew hedges have yet to be trimmed and this will be completed during September. Clipping them now will leave them neat and tidy for the winter months when they take centre stage.
We used to clip our box hedges in June, as is traditional. However, when we were unlucky enough to find box blight in our Kitchen Garden hedge, we were advised not to clip until August and this has proved to be good advice. We were very careful to collect as many of the clippings as possible, using mats under the hedges when they were cut. We were also careful to clip affected hedges on different days to unaffected areas of the garden to avoid transferring the spores on our clothes and shoes. Our shears are cleaned with metholated spirit between hedges to avoid infecting other hedges. After clipping, the box hedges were treated to a seaweed feed to help them recover. A couple of weeks on and the hedges are still looking very green and healthy.
It is always amazing to watch the transformation as each hedge is clipped. As a neat-and-tidy gardener it always gives me immense satisfaction when the job is complete; and makes the hard work all worthwhile, even the backache……..!
Like many gardeners at this time of year, I took a much-needed holiday this month, resulting in a week away from the garden. August is the perfect time for a holiday but the worst time to leave the garden as it is such a busy part of the growing year; the greenhouse needs watering daily, plants in pots need watering at least every other day in sunny weather and crops need harvesting to keep them productive.
I am lucky enough to have willing volunteers who will look after the garden in my absence in return for being able to keep everything they can harvest whilst they are here. To make it easier for them I spent a couple of days preparing the garden for my absence. Where possible, pots were moved into shady spots and grouped together near water butts or hose points. I also laid hoses from taps to areas where larger pots are positioned. The greenhouse shades were pulled down and the pots on the floor stood in trays that will catch the water and help keep the humidity high. On the staging, capillary matting has a similar effect. Everything was fed they day before I left.
Last year, the casualty of my holiday were the squash plants. When I left they were lush and healthy and upon my return they were grey and crisp. They are planted in the ground and we had rainfall so they were not watered, but they need a lot of water. They have been planted with sunken plant pots at their roots and I left specific instructions this year that the pots are filled with water every couple of days, and laid a hose to them to make the job quick and easy. I returned to lovely healthy plants that had grown dramatically in my absence.
Just before leaving for my holiday, I harvested everything that is remotely near ripe and put them in the freezer, or gave them to friends and family. Our sweet peas and sunflowers, that have been putting on an amazing display, were picked to prevent them going to seed whilst I was away and left as a welcome gift for our watering volunteers.
With all the harvesting that has been going on this month, some gaps have begun to appear in the beds around the garden. With so much activity in the garden at this time of the year, it is easy to forget that Autumn is rapidly approaching and the window of opportunity for planting out is diminishing. In the past couple of weeks, we have planted out spring cabbages, kohl rabi, kale, broccoli, rocket and chard. We have also just sown spinach and winter salads that will be ready to plant out in a few weeks. As I write this, I have just ordered autumn planting onion sets and seed garlic which will be started off in trays when they arrive and planted out in the autumn.
Here are some of the other jobs we've got planned for September in Stephanie's Kitchen Garden:
Apply nemaslug to the soil.
Feed crops regularly.
Harvest apples as they become ripe and store.
Keep watering when conditions are dry.
We're always here to offer help and support. Go to the Ask the Expert section on our website and email horticultural advisor Jo Blackwell with your queries and she'll do her best to help.
We're busy tweeting about all things Harrod Horticultural – what we're doing, special offers, gardening tips and advice and you can always use Twitter or Facebook to get in touch with us as well. With our webteam manning the Tweet desks and Facebook site, you can be sure you will get the best service we can offer.
Our 108 page catalogue is out now and packed full of gardening ideas and products to solve the problems every gardener faces, plus plenty more seasonal ideas for harvesting, storage and preserving.