Why the Southwold Collection?
STEEPED IN CENTURIES OLD HERITAGE
The handcrafted outdoor furniture collection takes its name from the popular seaside town of Southwold, located on the Suffolk Heritage Coast, a short distance from Harrod Horticultural where we design and manufacture the range in our workshops. The range is inspired by traditional blacksmith furniture which became popular at the start of the industrial revolution over 200 years ago. Many of the shapes and forms quote directly from this heritage, with our designs having as much emphasis on the comfort as the beauty.
ENGLISH DESIGN & CRAFTSMANSHIP AT ITS VERY BEST
The Southwold collection is hand made by skilled technicians. As such all the pieces are unique, and these slight differences add up to sets of furniture with real soul and charm. Furniture parts are cut, rolled, hand assembled and then precision welded to form complete pieces. They are then hot dipped in a bath of molten zinc which envelops the steel in a blanket of rust protection to make it tough and durable. Each piece is finally etched by hand to give a handsome antique appearance. The joy of these hand processes means that every piece has its own character that evolves with age and improves with the vagaries of the British climate. Colours can vary from light to dark grey, it is not a paint and is not intended to be completely uniform, which naturally adds to the appeal of these unique pieces.
CAREFULLY DESIGNED FOR ENDURING COMFORT
Where our designs differ from tradition however, is the depth of study and care we have taken to ensure that our furniture is as much comfortable as beautiful. Much thought has gone into the ergonomics of the seat designs and careful selection of material section and thickness to ensure just the right amount of 'give' is coupled with the required structural strength. The chair designs for example use a range of thicknesses of strip steel depending on the design need. The legs use 8mm thick strip for strength and rigidity whereas the seat base and back rest use 3mm slats to give comfort and spring to the seat. Cushions can be ordered with your furniture for ultimate comfort but from customer feedback we are assured that even without padding our chairs will be kind to your behind.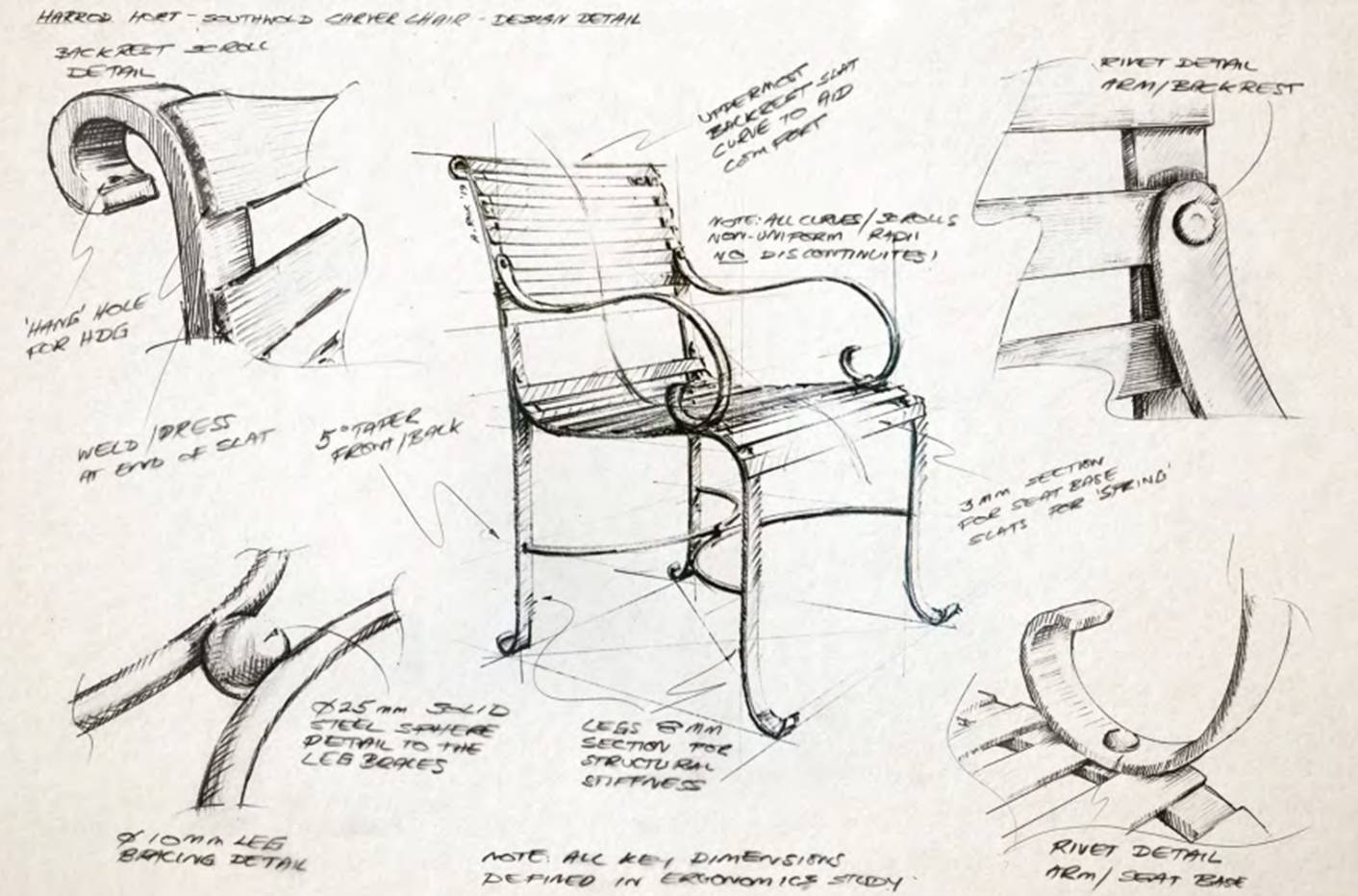 MAINTENANCE FREE – JUST ENJOY IT…
Steel furniture is the perfect material for all-weather furniture. When steel is hot dip galvanised it does not rust and one of the many advantages of the Southwold collection is that the nature of the patination ensures the surface will improve as it weathers. There is no need to cover it over winter, instead you can enjoy seeing your stylish furniture all year round.
A VERY REASSURING 25 YEAR STRUCTURAL GUARANTEE
The quality of luxury steel outdoor furniture depends entirely on the amount of material that is used in manufacture and the time and care taken to prepare it. Our testing suggests that due to the level of quality of manufacture and grades of materials used, coupled with the timeless style, the collection can truly be considered as heirloom pieces. Immovable in even the strongest winds, they will last for generations with our simple care instructions.
A SUSTAINABLE INVESTMENT – PAY ONCE, USE FOREVER
Our luxury garden furniture is made in the most sustainable way possible. Combined with the amount of material used in the furniture pieces, the way it has been manufactured, the fact it is weatherproof and that every set is unique - the collection is truly made to last. It is extremely good value for money – a one-off investment which over the course of time pays back time and again.
Learn even more in our FAQs section – or if you further questions please email furniture@harrod.uk.com or call 0333 400 6400.
"We believe that your outside space deserves to be an extension to your home, with furniture that is every bit as stylish and well-designed as any interior piece. With this collection you can do just that".

Stephanie Harrod, Harrod Horticultural
Any Questions?
Our dedicated customer service team are here to help with any queries
8.30am-5.30pm
Monday to Friday
0333 400 6400
Our customers say Excellent
4.92
out of 5 based on
1,573
Reviews

REVIEWS.io