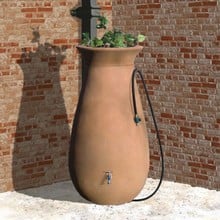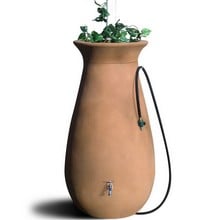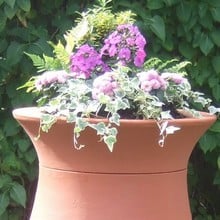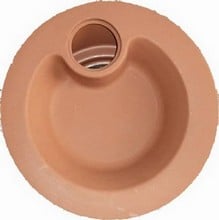 This attractive 245 litre rain water butt with built in planter combines a traditional terracotta styling with the durability of modern plastics. Able to withstand extremes of temperature and will not chip, crack or fade.
Timeless aesthetic elegance of ceramics with the durability of modern plastics
Attractive built in planter which can also be used as a bird bath
245 litre water barrel constructed in tough roto molded plastic
Measures 110cm high x 62.5cm at widest point
Will withstand extreme temperatures and will not chip or crack over time
Built in filter/screen guard which sits between the planter and water barrel
6ft garden hose, a shut off valve connector and brass tap is included
Flexible ways to connect barrel either with a diverter or taking the down pipe directly into the top of the water butt
There are 2 holes towards the top of the butt that can be used to take a raintrap and diverter.
Tap position is 10" (25.4cm) from the bottom
6th September 2019
Good quality rain butt and a competitive price.
What The Press Say
---
Grow Your Own
September 2018
GYO must-haves
Water butts may be a practical addition to your garden but they can also be attractive! This elegant Cascata Water Butt looks like a real clay pot even though it's actually plastic. The top of the butt features an integrated planter which can also be used as a bird bath if you prefer.
---
Gardens Illustrated
June 2018
Dig In Shopping
- gearing up for the warmer weather Cascata Water Butt from Harrod Horticultural
---