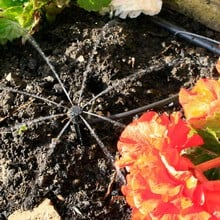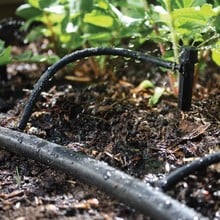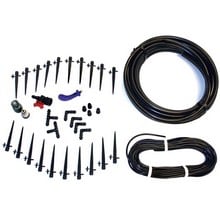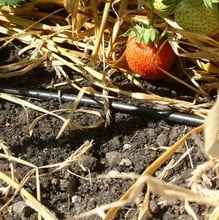 Garden Watering Kit
£4.95 P&P
Standing with your finger over the end of a garden hose and spraying your vegetable plants and ornamental borders could be a real blast from the past, thanks to the adaptability and super-efficiency of this Garden Watering Kit
Read More
3 Working
day despatch
Standing with your finger over the end of a garden hose and spraying your vegetable plants and ornamental borders could be a real blast from the past, thanks to the adaptability and super-efficiency of this Garden Watering Kit.

Ideal for watering pots and planters, garden borders and vegetable patches, the combined 35 metres of piping (10m of main distribution pipe and 25m of sprinkler supply pipe) provides the potential for watering en masse and as each of the 20 sprinklers can irrigate an area up to 2 metres in diameter (depending on water pressure), your plants certainly won't go thirsty!

The sprinklers - all of which are fully adjustable - simply push into the end of each piece of supply pipe and as all the piping can be cut to length with a pair of scissors, the whole Garden Watering Kit system can be tailored to your own particular garden situation.


Garden Watering Kit includes all neccessary connectors, fittings and fixings
Kitchen Garden Magazine 'Best Buy' May 2017
Suited for use with mains water supply
Includes 10m of water distribution pipe
25m of 5mm diameter sprinkler supply pipe provided
20 fully adjustable sprinklers
Piping is simply cut to suit your beds, borders or pots
Sprinklers can cover an area of 2m in diameter depending on local water pressure
Sprinklers just push onto end of sprinkler supply pipe
Ideal for pots, patio containers, vegetable patches or large ornamental borders
Sprinklers can be pushed down to soil level to reduce evaporation
Water delivered to soil and roots
Avoid diseases such as downy mildew by watering soil not leaves
Kit can be packed away for winter if neccessary
12th August 2016
I recently bought this and a timer - the items arrived promptly and well packaged. We have returned from our holiday, and the system seems to have worked perfectly.
4th June 2014
This product represents excellent value for money as a starter system. The generous number of watering outlets means that the main hose can be extended quite well.
What The Press Say
---
Kitchen Garden
May 2017
'Best Buy' Watering Kit
Suited for use with a mains water supply, this Garden Watering Kit comes with all necessary connectors, fittings, including 10m (32ft) of water distribution pipe and 20 fully adjustable sprinklers. KG Verdict - Quality ***** Ease of Use ***** Value for Money ***** This is a very versatile and effective kit. Lots of options for how you want to lay it out and the adjustable sprinklers allow for an even and broad spread of water.
---
Grow Your Own
July 2011
Armed only with a pair of scissors, you can cut the supply pipes of this clever system to size, ensuring that the 20 fully adjustable sprinklers are working exactly where needed to keep your crops happy. Because you are watering soil, not leaves, you can reduce the rist of downy mildew and other diseases- and the whole kit can be packed away in a garage or shed for winter if required.
---