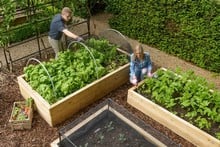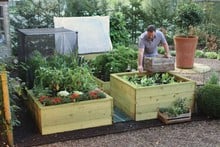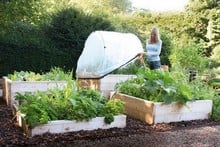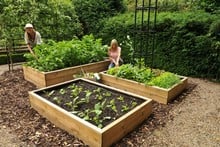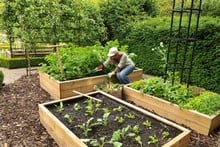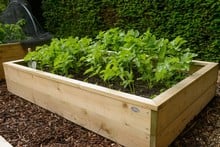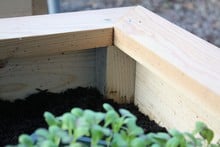 Standard Wooden Raised Beds
£9.95 P&P
Standard Wooden Raised Beds are the most popular of our raised bed range, award winning, highly acclaimed and market leading, these superb raised beds combine quality design and workmanship with value for money and performance.
Read More
3 Year
Structural
Guarantee
Exclusive Designed &
Made by us in the UK
3 Working
day despatch
Standard Wooden Raised Beds are the most popular of our raised bed range, highly acclaimed and market leading these superb raised beds combine quality design and workmanship with value for money and performance.
These quality Raised Bed Kits provide the ideal growing conditions for fruit, vegetables and herbs, perfect to 'Grow Your Own' in style and with our range of sizes and heights, you are bound to find the ideal wooden raised bed for your garden. Our Standard Raised Beds are not available in bespoke sizes, if you require a bespoke sized raised bed please see our Superior Raised Beds.
Please note: As timber is a natural product and susceptible to shrinkage/swelling, all sizes are therefore nominal +/- 5mm. Sizes apply to external dimensions.
3 year structural guarantee
Available in 5 heights (up to 76cm/30") and 10 length/width sizes.
Complete raised bed kits include pre-drilled planks, internal wooden corner fixing posts, galvanised screws and full instructions.
Optional capping (2.5cm/1" H x 7cm/2.8" W) gives top of beds an elegant finish
Standard Raised Beds made from quality 3.5cm/1.4" thick Scandinavian softwood timber planks from sustainably managed forests.
The timber is kiln dried and selected to a structural standard to ensure high quality.
Each plank depth measures 15cm in height and is planed all round for an attractive finish.
5 tier raised bed measures 76cm/30" high - suitable for wheelchair gardeners
High pressure treated with a non-toxic preservative after consultation with the country's leading organic growing body - Garden Organic - before selecting treatment
Preservative helps ensure best possible resistance to fungal decay and wood-boring insects
Raised Bed Liners available separately and are ideal when putting the beds on hard surface
Also available in a Raised Bed Corner version for tight spaces
This product is supplied as a kit for self assembly
We strongly recommend the use of an electric screwdriver with a clutch for assembly and a Pozidrive (PZ2) screwdriver or screw bit
Various Raised Bed Protection Covers are also available
Unavailable in bespoke sizes, if you need a bespoke size please see our Superior Raised Beds

Find out more about the Benefits of Growing in Raised Beds
N.B. Images show standard raised beds with capping.
17th June 2019
I've been using four of these raised beds for a year now, and I'm so pleased. They were simple enough to put together and have lasted well in the weather. Although the colour has faded a little, they are still nicely brown all over and they are as sturdy as day one. The only niggle I have is that when putting them together, some of the guidance holes weren't in the right place, and this means the capping doesnt fit flush all the way around.
Standard Raised Beds - Pricing, Planning and Planting Information
To help you price up and make the most of your raised beds - and most importantly enjoy growing in them - we've compiled a list of factors to consider when choosing, siting and filling your beds.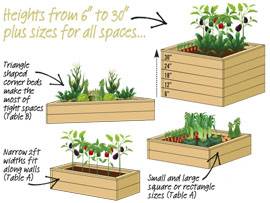 For starters, raised beds can be placed directly onto soil, lawn or paving and can be filled directly - but not exclusively, see below - with a fertile, organic rich, light & friable topsoil/compost such as the vegetable and fruit mix that we supply via our partnership with Rolawn.

Calculating the quantity of soil you will require to fill your beds is relatively simple; you just need to multiply the length of your bed by the width and the depth in metres, multiply by 1000 and the figure you arrive at is the amount of compost you'll need in litres. To make things even easier; all the Rolawn soil we supply is delivered in 1000 litre tote bags so you can tell immediately how many bags you'll need to order. There is a calculator on the Rolawn Soil page or the example below should help you with this;
2.4m long x 1.8m wide x 20cm deep = (2.4 x 1.8 x 0.2) x 1000 = 864 litres - 1 x 1000 litre tote bag required
For the best growing results, we'd advise you to fill your beds with 75% topsoil and use a bulky organic matter - such as farmyard manure or home-made compost - to make up the other 25%. For more details on filling your raised bed, please contact our Customer Services Team.
One of the benefits of a raised bed is the fact you can tailor the growing medium to the plants you are wishing to grow. For example you can use ericaceous compost for acid loving plants or you may want to grow carrots in sand.
If you want to improve the drainage of your bed you can add a layer of gravel approximately 5cm / 2" deep at the base, but note that the level of drainage will be dictated mainly by the ground that the bed is sitting on. If for example the bed is sitting on a free draining sandy soil you may want to lay down a semi-permeable ground sheet beneath the bed to reduce the drainage. We'd also advise you to use one of our specially designed Raised Bed Liners when positioning your bed on a patio, concrete or other hardstanding area. Not only will these thick, one piece, non-woven polypropylene fabric liners protect the timber frame of the bed even further but they will cut down on the leaching of sand and other fine soil particles - and they make emptying a bed much easier at the end of the season too!
We've also produced a quick guide to the depth of bed you'll need to grow favourite Kitchen Garden crops. This list is by no means definitive but if you're unsure of how many tiers to go for, the over-riding advice is to go deeper - this gives you the flexibility to grow a wider variation of vegetables in the future and also helps with crop rotation.
Here's that list;
| | | |
| --- | --- | --- |
| Vegetable Type | Depth of Bed Required | Number of Tiers |
| Carrots | 30/40cm | 2 Tier at least |
| Potatoes | 30/40cm | 2 Tier at least |
| Parsnips | 30/40cm | 2 Tier at least |
| Beans | 15/20cm | 1 Tier at least |
| Peas | 15/20cm | 1 Tier at least |
| Courgettes | 15/20cm | 1 Tier at least |
| Beetroot | 30/40cm | 2 Tier at least |
If you'd like further information on the Standard Raised Beds, or would like to discuss any feature of this product, please call our Customer Services Department on 0333 400 6400 or e-mail us at enquiries@harrod.uk.com – we'd be delighted to help!
What The Press Say
---
Grow Your Own
June 2019
GYO must-haves
Raise your game - The Harrod Horticultural standard wooden raised beds have been awarded 'Which' Best Best since 2010. Featuring a 3-year structural guarantee, they are available in five heights and 10 width/lengths and include pre-drilled planks, fixing posts and screws. Perfect for allotments, flower gardens or controlling difficult soil.
---
Gardeners World
February 2016
Space Savvy Gardens
Inspired to create a raised bed that's a cut above the rest? Here is our pick of ideas to suit a range of budgets and garden styles. Standard Wooden Raised Beds treated with a non-toxic preservative. Sizes vary with prices ranging from £28 - £364 + shipping Harrod Horticultural
---