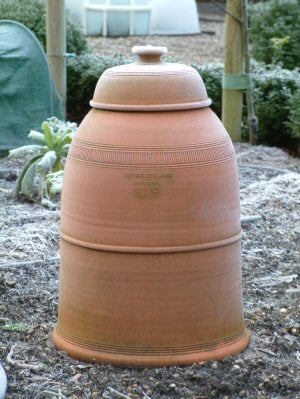 January is my least favourite month of the gardening year and I am sure I'm not alone. It feels as though it has been winter forever and the layers of cold weather clothing are becoming cumbersome and weighty. This year has been exacerbated by the lack of sunlight. Most of the month has been grey, windy and wet with only the occasional sunny crisp day to lift the mood. It would be so easy to hibernate indoors and leave the gardening jobs until fairer weather, but work done around the garden now will pay us back later in the year when spare time is more precious. By the end of the month the sun, when it appears, has a little warmth to it and there are signs of new life around the gardens.
January is the month of the mulch in Stephanie's Kitchen Garden. While the soil is clear, its is an ideal time to give it some care and attention to keep it fertile and water retentive for the growing season ahead. We began the month by spreading very well-rotted manure over our main beds and some of our raised beds. The worms will help us by taking this down into the soil, before we dig it in during February. We've also been continuing to fill the runner bean trenches dug last month with food waste from the kitchen. During the coming weeks, we will be applying lime to the beds where our brassicas will be growing this year. We garden on very acid soil and this can cause problems with clubroot in brassicas. The lime will be added as a top dressing and dug in during the late winter. Whilst we are applying top dressing in the kitchen garden, we will sprinkle some potash around our garlic plants which can help prevent rust hitting the crop later in the year.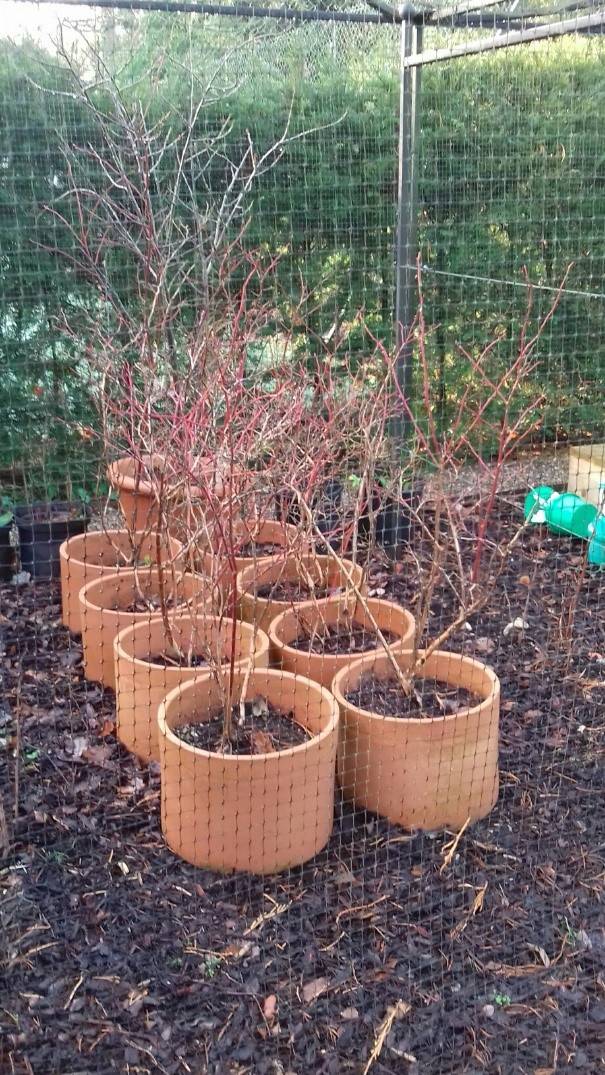 Our fruit bushes have also been given a nutritious mulch, starting with the blueberries which always reward us with a bumper crop which we are still enjoying from the freezer. Most of our blueberry plants are grown in pots standing in our fruit cage. Despite the fact that we have acid soil which blueberries like, the bushes prefer to grow in pots, and this is evident every year here as the pot grown plants always fruit better than those grown in the soil. We have removed the top inch or so of soil from each pot and topped them up again with fresh ericaceous compost. This will help maintain the acidity levels in the soil as well as adding nutrients for the growing season ahead. The pots were finished off with a layer of strulch which will help keep the soils moist through the growing season.
Our other fruit bushes, such as raspberries, blackberries, blackcurrants, whitecurrants and redcurrants have been treated to a mulch of well-rotted farmyard manure to provide them with a boost of goodness and help improve the soil they are growing in. Our rhubarb plants were also mulched with manure. It is important to mulch around rhubarb plants, rather than over them as covering the crowns can cause them to rot. A couple of our rhubarb plants are beginning to show signs of life, so after mulching we placed our two rhubarb forcers over the top of the strongest plants, taking care not to use the same plants as last year. We keep a note of which plants have been forced each year so that we can give each plant a couple of years to recover before being forced again. Forcing the rhubarb will give us an early sweet crop in the not too distant future.
Inside the greenhouse we spent some enjoyable days in early January potting up cuttings that were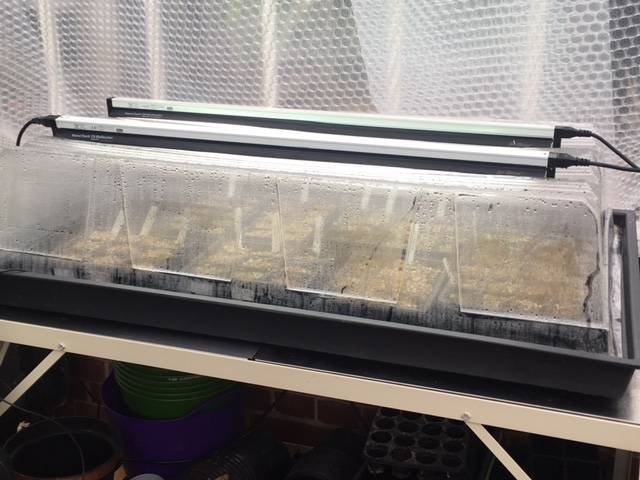 taken back in the autumn. These were taken from plants around the ornamental garden and have grown to healthy little plants in our heated propagator. After potting on they were moved to the greenhouse staging and kept warm and comfortable by our greenhouse heater and they will later be moved into the cold frame to harden off when we need the space in the greenhouse for our crops. Freeing up the heated propagator left us unable to resist the temptation to leave the seed sowing until the usual first week in February tradition and on a cold, wet January day, we spent a really enjoyable morning cleaning the propagator and filling it with tray upon tray of seeds. We owed celery, celeriac, chillies, aubergines, broccoli and brussels sprouts and some of these have already emerged from the soil after just a week. We can afford to make early sowings as the heat and light from the propagator will give them a good start and we have a warm, heated greenhouse to keep them in as they grow. It certainly gave us a good feeling to finally get our hands into the compost and get the new growing season underway.
Elsewhere in the garden, like most of the country, we have been hit by some severe stormy weather this month. Strong winds brought down a big tree and lots of branches as well as littering the garden with pine cones and needles. Clearing the debris has kept us busy and warm over several days and seen the tree surgeons coming in to remove the larger casualties.
The tidying and mulching continues outside the Kitchen Garden and we have used much of the month tidying, weeding, cutting back and mulching perennial borders with leaf mould and home-made compost. We like to get this done by the end of January as the ornamental grasses are already beginning to show green shoots at the base and leaving them until later in the winter may mean removing new growth along with the old. We have some big planted areas so this can be a time-consuming task spent on our hands and knees with hand shears and forks. A good kneeler is essential as it can be cold on the knees! This is a laborious task, made more enjoyable on sunny days and less so when it is cold and grey. But time spent clearing any weeds and giving the soil and plants some attention now will save us a lot of time and work later in the year when it is more difficult to move amongst the plants. The tidy up results in a satisfyingly neat and tidy garden.
There are signs of life all around the garden; snowdrops in flower, daffodil buds emerging from the soils, and the rhubarb producing pink promising buds and tiny leaves. Spring is just around the corner……
Here are some of the jobs we've got planned for January in Stephanie's Kitchen Garden:
Apply sulphate of potash to garlic and onion crops to prevent rust.

Chit potatoes.

Apply lime to the soil where brassicas are to be grown this year.

Start of shallot sets in seed trays ready to be planted out later.

Sow tomatoes, peppers and salads in the heated propagator.

Dig over main beds on fine days.
We're always here to offer help and support. Go to the Ask the Expert section on our website and email horticultural advisor Jo Blackwell with your queries and she'll do her best to help.
We're busy tweeting about all things Harrod Horticultural – what we're doing, special offers, gardening tips and advice and you can always use Twitter or Facebook to get in touch with us as well. With our webteam manning the Tweet desks and Facebook site, you can be sure you will get the best service we can offer.
Our 108 page catalogue is out now and packed full of gardening ideas and products to solve the problems every gardener faces, plus plenty more seasonal ideas for harvesting, storage and preserving.