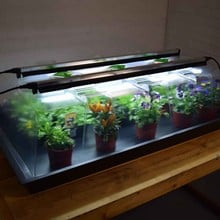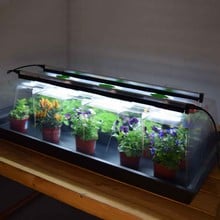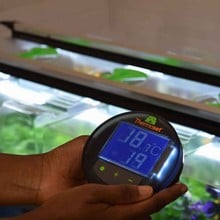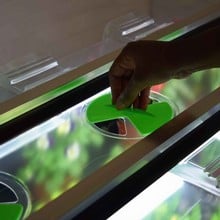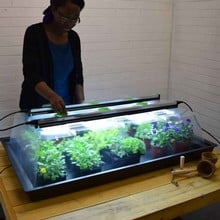 Geopod Heated Propagator with Lights
£5.95 P&P
The dual purpose Geopod Heated Propagator extends the daylight whilst propagating simultaneously with two lights that sit in specially designed grooves within the lid and emit a spectrum of light that guarantees lush green growth and prevents seedlings becoming weak.
Read More
The dual purpose Geopod Heated Propagator extends the daylight whilst propagating simultaneously with two lights that sit in specially designed grooves within the lid and emit a spectrum of light that guarantees lush green growth and prevents seedlings becoming weak.
The lights provide high output for low energy use thanks to their nanotech enhanced reflector that reflects 99.9% of previously lost light, increases lumen availability by 300% and diffuses light deeper into the plant leaves.
A high dome lid gives seedlings 23cms of height in which to grow and the large vents in the lid allow for superior humidity control so your plants won't dampen-off. Opening the vents in your Geopod propagator lid will help lower humidity quickly without having to remove the whole lid and exposing your plants to cold.
Please note: Delivery outside of UK mainland will incur an extra delivery charge, please contact Customer Services for a quote.
The heated propagator base can be set from 5°C to 30°C
Two high output low energy lights
The 23cm high dome lid gives plants plenty of growing space
Vented Lid for superior humidity control
Available in standard size only
Standard - Dimensions: L62cm x W43cm x H28cm - includes 2 x 60cm (24 Watt) lights
Requires self assembly with lights having to be secured to lid
Kitchen Garden Best Buy Propagator 2021.
Delivery Information
Please note Extra delivery charges will be made when delivering to Scottish Highlands, Offshore Scottish Islands, Orkney & Shetland Islands, Northern Ireland, Republic of Ireland, Isles of Scilly, Isle of Man and Channel Islands. Please e-mail our Customer Services Department or telephone us on 0333 400 6400 (local rate) for a quote.
20th March 2017
I have tried many times and failed miserably when it comes to getting seeds to germinate and not got leggy and eventually die. The propagator works very well, the lights sit neatly on the top and provide a great deal of light. The majority of the seeds I have planted have come up and are all strong healthy seedling, I have even started to pot up the plants. The description does state you need a power supply but there are two plugs, 1 for the lights and another for the temperature sensor, so you may need an extension cable? You do need to have some space to rest the lights on if you want to take off the plastic cover. The propagator is in a unheated green house and has taken my success rate from 0% to 90% with seeds.
22nd April 2016
I have no greenhouse, just a lean-to conservatory with little space so I was a little apprehensive about getting this propagator but I needed to grow on seedlings till there was no danger of frost. Lovely, healthy, sturdy tomato plants, lush green herbs, all ready to plant out soon. Easy to use apart from the top being a little cumbersome if it needs to be temporarily lifted out of the way. Other than that, perfect.
What The Press Say
---
Kitchen Garden
January 2021
Product Reviews - Propagators
Kitchen Garden Best Buy 2021 - This is the complete kit. The propagator itself has a capacious lid with large vents to release condensation. Heat is distributed evenly and will turn off automatically when the required temperature is reached. With 10,000 hours of life the grow lights offer excellent value and the temperature control can be set precisely. Great for germination but will also accommodate young plants as they grow taller.
---
Grow Your Own
March 2018
Tried and Tested - Sowing Kit
This propagator has practically everything a gardener could possibly want. It is thermostatically controlled which can be set to any one degree from 5 to 30 using the thermostat. It also include 2 lights which sit on top of the lid in specially designed groves I'll definitely looking forward to growing lots more seedlings and plants in this propagator over the next few seasons. 5***** Value 5***** Practicality 4**** Durability
---