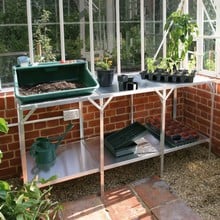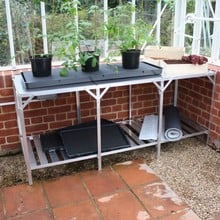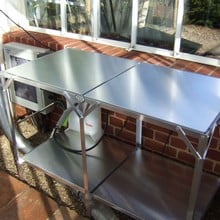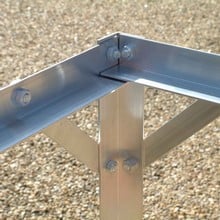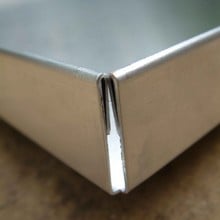 Greenhouse Staging - Two Tier
£9.95 P&P
Our Two Tier Greenhouse Staging units are manufactured in-house ensuring the highest standards and are equally at home in the amateur or professional greenhouse and are made from maintenance free aluminium.
Read More
Our Two Tier Greenhouse Staging units are manufactured in-house ensuring the highest standards of construction and design and have a maintenance free, aluminium finish. These freestanding greenhouse staging units will be equally at home in both the amateur or professional greenhouse.

Please Note - Only a limited number of sizes are now available.
The 81cm/32"" high Two Tier Greenhouse Staging units provide a very versatile greenhouse workbench
Safety edged, double-folded staging trays are supplied as standard, giving extra strength and ensuring there are no sharp edges
Staging units supplied in a natural aluminium finish
All staging has Trays on the top tier and Slats on the bottom tier
Addition of lower tier provides an area ideal for standing out plants or for storage
Sturdy aluminium frame supports the 'lift out' trays, which can be removed and placed outside the greenhouse when necessary to 'harden off' plants in early spring
Remove trays completely to grow plants through the framework such as tomatoes
Trays are all safety edged, providing a rigid surface with no sharp edges
Each tray can be used as a gravel tray or flat working area
Staging units can be turned into automatic watering benches when used in conjunction with our high quality capillary matting
Aluminium slats on the lower tier provide good air circulation when over-wintering larger plants
Each module strength tested to hold 7 x 25 litre compost bags
All the prices quoted include all the necessary trays, nuts and bolts to make a complete bench
Staging legs are L-Shaped measuring 25.4mm (1") x 25.4mm (1")
This product is supplied as a kit for self assembly
Full assembly instructions included.
Our two tier greenhouse staging has been strength tested and will take 77kg of bagged compost per module!
26th April 2019
I had this staging in my greenhouse at my old address, so knew i wanted it again when i moved house last year - it is brilliant
12th April 2019
A very decent product and good value for money. It took me a good couple of hours to assemble it on my own (says have 2 people, though one will be sitting around doing nothing for a while). You need two like spanners so you can tighten all nuts / bolts. Sturdy, & fits my particular greenhouse well - I didn't want one too wide, and this narrow one is easily wide enough for two plants. It's good that the trays on top are reversible - one way up can be used as a tray. I'd like to be able to have some slats on the top shelf, but that's not possible. Good product though.
10th July 2018
The greenhouse staging I ordered was delivered promptly and all the components were in the packages. The instructions were easy to follow and the whole thing fitted together neatly into a robust staging which will much improve the usability of my greenhouse.
1. How many slats do you get with each section?
For each module you will receive 6 slats. Please see below for quick reference;
59cm length – 6 slats
116cm length – 12 slats
173cm length – 18 slats
230cm length – 24 slats
287cm length – 30 slats
343cm length – 36 slats
2. What are the advantages of having slats rather than trays, and vice versa?
Having the 'lift out' trays allows the removal of plants for 'hardening off' outside. They are also designed to be fitted into a wide range of seed trays, for working on. The trays can be turned over to give a flat working surface, or shelf.

Slats are the preferred option for using, as a layer to hold grow bags. They allow easy watering and improve air circulation, which in turn prevents 'damping off', and disease.
3. Do you supply the staging in a colour?

We have discontinued the green staging due to lack of customer demand and now only supply in the natural aluminium finish.
4. Are the slats and trays interchangeable?

If your staging has 3 tiers, the slats/trays on the 2nd and 3rd tiers will be interchangeable, but the top/1st tier cannot be changed. The slats/trays on the top/1st tier are made slightly larger than the other tiers because they need to sit on a top support bar that runs along the inside of the staging. The 2nd and 3rd tier does not have this particular support bar.
5. What tools are required for assembly?
You will only require a 10mm spanner, or 1 per person, depending on how many persons are assembling the staging. Prior to assembly, it is advisable to check that you have received the correct parts, and see how wide your greenhouse door is, so that you know whether to erect it inside or outside the greenhouse.
6. Why is there a large gap around the outside of the trays, once they're placed onto the staging?
This gap is to make it easier to lift the trays from the staging whilst wearing gardening gloves.
7. Can I purchase extra slats/trays?
Yes, you can. However, you will need to make sure that you order the correct sizes, depending on which tier they will be positioned on. Please see below for a guide;
GRP359 – bottom slat – can only be used on the 2nd and 3rd tier
GRP364 – top tray – can only be used on the top tier
GRP369 – bottom tray – can only be used on the bottom tier
If you would like to place an order for any of the above please call our Customer Services Department on 0333 400 6400 (local rate).
8. Do you offer an assembly service?
At the moment this is not something that we can offer. However, with the new and improved instructions for assembly should make it simple. However, If you do experience problems, please email our Customer Service Team with photos and details of the problem or call 0333 400 6400 (local rate) to speak to our Customer Services Team.
9. How easy is it to clean my staging?
The greenhouse staging is very easy to clean due to the removable slats and trays. To clean the staging, simply hose down with warm water. If you would like to use a product, a greenhouse cleaner or disinfectant, such as our Concentrated Greenhouse Cleaner (GRE-454) would suffice.
10. What is the maximum weight that the staging will withstand? Will the order of slats or trays make a difference?
The strength of our greenhouse staging has been tested by our technical design department for weaknesses, by using compost bags, these being the most relevant object to use. The team found that each module will hold up to 77kg; a module is the area between each upright. Whether the staging has slats or trays, it will hold the same weight, which should be more than enough for the average gardener.
11. What is the distance of each level from the ground?
1 & 2 tier; the top shelf is approximately 81cm from the ground, the bottom shelf is 11cm from the ground and approximately 60cm from the top shelf.
3 tier; the top shelf is approximately 122cm from the ground, the middle shelf is 71cm from the ground and approximately 51cm from the top shelf, and the bottom shelf is 21cm from the ground and 50cm from the middle shelf.
12. Can I use the staging without bottom trays or slats?
The staging can be used without the bottom trays or slats, however it will need to have the horizontal supports to keep the frame taught and secure. Without these supports, it would surely collapse.
What The Press Say
---
Smallholder Magazine
March 2015
Start the season successfully
This Free-standing aluminium staging will last for many years in a greenhouse
---
Amateur Gardening Weekly 20/10/2012
20/10/2012
Greenhouse Essentials
Flat Pack aluminium staging from the likes of Harrod Horticultural are good for creating shelving and work surfaces quickly at low cost. They are durable and rust resistant, and will last for many years if maintained well.
---