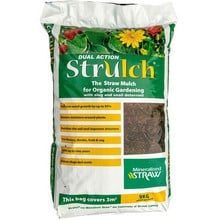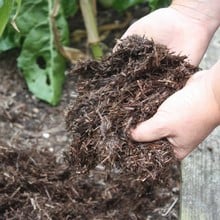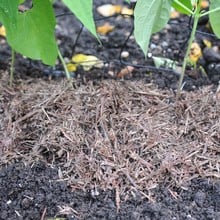 Strulch Dual Action Garden Mulch
£5.95 P&P
Strulch Dual Action Garden Mulch is a mineralized wheat straw garden mulch which reduces weed growth by up to 95%, enriches soil, helps to retain moisture, offers protection around plants and also deters slugs and snails.
Read More
PLEASE NOTE: ORDERS OF 2 BAGS OR MORE WILL COST AN EXTRA £1 PER BAG TO COVER CARRIAGE COSTS - PRICE WILL UPDATE AT BASKET. MAXIMUM 10 BAGS PER ORDER. EXEMPT FROM ALL DISCOUNTS AND PROMOTIONS.
Strulch Garden Mulch is used by famous sites such as RHS Wisley, Ryton Organic Gardens, The Eden Project and has been featured on BBC Gardeners World at Berryfields. A light and easy to use mineralized wheat straw garden mulch which reduces weed growth by up to 95%, enriches soil, helps to retain moisture, offers protection around plants and also deters slugs and snails.
Strulch has a neutral pH and can be used throughout the garden on borders, raised beds, around cultivated fruit and on vegetable plots
Reduces weed growth by up to 95%, enriches soil and its structure and helps retain moisture around plants
This mineralised straw garden mulch, lasts up to two years, spreading the cost, saving water and fertiliser, making your plants grow healthier and stronger and giving you more time to relax.
Mulching with Strulch is good gardening practice because it provides a protective covering for the soil, assists in the retention of soil moisture so that nutrients are more easily absorbed by plant roots and also protect roots from heat stress.
Being biodegradable and will break down over time, adding valuable organic matter and nutrients to enrich your soil, improve drainage and make your plants grow healthily.
Encourages earthworm activity by acting as a long term food source for surface feeding species, which makes your soil even better.
Strulch is made from renewable and local resources which do not harm the environment
The physical properties of Strulch together with the embedded minerals deters slugs and snails
Strulch has been used at the following prestigious gardens and sites RHS Wisley,The Eden Project, Ryton Organic Gardens, Helmsley Walled Garden - the gardens of the Duke and Duchess of Northumberland and The Duke and Duchess of Westminster's estate at Eaton Hall in Cheshire and Strulch has featured regularly at Berryfields on BBC Gardeners World.
Available in 9kg bags which will cover up to 3m2.
There is a maximum of 10 bags per order
Also available as Bulk Deliveries - huge savings on individual bag prices.
PLEASE NOTE: Bulk deliveries are normally made on an 18 ton vehicle. If access is not possible, our suppliers are able to arrange a delivery on either a 7.5 ton vehicle or van, but this will incur an additional charge.
5th October 2022
I have been buying strulch from this companyfor some time now and it is the best strulch you can buy.
3rd October 2022
Not ready to use it yet, but sure it's a great product.
What The Press Say
---
Grow Your Own
June 2019
Summer Survival Guide
Strulch made from wheat straw with added minerals. The long lasting mulch keeps moisture in the soil, prevents weeds from germinating and acts as a slug and snail deterrent. It has a neutral pH so can be used anywhere on the allotment and is ideal for protecting overwintering crops and bare ground. It adds nutrients and will improve the soil structure and drainage over time.
---
Gardens Illustrated
April 2015
Get Kitted Out for Spring
Featured Product - Strulch dual action mulch
---