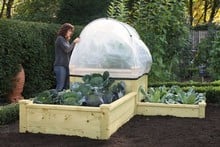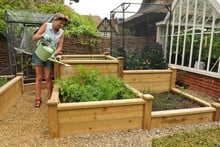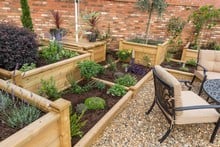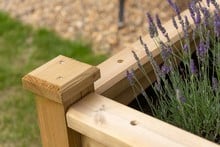 Superior Wooden Raised Beds
£14.95 P&P
The Superior Wooden Raised Bed Kits with super thick planks, decorative corner posts and robust aluminium fixing brackets are very much the flagship of our extensive wooden raised bed range.
Read More
Exclusive Designed &
Made by us in the UK
3 Working
day despatch
Complete your shopping list:
The Superior Wooden Raised Bed Kits with super thick planks, decorative corner posts and robust aluminium fixing brackets are very much the flagship of our extensive wooden raised bed range, perfect for creating an extremely attractive raised bed area for the discerning vegetable gardener.
The superior wooden raised beds use quality 20cm/8" high by 3.5cm/1.4" thick scandinavian planks, sourced from sustainably managed forests which are planed all round for a quality finish. The timber is kiln dried and selected to a structural standard to ensure high quality. The 10cm/4" square corner posts give extra strength and can link additional raised bed kits or parts together. All the wood is high pressure treated with a safe wood preserve - after consultation with Garden Organic - to ensure the best possible resistance to fungal decay and wood boring insects.
These stunning wooden raised beds, ideal for growing your own vegetables are supplied as complete kits including thick planks, corner posts, long lasting aluminium corner brackets, stainless steel screws and full instructions. Optional Capping (5cm/2" H x 10cm/4"W) is also available and provides a wide comfy seat for working and gives the top of the beds a stylish finish.
Available in 4 heights - from 20cm/8" to 81cm/32" deep - and 10 sizes, these superb raised vegetable beds should perfectly meet your needs - and if space is an issue, we've a Corner Wooden Raised Bed version available too.
The Superior Raised Beds really do offer the complete answer to raised bed gardening, but don't take our word for it, find out what the experts say about our Superior Raised Beds in the collection of press and media quotes in the "Media" tab!
Please note that as timber is a natural product and is susceptible to shrinkage/swelling, all sizes are therefore nominal +/- 5mm. Sizes apply to external dimensions.
Designed and manufactured by us in the UK
4 year structural guarantee
Superior Wooden Raised Bed Kits made of quality 3.5cm/1.4" thick by 20cm/8" deep timber pre-drilled planks
Manufactured from Scandinavian softwood from sustainably managed forests
The timber is kiln dried and selected to a structural standard to ensure high quality
Raised Bed Kits supplied with planks, corner posts, aluminium brackets, stainless steel screws and full instructions.
Optional capping (5cm/2" H x 10cm/4" W) is available to give beds a stylish finish and protects planks
10cm/4" square corner posts give extra strength
Planks, posts and capping all have surfaces planed for maximum aesthetic appeal
Wooden components high pressure treated with a non-toxic preservative (after consultation with Garden Organic)
Treatment of wood helps to ensure best possible resistance to fungal decay and wood-boring insects
Aluminium joining brackets used to connect corner posts to planks
Simple assembly with full instructions provided
With basic DIY skills planks can be cut to make almost limitless permutations
Raised Bed Liners available separately - ideal if beds are on hardstanding surface
Raised Bed Protection Covers are also available to fit the raised beds
Greatest depth (81cm/32") ideal for wheelchair users or gardeners with back problems
Additional planks and capping are available separately to create your own raised bed configuration.
This product is supplied as a kit for self assembly
We strongly recommend the use of an electric screwdriver with a clutch for assembly and a Pozidrive (PZ2) screwdriver or screw bit
Find our more about the Benefits of Growing in Raised Beds
N.B. All images show superior raised beds with capping.
Although we can offer Superior Raised Beds in bespoke sizes, we can only provide bespoke lengths and widths and are unable to offer non-standard heights. The maximum length of any plank is 2.4m, so anything over this size will need to be in a number of 'bays' to prevent bowing. Due to the time consuming nature of cutting different length planks there is significant additional cost on any bespoke design.
17th July 2019
Really like the raised bed - sturdy & well made. Also bought the capping which is a bit heavy looking for my small bed, so just use the caps for the posts.
12th July 2019
This is an excellent product, well produced and pre-drilled for easy erection - though, as the sales pitch states, it is best assembled by two people working as a coordinated team! Overall, very good value for money, especially with the capping add-on.
16th April 2019
As the instructions say make sure you put posts and planks in place before assembling. It would be easy to make a mistake and given the soft screws it would be difficult to rectify. I agree with previous reviewer the soft screws is a major concern in an otherwise good product. I have just built mine so don't know how it will make out over time. Buying the capping to sit on is essential.
Superior Raised Beds - Planning and Planting Information

To help you make the most of your raised beds - and most importantly enjoy growing in them - we've compiled a list of factors to consider when choosing, siting and filling your beds.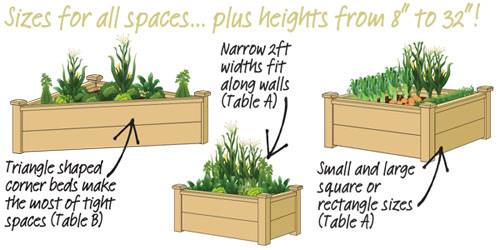 For starters, raised beds can be placed directly onto soil, lawn or paving and can be filled directly with a fertile, organic rich, light & friable topsoil/compost such as the vegetable and fruit mix that we supply via our partnership with Rolawn.

Calculating the quantity of soil you will require to fill your beds is relatively simple; you just need to multiply the length of your bed by the width and the depth in metres, multiply by 1000 and the figure you arrive at is the amount of compost you'll need in litres. To make things even easier; all the Rolawn soil we supply is delivered in 1000 litre tote bags so you can tell immediately how many bags you'll need to order. There is a calculator on the Rolawn Soil page or the example below should help you with this;
2.4m long x 1.8m wide x 20cm deep = (2.4 x 1.8 x 0.2) x 1000 = 864 litres - 1 x 1000 litre tote bag required
For the best growing results, we'd advise you to fill your beds with 75% topsoil and use a bulky organic matter - such as farmyard manure or home-made compost - to make up the other 25%. For more details on filling your raised bed, please contact our Customer Services Team.

One of the benefits of a raised bed is the fact you can tailor the growing medium to the plants you are wishing to grow. For example you can use ericaceous compost for acid loving plants or you may want to grow carrots in a predominantly sandy soil.

If you want to increase the drainage of your bed you can add a layer of gravel approximately 5cm / 2" deep at the base, but note that the level drainage will be dictated mainly by the ground that the bed is sitting on. If for example the bed is sitting on a free draining sandy soil you may want to lay down a semi-permeable ground sheet beneath the bed to reduce the drainage.

We'd also advise you to use one of our specially designed Raised Bed Liners when positioning your bed on a patio, concrete or other hardstanding area. Not only will these thick, one piece, non-woven polypropylene fabric liners protect the timber frame of the bed even further but they will cut down on the leaching of sand and other fine soil particles - and they make emptying a bed much easier at the end of the season too!

We've also produced a quick guide to the depth of bed you'll need to grow favourite Kitchen Garden crops. This list is by no means definitive but if you're unsure of how many tiers to go for, the over-riding advice is to go deeper - this gives you the flexibility to grow a wider variation of vegetables in the future and also helps with crop rotation.

Here's that list;
| | | |
| --- | --- | --- |
| Vegetable Type | Depth of Bed Required | Number of Tiers |
| Carrots | 30/40cm | 2 Tier at least |
| Potatoes | 30/40cm | 2 Tier at least |
| Parsnips | 30/40cm | 2 Tier at least |
| Beans | 15/20cm | 1 Tier at least |
| Peas | 15/20cm | 1 Tier at least |
| Courgettes | 15/20cm | 1 Tier at least |
| Beetroot | 30/40cm | 2 Tier at least |
If you'd like further information on the Superior Raised Beds, or would like to discuss any feature of this product, please call our Customer Services Department on 0333 400 6400 or e-mail us at enquiries@harrod.uk.com – we'd be delighted to help!
What The Press Say
---
Grow Your Own Magazine
1st April 2013
Pick of the Crop
Don't miss these wooden raised bed kits. They're the flagship of the extensive range at Harrod Horticultural. Each one provides an attractive sturdy, long-lasting, raised growing area. Available in four heights from 20cm to 81cm deep.
---
ITV
26th June 2012
Love Your Garden with Alan Titchmarsh
As featured on the show
---