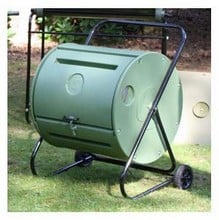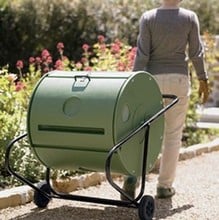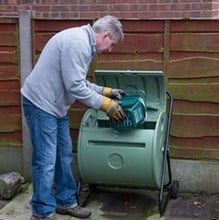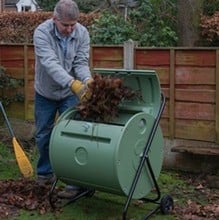 140 Litre ComposTumbler
£9.95 P&P
Size:
94 cm H x 66cm D x 79cm W
The 140 litre Compostumbler makes it easy to compost your garden and kitchen waste - organic compost can be produced in as little as 4-6 weeks in optimum conditions and the tumbler comes with a 2 year warranty
Read More
Produce your own organic compost in just 4-6 weeks from garden and household waste in the simple to use 140 litre capacity Compost Tumbler. Simply load the drum with grass clippings, leaves and even newspaper, rotate regularly and then add the finished compost to the garden to increase the soil fertility.
Holds up to 140 Litres for composting
37"/94cm High x 31"/79cm Wide x 26"/66cm deep
Drum is 7"/18cm off the ground
Drum is made from double-wall, high density polyethylene with insulating air cell
Frame is black polyester coated steel tubing, includes 2 wheels.
Aerator/Drainage units on bottom
Screened vents in the end caps for good air circulation
Indented grooves on drum allow for turning
Attractive sage green colour
Finished compost in 4-6 weeks in optimum conditions
Success with your ComposTumbler is guaranteed when you follow the easy tips and compost 'recipes' you'll find in the valuable guide "How to Make Superior Compost." It's yours FREE with your ComposTumbler!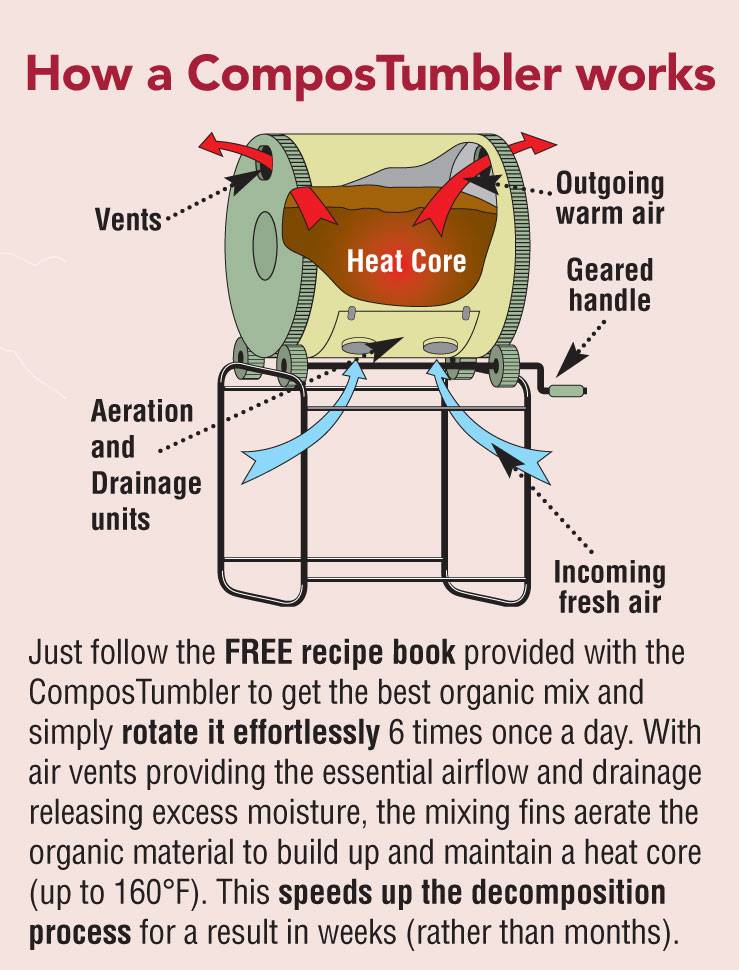 5th May 2016
solid, well made, easily wheeled around. It took about 2 hours to assemble, but the instructions are clear. The "recipe" book is helpful. I am well on my way with my first composting, which at only 2 weeks, looks like the material which is 1 year old in my other "Dalek" composter. I think it will be ready in another 2-3 weeks - amazing.
3rd September 2015
A good solid bin. Assembly required 2 people. Have only had it 2 weeks so cannot comment on composting process but it is easy to use to date.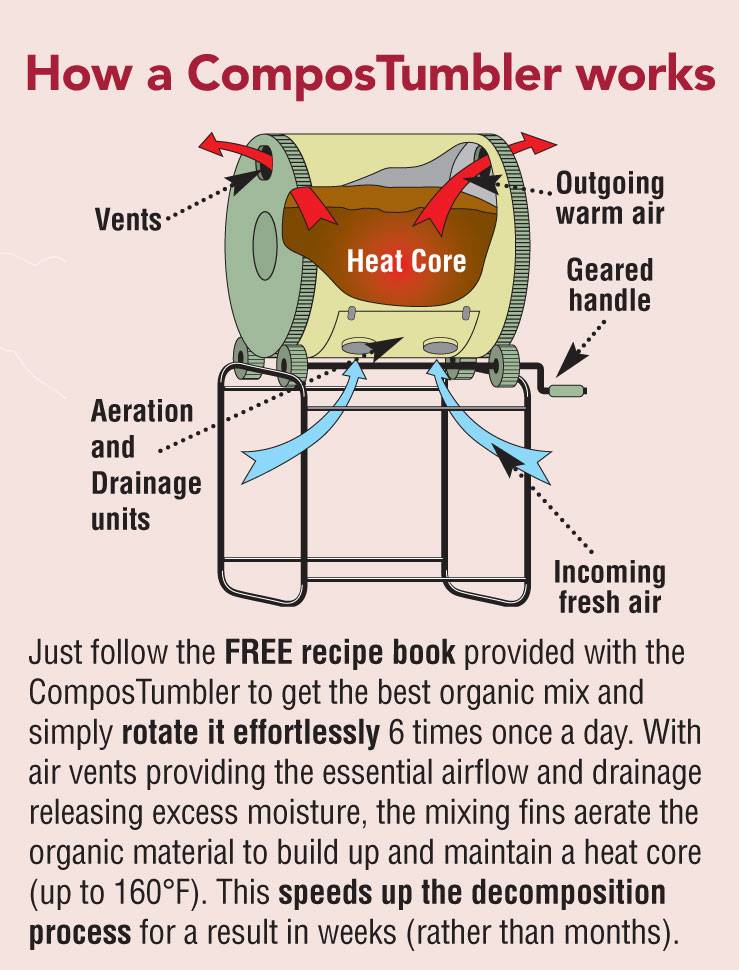 FREE booklet with every purchase of a ComposTumbler
Designed to make your understanding of the process as easy as possible and will serve as a quick reference guide for every aspect of your compost making experience.
Compost in as little as 14 Days!
The ComposTumbler uses a unique process which can make compost in as little as 14 days. You can make compost in 3 easy steps with a ComposTumbler.
Collect Organic Waste
1. Just collect a variety of organic waste materials from your yard, property and garden. Put them in your ComposTumbler, close the door, and immediately give the drum 5 turns.

Turn Your Compost
2. Give the drum 5 turns every day, once a day, for the next 13 days.

Finished Compost in 14 days!
3. On the 14th day open the door and tumble out your finished compost.
Tips:
Be sure the mix of ingredients you put in contains wastes high in nitrogen and carbon for a good balance.
What The Press Say
---
Which! Gardening
July/August 2012
Best Buys
"Regular turning can give you usable compost in as little as 6 months. This model is easy to empty and turn, gentle on your back and movable too." Test score - 70%
---