Apart from the occasional sharp frost, the winter is now a distant memory and the growing season is in full swing in Stephanie's Kitchen Garden. Everywhere you look green shoots are emerging and we are working at full speed to keep up with the sowing, pricking out and planting.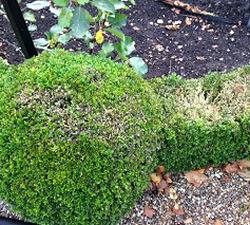 This month we finally bit the bullet and dug up our box hedge that has been hit by box blight. It is a job we had been dreading for some time, but as the day wore on and more of the hedge came out, I was hit by the sense of space that was emerging. We are still pondering over a possible replacement for the hedge, but in the meantime we are making the most of the extra planting space that has become available. Even the most devastating of garden disasters can be turned into an opportunity.
Early in the month, the weather was being very unkind and included snow and heavy rainfall. This left us with unworkable soil, impossible to plant in. Consequently, most of early March was spent in the greenhouse. We have being sowing brussel sprouts, leeks, salad leaves, rocket, lettuce, tomatoes, cucumbers, courgettes, peas, broad beans, basil and tarragon to name but a few. We've also been pricking out and potting on. Our Moneymaker and Gardener's Delight tomato plants completely outgrew the propagator and have just been planted into their final growing places in the new raised bed in the greenhouse border. And it isn't even April! That's the beauty of a heated greenhouse.
Our cold frame has been bursting at the seams for most of the month, as the wet weather stopped us from planting out our shallots and broad beans. Thankfully, the weather dried out and warmed up and we were able to get these planted out and make room. It didn't last long, however, as there were many more plants waiting to take their place. It doesn't seem to matter how big your greenhouse and cold frame are – at this time of year they are never big enough!
To put even more pressure on the amount of available growing space, this year we are hoping to brighten up the colour palette in the Kitchen Garden by adding some flowers grown for cutting. Last year our sweet peas put on such a stunning display that this year we have decided to add to them to provide more floral displays for the house. This month we have sown Zinnias, callendular and sunflowers in modules in the greenhouse and clary and acrolinium direct into the main beds to be grown alongside the vegetable crops. This is new for Stephanie's Kitchen Garden and we are excited to see how it works.
We have been making use of cloches and fleece this month to help warm up the soil and keep the worst of the weather off our raised beds. We have sowed parsnips, carrots and beetroot into raised beds. The carrots have been covered with cloches to help them germinate and the parsnips are snug under a layer of fleece. We have also covered a row of strawberries with a cloche to try and force an earlier crop. As well as this we have moved a trough of strawberry plants into the greenhouse for the same reason. Today I have seen the first flower open, so we will now begin to move the trough out of the greenhouse during the day to allow the pollinating insects to do their thing. Mouthwatering strawberries are just around the corner......
Easter has come early this year, meaning it is time to plant our early potatoes. These have been chitting for a couple of months now and are ready to go into the ground. The bed they were destined for had been covered in fleece for a few weeks to warm the soil ready for planting. Good Friday is the traditional day to plant potatoes. This dates back to the days when Bank Holidays were the only holidays working people were allowed. The long weekend gave them time to complete the job before returning to work after Easter. Here in Stephanie's Kitchen Garden, we have always followed this tradition and, despite Easter being early, we have done the same this year. The tubers have been planted in neat straight lines and the rows labelled. They have been covered with fleece to help keep them snug in the ground. This year we growing Charlotte as this is my favourite variety to eat. Our maincrops potatoes are Cara and Desiree and these will be planted in mid-April. We have also planted some tubers into a pot and this has been placed in the greenhouse to give them a headstart and hopefully produce an earlier crop.
Our runner bean trench, dug earlier in the year, has now been filled in, having been fed with organic household kitchen waste for the past few months. Next month, the growing frame will be assembled over it and the seeds sown in the greenhouse ready for planting out in May. Our other main beds have been dug over and raked to a fine tilth this month, all ready for planting out as soon as they are needed.
This month we harvested the first forced rhubarb of the season. I had been keeping a daily eye on its progress and, as soon as it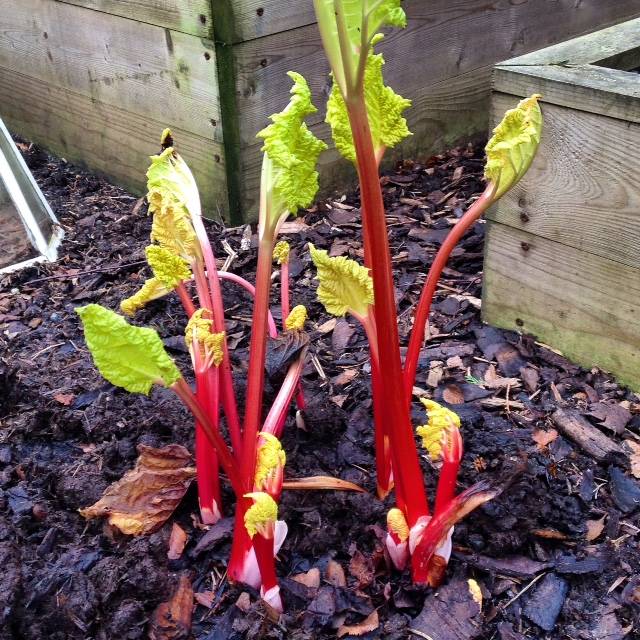 was a good size for picking, took a good handful into the house. We've also been harvesting delicious purple sprouting broccoli as well as spinach and winter salads.
Despite the very wet weather at the start of the month, towards the end of March we enjoyed fine dry spell, which meant we needed our first proper watering of the season. The British weather is always unpredictable but it is bizarre that within the space of two weeks we went from freezing in the snow, to watering in shirt sleeves in glorious sunshine. I know which I prefer!
Here are some of the jobs we've got planned for April in Stephanie's Kitchen Garden:
Apply our first Nemaslug of the year.
Plant out main crop potatoes.
Continue sowing and pricking out seeds.
Apply bird netting to strawberry plants.
Set up irrigation
We're always here to offer help and support. Go to the Ask the Expert section on our website and email Horticultural Advisor Jo Blackwell with your Kitchen Garden and she'll do her best to help.
We're busy tweeting about all things Harrod Horticultural - what we're doing, special offers, gardening tips and advice and you can always use Twitter or Facebook to get in touch with us as well. With our webteam manning the Tweet desks and Facebook site, you can be sure you will get the best service we can offer.
Our 108 page Spring catalogue is out now and is packed full of gardening ideas and products to solve the problems every gardener faces, plus plenty more seasonal ideas for harvesting, storage and preserving solutions.
Happy gardening!