April has flown by in a blur of activity in Stephanie's Kitchen Garden. As always there is much to be getting on with at this time of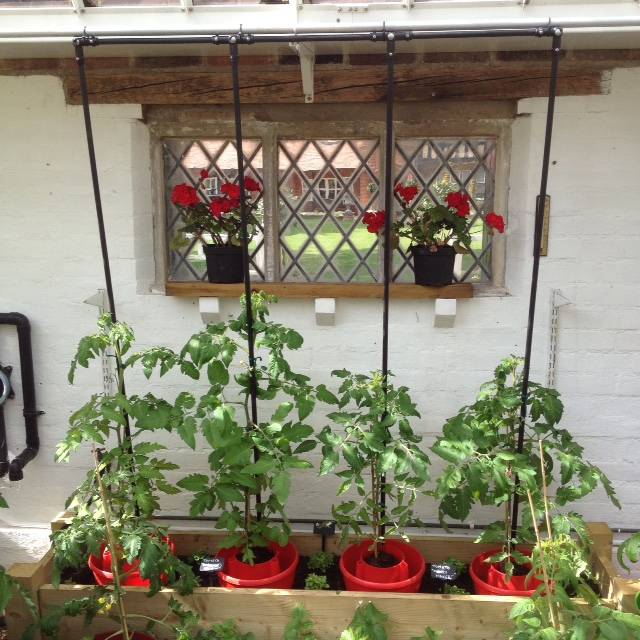 year and the typical April weather of sunshine and showers has encouraged green shoots all around the garden. As I write this, we have just experienced two days of wintry showers and freezing winds which proves that it isn't time to cast the clout just yet.
Having said that, at the beginning of the month I was twitching to take the bubble wrap down from the greenhouse to let more light in. I held off until the middle of the month, when I could no longer resist, and took it down. Thankfully, our greenhouse heater is keeping our resident crops comfortably warm. We gave the windows a thorough clean and promptly ordered some new staging! Ours has been in situ for some considerable time now and, although still perfectly sturdy and serviceable, it was starting to look a little tired. As soon as the new staging was delivered, we had it out of the box and assembled ready to install. It looks amazing and Jo is particularly pleased with her new potting bench.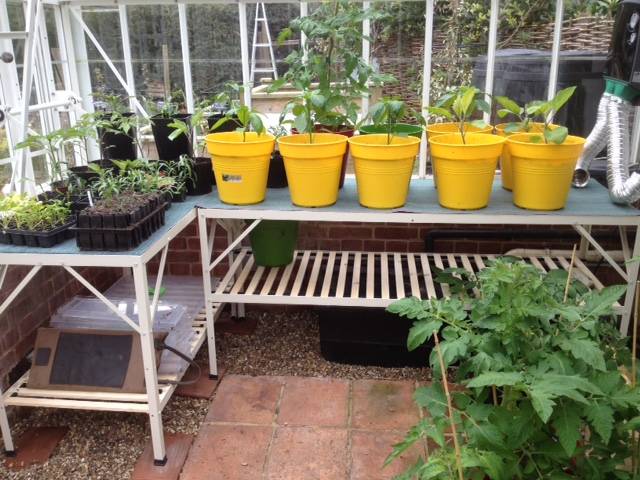 The greenhouse and its new staging are awash with plants. Our tomatoes are going mad – so much so that we have taken down our shelves and put a slot and lock frame in place for them to be trained up. Our peppers, aubergines and chillies are now in their final pots and other crops are not far behind. Because the weather is still a little chilly outside, we are housing all of our plants in the greenhouse and cold frame and it is getting a little crowded! Only a couple of weeks to go and it will be warm enough for the big plant out. This month we have been growing sweetcorn, rocket, lettuce, courgettes, squash, peas, kale, broccoli, basil, parsley, chard, spinach, leeks, runner beans and climbing French beans. Phew!
Our tomato plants have now begun flowering in the greenhouse , so we have been treating them to a foliar feed wth epsom salts to encourage healthy foilage, and also begun feeding them with liquid tomato feed. The tomato feed will continue each week throughout the growing season.
Outside, the leaves on our apple trees are now beginning to unfurl. This means it is time to begin treating them to a weekly spray of epsom salts until the leaves are fully developed. This will encourage healthy foliage which should be less susceptable to disease. This feed also benefits roses and helps them to resist black spot, so we will also be spraying the rose plants in the surrounding grounds.
We have been planting some crops outside this month. Earlier in the month we planted our second sowing of broad beans alongside the already established plants. I like a lot of broad beans and two sowings will spread the harvest over a longer period of time. We have also planted peas to be trained up an obelisk in a raised bed and these are starting to entwine themselves around the supports. Currently they are surrounded by a guard of chicken wire to prevent any hungry birds from snacking on them. Our maincrop potatoes have been planted and our early potatoes, planted right at the end of March, have peeped through the soil. These have been earthed up to prevent them getting nipped by any late frosts.
Also this month, we have planted out our brussel sprouts. These were sown from seed in the greenhouse back at the end of February and transferred to our cold frame where they have been growing on. The ground had already been dug over and had farmyard manure adding to it along with lime to keep the soil PH at the right level. We added cabbage collars to each of the plants before the vegetable cage was placed over them to keep them safe for the season.
We have also been planting out salads and rocket into the manger near the kitchen door. These are currently covered with cloches until the weather is a little warmer at night. Hardier herbs such as mint, parsley, thyme and chives have been potted up and also put near the kitchen door where they are near and handy.
Back in the greenhouse, our strawberry plants that were taken into the greenhouse in March have begun to flower so we have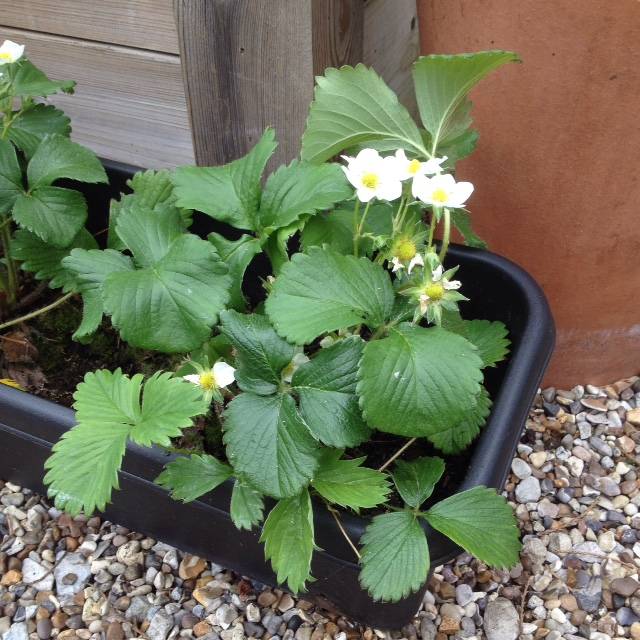 been standing them outside in the garden during the day to encourage the pollinating insects to do their work. Just in case our buzzing friends are still feeling a little sleepy, Jo has been using a small paintbrush to undertake some hand pollination as a fail safe. Small fruits are now beginning to form promising an early crop. Last year our strawberry crop grown in a raised bed outside was completely destroyed by mice. We didn't get to taste a single fruit. Some of these plants are now beginning to form flower buds so we are getting our defences ready. They will be netted against the birds and then surrounded by chicken wire. Traps will placed around the beds to try and catch the mice before they get to the strawberries. Recently we have been visited in the garden by a cat which appears to live on a neighbouring property. We are hoping he will prove to be useful in the control of any resident rodents!
Mice aren't the only pest that have started to appear in the garden. Now that the soil is warm enough for crops to begin growing, its also warm enough for our slimy enemies to start putting in an appearance. Early in the month, we applied our first dose of nemaslug to all of our beds. This will be continued every six weeks until the winter.
Here are some of the jobs we've got planned for May in Stephanie's Kitchen Garden:
Plant out young plants as soon as the risk of frost has passed.
Pinch out side shoots on tomatoes.
Plant outside tomatoes in growhouses when all risk of frost has gone.
Continue sowing and pricking out seeds.
Apply bird netting to strawberry plants.
Set up irrigation.
Continue weekly feed of all crops.
We're always here to offer help and support. Go to the Ask the Expert section on our website and email Horticultural Advisor Jo Blackwell with your Kitchen Garden and she'll do her best to help.
We're busy tweeting about all things Harrod Horticultural - what we're doing, special offers, gardening tips and advice and you can always use Twitter or Facebook to get in touch with us as well. With our webteam manning the Tweet desks and Facebook site, you can be sure you will get the best service we can offer.
Our 108 page Spring catalogue is out now and is packed full of gardening ideas and products to solve the problems every gardener faces, plus plenty more seasonal ideas for harvesting, storage and preserving solutions.
Happy gardening!