What a difference a year makes. Last year in March we still had snow and freezing temperatures and spring was nowhere in sight. This year, the garden is enjoying warm, sunny days and the crops are much further forward. We are harvesting broccoli, rhubarb, chard, spinach and kale and our broad beans are flowering and covered in bees. Our parsnip seedlings are already appearing through the soil.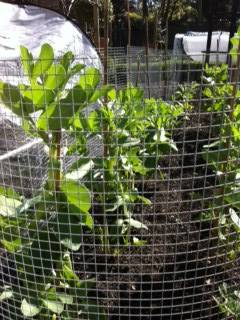 This month we have removed the protective cloche from our broad beans and put up a chicken wire fence around them to protect them from pigeons and mice. We've also staked them as they are already 12 inches high.
We've potted on our tomato, aubergine, broccoli, and brussel sprout seedlings and sowed another batch in the propagator for successional cropping later on. Our celery and celeriac seedlings are growing away happily and Jo has sown some chilli seeds as well. Outside she has sown leeks seeds in a raised bed. This will act as a seed bed to grow the leeks on until they are ready to be transplanted into the ground later in the season.
We have direct sown some pea seeds into the soil outside this month. We have not direct sown peas in Stephanie's Kitchen Garden before as we have a problem with mice eating the seeds before they have a chance to germinate. Previously we have grown them in rootrainers and planted them out, but last year nature seemed to foil our efforts. This year we are trying a new method of sowing the pea seeds direct into the soil through a sheet of chicken wire laid on top of the soil and secured with ground pegs. This has been covered with a cloche and the peas are already up and growing. Once they are a good size the cloche will be removed and replaced with a pea support surrounded by a chicken wire fence. Hopefully we'll be harvesting a good crop this year!
We have also planted more asparagus crowns this month to increase the size of our crop. In Stephanie's Kitchen Garden, our soil is acidic and asparagus prefers a neutral soil, so we grow it in raised beds and lime the soil in early spring. The asparagus has also had a feed of blood, fish and bone to give it a boost. Our existing crowns are now in their third year and we are looking forward to our first harvest.
Our early potatoes have been planted out in neat rows. Jo prefers to plant potatoes with a trowel rather than a spade. A sunny spring day, a radio, a comfortable kneeler, a garden line and a trowel and she was all set for one of her favourite jobs of the year. The crop has been covered with fleece as an added protection against any late frosts.
During March we have been getting an early start on our pest control. The warm spring weather hasn't only given us an early start for our crops – the pests are benefitting too. We've already seen our first cabbage white butterfly!
We have checked the butterfly netting and insect mesh protecting our spring cabbages and calabrese. We have also added a new framesaver net to our vegetable cage ready for this year's crops to be safely planted out. The strawberry bed has been covered in bird netting too.
The temperatures are warm enough for slugs to come out of hibernation, so this month Jo has put the first application of Nemaslug onto our soil. This will be repeated at six weekly intervals until the first frosts.
The leaves have begun to unfurl on our pear and apple trees, so we have begun a weekly foliar feed with Epsom salts this month. This will help to promote strong, healthy leaves which should help prevent attacks from pests and diseases. The weekly feeds will continue until the leaves are completely formed.
Here are some of the jobs we've got planned for April in Stephanie's Kitchen Garden:
- Divide mint plants to kee them invigorated.
- Plant maincrop potatoes.
- Continue weekly foliar feed with epsom salts for fruit trees.
- Remove bubble wrap from the greenhouse.
- Sowing in the greenhouse - Squash, sweetcorn, courgettes, runner beans, french beans.
- Sowing outside - Beetroot, carrots, chard, turnip, peas, spinach, spring onions.
We're always here to offer advice and support. Go to the Ask the Expert section on the website and Email Horticultural Advisor Jo Blackwell with your Kitchen Garden queries or Pest Control expert Gavin Hatt and they'll do their best to help!
We're busy tweeting about all things Harrod Horticultural - what we're doing, special offers, gardening tips and advice and you can always use Twitter or Facebook to get in touch with us as well. With our webteam manning the Tweet decks and Facebook site, you can be sure you'll get the best service we can offer!
Our 116-page 2014 catalogue is out now and it's packed full of gardening ideas, products and solutions to the problems every gardener faces, plus plenty more seasonal ideas to help get the harvest in and keep it fresh!


Happy gardening!