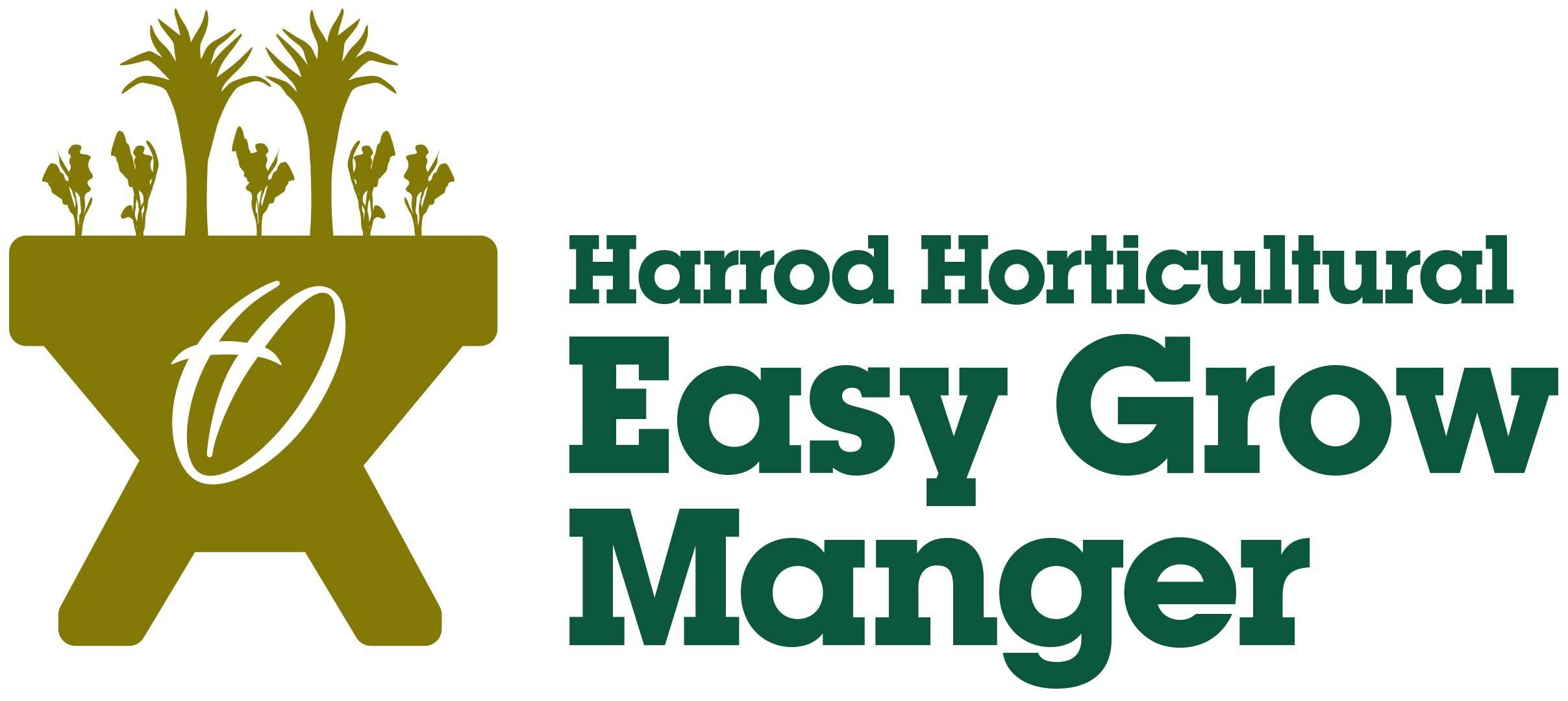 Getting the most from these Maxi Manger Trough Planters isn't difficult and even though quality raised beds and planters are - pardon the pun - a huge growth area as gardeners realise the benefits of growing their own vegetables, fruit, salad and herbs in waist height comfort with little or no maintenance and free from certain pests, we're still rather pleased with the stylish Maxi Manger Plant trough we've both researched and designed.

Standing 79cm off the ground, 83cm wide and available in 3 lengths (4ft/1.2m, 6ft/1.8m & 8ft/2.4m - image shows 4ft trough planter) these wooden troughs provide growing options that single level raised beds can't dream of offering. Plant your salads and shallow rooting crops round the perimeter of the vegetable trough and let the plants (including carrots and parsnips) which require extra depth really stretch their legs in the centre, where 45cm of soil is available.
Manufactured from Scandinavian softwood sourced from sustainably managed forests, the planed timber used in the planters is 2cm thick and has been pressure treated using a safe preserve. The timber is kiln dried and selected to a structural standard to ensure high quality
These stylish wooden planters are also proving popular as flower troughs, ideal for creating a stunning floral display in your garden, perfect on the patio for a splash of summer colour.
Carrying a 3 year structural guarantee, you can be sure the Maxi Manger Raised Planter won't let you down and your patio will be grateful for the thick, fitted, non-woven polypropylene fabric liner which aids water retention, contains fine sand and compost and helps prevent leaching.

We've also added a smaller version of the Maxi Manger Trough Planter - the Mini Manger which is also available in 3 lengths and are ideal for the patio or courtyard.
And you can turn your Maxi Manger Raised Planter into the ultimate patio vegetable growing system with the new Hoops and Cover Kits - designed exclusively for all lengths of Maxi Manger!
Manger Raised Planter manufactured from 2cm thick planed timber
Made from Scandinavian softwood sourced from sustainably managed forests.

Timber is kiln dried and selected to a structural standard to ensure high quality

Stands 79cm High
Measures 83cm wide
Available in 3 sizes - 4ft/1.2m, 6ft/1.8m and 8ft/2.4m - image shows 4ft trough planter
Timber is high pressure treated with a safe preserve following consultation with Garden Organic
Provides a hefty 45cm growing depth in the centre
Strengthened with internal supports and leg braces
3 year structural guarantee
This product is supplied as a kit for self assembly
Comes complete with thick, fitted, non-woven polypropylene fabric liner specially tailored for the bed
Ideal for both shallow and deep rooting vegetables
Enables you to work at a comfortable height
Thwarts some ground-dwelling pests
For the ultimate in crop protection try our new Hoops and Cover Kits
Liner helps prevent residue leaching onto patio or courtyard and protects timber even further
Opens up growing options on patios, balconies and terraces and in courtyards
Ideal for town or city gardens with limited space
Allows gardeners with back problems to carry on growing
Supplied with full assembly instructions
Recommended two person assembly
We strongly recommend the use of an electric screwdriver with a clutch for assembly and a Pozidrive (PZ2) screwdriver or screw bit to make assembly of the Manger Raised Planter much quicker and easier
Mini Manger Trough Planter & Micro Manger Trough Planter also available
Replacement Liners are also available separately
How Much Compost?
When working out the amount of compost required to fill your Maxi Manger Raised Planter, use the following simple guide - each 60cm (2ft) length requires approx 120 litres of material. Don't forget to add plenty of organic matter to improve both soil structure and water retention!
23rd June 2023
I've looked a long while for a durable and attractive vegetable trug planter and finally found this one. The reviews on others were terrible and yet they were so expensive! This one went together quickly, holds a lot of plants and is designed for convenient use. The quality of materials is excellent and the netting over hoops allows in plenty of light but keeps the birds and animals away. I purchased this as an experiment for this growing season and already know I'll be buying more next year.
10th February 2023
Great product just what I needed to plant my salad plants in. It also allows me to use an otherwise redundant part of the garden. Easy enough to put together. One small hiccup one of the end panels was damaged but was replaced with no problems at all. Lots of extra screws everything fitted well. Instructions and code numbers could be made a bit easier to understand and follow.
MAXI MANGER RAISED PLANTER HELP AND ADVICE

Filling Your Maxi Manger

We've given you an idea of how much soil you'll need to fill your Maxi Manger Raised Planter above, but it's the quality that counts - that's why we're proud of our tie-up with Rolawn, recognised as the market leades when it comes to topsoil and soil improvers.

We recommend you use the Rolawn soils to fill around 75% of your Maxi Manger planter, and make up the missing quarter with some good old organic matter in the form of well rotted manure, garden compost or even some garden centre-bought bags of farmyard manure (FYM). If you are intending to plant the beds up almost immediately after filling, you must make sure any manure is well-rotted down as the fresh variety will release ammonia as it decomposes, and this can harm plants.
Adding this bulky organic matter - Strulch is another alternative - will help with water retention and soil structure in general as light raised bed soils are notorious for rapidly drying out. After your first season of growing, you can think about applying stronger manures which will have the winter to break down – or even grow a green manure crop.

Maxi Manger Crop Protection

Protect your Maxi Manger grown crops with our NEW range of Hoops and Cover Kits, designed specially for the Maxi Manger.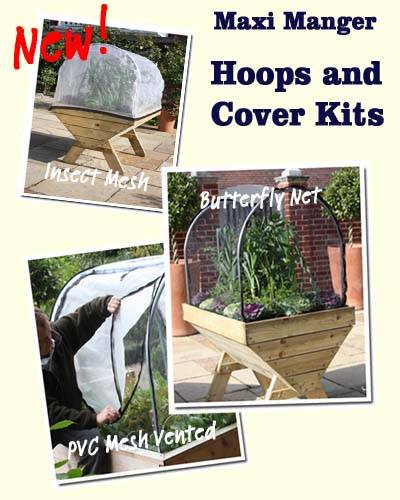 Choose from galvanised steel 19mm hoops, Fitted Insect Mesh covers, a tailored and seam stitched Butterfly Net or the heavy-duty PVC Mesh Vented Cover for all year growing.
Buying the hoops and your choice of cover in kit form is the easiest option but we've also made the covers available separately should you wish to move with the seasons and keep your crops protected all year long!
What The Press Say
---
Houzz Article by Kate Burt
July 2020
Which planters will look best in my garden?
Ramp up rustic credentials A trough-style planter works well in a rustic setting, conjuring up, as it does, the idea of farm animals at feeding time. These wooden designs, by Harrod Horticultural, function like raised beds, so would also be a good, space-saving way to grow suitable fruit and vegetables or herbs outside the kitchen door, as well as looking wonderful – as here – with flowers spilling out of them.
---
Grow Your Own
July 2014
The Year Round Potager - Planting a manger bed
Add a statement border to your plot that's easy to access, productive and attractive too!
---