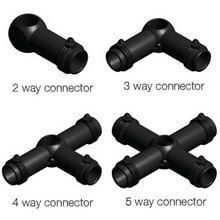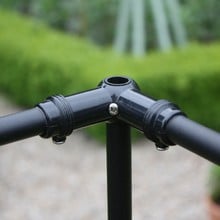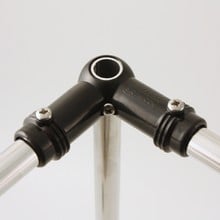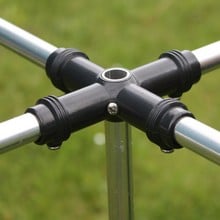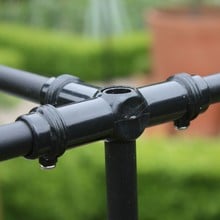 Harrod Slot & Lock® Connectors
£3.95 P&P
The superior tightening mechanism of the Harrod designed Slot & Lock® Connectors makes it the perfect substitute for the less reliable build-a-ball design. Ideal for securing build your own fruit cages, vegetable cages, climbing vegetable supports and practically any garden crop protection framework in the garden.
Read More
Exclusive Designed &
Made by us in the UK
3 Working
day despatch
Harrod Slot & Lock® Connectors are the answer to all those build your own fruit cage, vegetable cage, climbing vegetable support and practically any garden crop protection framework woes as this exclusive new system firmly screws connectors and aluminium tubing into place.
If you've been frustrated by crop protection frame collapses in the past then you'll know how annoying it can be when a cage falls to bits and ruins your crops but these durable and reusable black nylon connectors allow a 16mm aluminium tube to be screwed securely into position - and as these connectors are available in 2, 3, 4 and 5 way versions, creating your own frame is never going to be an issue.
We've even got a 2-way angled Slot & Lock connector with a 30° to 180° degree span for those complicated crop protection structures and when you consider the connectors tighten up so firmly that tubes can't spin and frames take minutes to assemble and dismantle, the Harrod Slot & Lock® connectors really are the perfect solution!
Harrod Slot & Lock® Connectors available in 2, 3, 4 and 5 way forms
2-way angled Slot & Lock connector with a 30° to 180° degree span also available
Screw firmly onto our natural finish or black 16mm dia aluminium tubing
Durable and reusable
Black finish
Manufactured from strong and durable nylon.
Exclusive Harrod Horticultural design
Tubing slots into connector a full 40mm
Black stainless steel screws hold tubing in place
Tubing cannot fall out or spin once screws are tightened
Assembly of frame using these connectors is quick and easy
Use year after year
Create frames of any shape and size
Angled connector allows construction of runner bean frames, plant supports and lean to structures
Use the connectors and tubing to make pond covers
2 way connector sold in packs of 2 and 4
3 way comes in a pack of 4
4 way connectors sold in packs of 2
5 way connectors sold individually
Angled version supplied as 2 individual connector pieces
4th May 2019
Used for liftable cages on raised beds. Makes cage fully rigid and connectors firmly attached to rods. As opposed to cheaper joiners which are loose and floppy and fall off.
8th December 2018
I tried several other inferior connectors from other manufacturers before I discovered these ones. They are of high uality, strong, easy to use and make an excellent job of framing my irregular pond ready for the Autumn-Winter-Spring netting. Now for some tubing caps to finish the job off!
17th September 2018
My husband and I have used black aluminium poles and slot and lock fittings to make a bespoke raised curved pond cover to protect from herons. Our photos are on the blog and show the versatility of the fittings. Our pond has a lot of visiting wildlife (small birds, nesting blackbirds, hedgehogs, frogs and foxes) and has different types of pond plants as well as a filter pump. The fittings allowed us to curve the cover around the planting, leave access for wildlife to drink from the pond but stop the heron from wading. We can also pull the net back to remove the pump for cleaning. We found the fixings easy to use and to be of excellent quality.
What The Press Say
Grow Your Own Magazine
01/12/2012
Your Ultimate Guide - Get Set, Grow!
If you're fed up with wobbly garden cages and fiddly supports, the Slot & Lock connector may be for you. Voted RHS Chelsea Flower Show Product of the Year 2012, it allows Harrod Horticultural's range of 16mm tubing to slot in and lock with supplied stainless steel screws to make super stable structures. No Popping out, spinning or collapsing frames!
Which! Gardening
July/August 2012
New Products
"We really liked these connectors which won the Product of the Year award at the RHS Chelsea Flower Show 2012. You have to tighten up the screws firmly so they grip the aluminium tubing but when this is done they are very secure. The frame our tester built was stable and a lot stronger than one made of bamboo. It easily supported the netting without snagging. However, wse did think the shiny aluminium poles (sold separately) would be tricky for plants like runner beans to climb up."