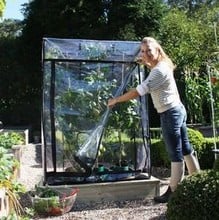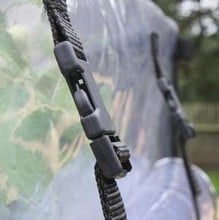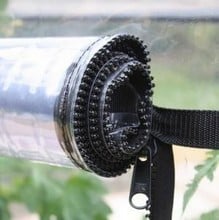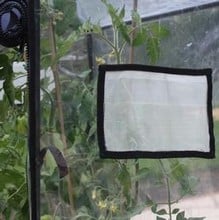 Harrod Slot & Lock® Growhouse
£5.95 P&P
Size:
1.8m H x 1.08m L x 42cm W
The Harrod Slot & Lock® Growhouse is just the thing growers of tomatoes, sweet, block and chilli peppers, aubergines and many other sun-loving temperate crops have been waiting for and this 1.8m high, aluminum framed, UV stabilised, ultra heavy duty clear PVC skinned growing house isn't just up there with the best - it is the best
Read More
Exclusive Designed &
Made by us in the UK
The Harrod Slot & Lock® Growhouse is just the thing growers of tomatoes, sweet, block and chilli peppers, aubergines and many other sun-loving temperate crops have been waiting for and this 1.8m high, aluminum framed, UV stabilised, ultra heavy duty clear PVC skinned growing house isn't just up there with the best - it is the best!
Designed in-house and manufactured to incredibly high standards, the frame of the growhouse provides excellent rigidity and stability and the combination of throughly road tested 16mm aluminium tubing and our matt black superior ABS plastic Harrod Slot & Lock® connectors has a lot to do with it. The two piece cover isn't lagging far behind in the quality stakes either with the 1.08m long, 42cm wide and 14.5cm deep black non-woven polypropylene planting base - which you can fill directly with compost or place a growbag in - designed to let excess water pass through but retain essential fine soil aggregates like silt and sand, and cleaning at the end of season is a breeze as this base unzips from the main PVC cover.
The impressive CV of the Harrod Slot & Lock® Growhouse continues; the ultra heavy duty cover boasts insect mesh screened vents to allow air flow, snap-shut buckles for holding the easy access front door in a rolled up position, extra large zips and even external mounting loops to further anchor the already stable grow house in windy or exposed areas.
Add in a sloping roof to prevent rain collection and sagging, an adjustable roof bar for plant support canes (not included) and even a section of 80mm mesh heavy duty knotted net should climbing vegetables should be your thing - not to mention a 3 year guarantee - and you can see why the easy to assemble, dismantle and store Harrod Slot & Lock® Growhouse really is the height of hot house growing luxury.
Harrod Slot & Lock® Growhouse measures 1.8m H x 1.08m L x 42cm W
Framework constructed from 16mm aluminium tubing and matt black superior ABS plastic Harrod Slot & Lock® connectors
Clear, ultra heavy duty, UV stabilised clear plastic cover
Unzippable 14.5cm deep black non-woven polypropylene planting base
Fill permeable base directly with compost or grow bag
Base allows excess water to pass through but retains sand and silt
0.6m x 1.2m two tier allotment or standard raised bed fits perfectly around base for a rustic look
Planting base unzips for easy cleaning
UV resistant clear PVC cover features roll up front panel for easy access
Heavy duty zips for easy use
Snap-shut buckles hold door flap in rolled up position
Sloping roof so rain water doesn't collect and cause sagging/algae build-up
Adjustable top rail forms a fixing point for plant support canes/tubing (not included)
80mm mesh knotted net supplied for climbing vegetables
Cover features 2 x insect mesh screened vents for essential air flow and summer ventilation
External mounting loops for additional anchoring
Simple to unzip and clean
Quick to assemble and dismantle
Little storage space required
3 year guarantee
Supplied with full instructions
Ideal for growing peppers, tomatoes, aubergines and other heat/sun loving crops
Use as an early season cold frame
Raise late season vegetables under cover
3rd May 2015
Overall a good product but I would be cautious about the claims of a heavy duty built to last canopy as only after the first year the canopy has already begun to split in the corners. This will result in me having to purchase a new canopy for what is a very expensive item quite disappointing in this regard
Many thanks for your feedback, as your product was still within the 3 year guarantee period your cover will be replaced FOC.
28th April 2015
Put up easily and does what it is meant to.
11th June 2014
We ordered two of these for our sickly looking tomato plants, which we in need of planting. The delivery arrived very quickly in a huge cardboard roll. The units were straightforward to put together once you realised the roof slopes so the metal bars are different lengths. They look really smart and the tomatoes are flourishing! They are sturdy and the zips are great to open to ventilate. Only query is why they don't seal fully at the base, leaving a gap for snails, slugs and cold draughts. A strip of heavy duty Velcro or similar might help. We are hoping they stand the test of time and survive the winter to be used again next year, as they were a fair investment!
What The Press Say
---
Grow Your Own
June 2014
Grow bag systems and Space Savers - Dave Finkle trials the best products for growing plants in tight spaces
'Best Buy' Harrod Slot & Lock Grow House - Black painted aluminium poles that are fixed together using the famous Harrod Slot and Lock system. The whole process only required 30 minutes to fit the frame together, it is that easy! Very solid when constructed. PVC covers are notorious for weakening after the first full season, but I was in for a surprise... Harrod really went to town; it has been mad with ultr-heavy duty PVC along with very larg, chunky, durable zips. Ventilation panels are fitted into both sides along with convenient clips for rolling up the front door. It has clearly been designed to last. The base itself can be directly filled with compost or used for growbags or pots. The grow house is by far the best on the market and clearly the most durable by a mile.
---
Grow It!
2012-01-07
Compact and Cosy - Mike Woolnough explores compact greenhouses
Perfect for patio favourites such as tomatoes, peppers and aubergines, this compact plant house includes an intergral support frame to give a complete solution to growing these crops. It features two insect mesh vents to prevent damping off and mounting loops to secure the frame in windy sites. The heavy-duty PVC cover has a zip-open, roll-up panel for easy access.
---