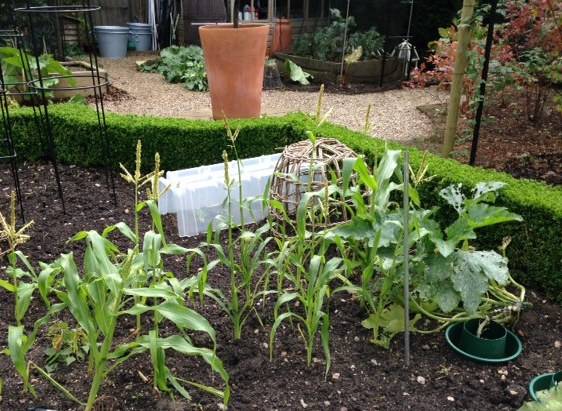 We've been enjoying an Indian summer in the Kitchen Garden this month. We have seen the longest dry spell of the summer and the irrigation all around the garden has been working hard to keep our crops happy. The warm temperatures have meant that many summer crops are still being harvested well into the autumn. It's certainly been a bumper harvest this year.
Our runner beans, grown on our bean frame and on an obelisk, are still producing vast quantities of beans. They are still flowering and showing no signs of stopping. Our courgettes have been amazing this year and we are now experiencing a glut! Earlier in the month a few of the leaves developed mildew, which is usually a sign that the crop is finishing. Jo cut off the affected leaves, gave them a good feed of liquid seaweed and they are now putting on new lush growth with plenty of flowers.
Back in August we cleared our old sweetcorn crops and planted out some new sweetcorn seedlings. We have had limited success with sweetcorn in the past but this year has produced a good crop so we decided to use the space for a second sowing. Thanks to the good late summer weather this is growing well and is now in flower. It will be interesting to see if we manage a late crop.
Our celery has also had a good year, we have grown this in a raised bed and the sides of the bed do a great job of keeping the plants on the edge of the bed blanched. We have had a couple of chilly nights in September and celery is very sensitive to temperature. At this time of year it's a good idea to have some fleece handy and to keep an eye on the weather forecast as it is easy to get caught out.
This month Jo dug up our main crop potatoes. This is very early to be harvesting our potato crop and we wouldn't normally do this until October, however we were unlucky enough to get Blight this year and had to remove the tops of the potato plants in late August. Without the foliage, the tubers wouldn't grow any bigger and leaving them in the ground would have left them at risk of attack from slugs, so we harvested early. We harvested a good number of tubers, with no damage, but they were considerably smaller than last year's crop.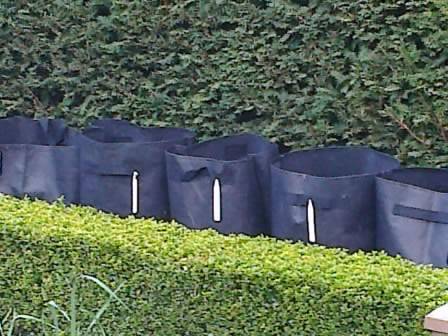 Our Christmas potatoes, however, are much healthier. These have been growing in bags in the cold frame. They have been regularly topped up with compost and they have now been moved into the greenhouse where they will remain until Christmas. We also sowed some into a raised bed and covered them. They are also growing well and have been earthed up. It will be very interesting to see how they perform.
Jo has been busy digging well rotted manure into the ground where the potatoes grew this year, ready to sow our broad beans in early October. If you are not lucky enough to live near farms and are unable to obtain manure, a good dose of compost will do. We will be sowing our broad beans into root trainers rather than direct into the soil as the mice love to pinch the seeds from our soil. As with all our long term vegetables this year, we will be adding root boost to the young plants when they are planted. We have found this to be extremely beneficial for our vegetable plants this season and will definitely be continuing to use it in future.
We have planted out our spring cabbage this month and covered them with a new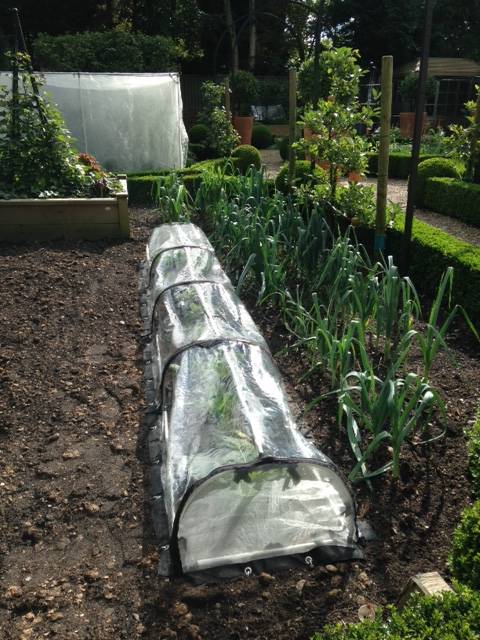 slot and lock cloche. As with our summer planted brassicas, these have been covered with an insect mesh cover. We have had amazing success using insect mesh this year with no pests or diseases affecting our plants at all. We have also sowed spinach and chard into our mangers. These have been covered to give them some protection from the elements.
One of the most important jobs at this time of year is keeping the garden tidy. There are always fallen leaves to be cleared in autumn, and these will be raked up and put into a leaf composter to make lovely rich leaf mould for use as a soil conditioner next year. Dead leaves left on the vegetable beds create an ideal overwintering place for pests, which is another good reason to clear them away.
Every year we have a day of filming in Stephanie's Kitchen Garden and this year it took place in September. Short films are made of the various new gardening products that we are using in the garden. They are available to view on our website and offer you a glimpse of Stephanie's Kitchen Garden. It's always a challenge keeping the garden looking good enough to be filmed at this time of the year, but one that we relish. It's a frantic and busy day, but seeing the results on film makes it immensely satisfying.
Here are some of the jobs we've got planned for October in Stephanie's Kitchen Garden:
Hoe and weed beds regularly to prevent weeds taking moisture and goodness from the soil
Sow broad beans
Aply glue bands to fruit trees
Dig over bare soil and add compost or manure
We're always here to offer advice and support. Go to the Ask the Expert section on the website and Email Horticultural Advisor Jo Blackwell with your Kitchen Garden queries or Pest Control expert Gavin Hatt and they'll do their best to help!
We're busy tweeting about all things Harrod Horticultural - what we're doing, special offers, gardening tips and advice and you can always use Twitter or Facebook to get in touch with us as well. With our webteam manning the Tweet decks and Facebook site, you can be sure you'll get the best service we can offer!
Our 100-page Autumn catalogue is out now and it's packed full of gardening ideas and products to solve the problems every gardener faces, plus plenty more seasonal ideas for harvesting, storage and preserving solutions.
Happy gardening!
Happy gardening!