November has been a cold and miserable month in the Kitchen Garden. The sun has put in a few brief appearances, but on the whole it has been damp and grey. However, whatever the weather, there is always plenty of work to be done. When the rain is pouring down, I head into the greenhouse and shed to catch up with the Big Winter Tidy Up.
The greenhouse has now been cleared of all the old plants and given a thorough wash down with Greenhouse Cleaner and hot water. The brickwork and floor have been scrubbed along with the staging. We are halfway through cleaning all the pots and seed trays with hot water and a pot brush – a job that will last well into December. After cleaning, the greenhouse has been bubble wrapped and the heater turned on to keep it snug and frost free. We have sown parsley and salad leaves in a heated propagator and planted spinach and chard into the greenhouse boarder to keep some crops going through the Winter months.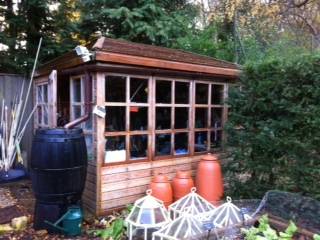 The Potting Shed has also had a good tidy up this month, inside and out. Jo has been up the ladder giving the roof and outside walls of the shed a good clean, ridding them of green algae. It looks like new! Inside we have started stock taking the seeds for next year and Jo has begun to clean and sharpen the tools. This is a pleasant job on a grey day. Jo quite happily sits in the shed with a mug of tea and the sneeboer maintenance kit, lovingly tending to all our tools.
During the dry spells, we have been outside in our Winter woollies completing the Winter Kitchen Garden tasks. Thank goodness for Gold Leaf Winter Gloves and Hunter Welly Warmers! This month we have earthed up the leeks to keep the long stems lovely and white. We have also applied grease to all our apple and pear trees to prevent any pests from climbing the trees and overwintering in the tree. As soon as the leaves have finished falling from these trees, they will be given their first Winter Wash. The last of the apples have now been harvested and stored
Jo has sown some onion sets in trays to be planted out when they have established. She has also planted some garlic into troughs. These troughs will sit amongst the raspberry bushes where hopefully their scent will confuse the raspberry leaf beetle in the Summer.
The broad beans were planted out earlier in the month and have been covered with a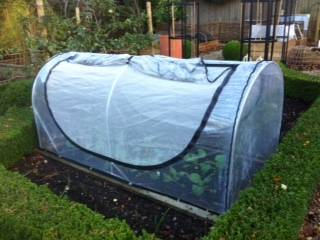 freestanding hoop and cover kit. This will keep the pigeons and mice away and will also protect them from the worst of the Winter weather. We used this system last year and it held the snow very well without sagging or collapsing. A useful addition to your armoury against the snow that we have been 'promised' by the weather forecasters for the coming months!
We have already had our first hard frosts of the Winter this month. The cloches have been dug out of storage and cleaned up before being placed on raised beds to protect crops of chard and salad leaves. The fleece is also at hand to cover crops when required and PVC covers have been put on the mangers. The brassicas are all netted against attack from hungry pigeons.
In November, we harvested the horseradish. These roots have been cleaned and stored in the pantry to use in sauces. The thinner roots were kept back to plant out for next year's crop. This is an easy and useful crop to grow, however it can be invasive so we grow ours in a manger to restrict its growth and spread.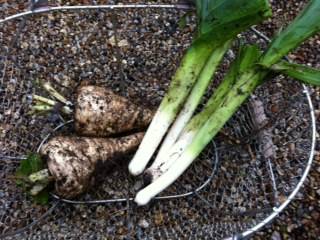 The parsnips have been growing well all year and are usually better left until after a good frosting before harvesting as this improves their flavour. However, last week I could bear it no longer and harvested a couple of large roots along with some leeks. Delicious! A just reward for all the hard work in the cold, wet weather.
Here are some of the jobs we've got planned for December in Stephanie's Kitchen Garden:
Clear debris quickly to keep the garden tidy and prevent pests and diseases from over wintering.
Continue cleaning pots and trays.
Clean and sharpen the tools.
Mulch Rhubarb
Cut back asparagus and mulch
Dig over beds and add organic matter.
We're always here to offer advice and support. Go to the Ask the Expert section on the website and Email Horticultural Advisor Jo Blackwell with your Kitchen Garden queries or Pest Control expert Gavin Hatt and they'll do their best to help!
We're busy tweeting about all things Harrod Horticultural - what we're doing, special offers, gardening tips and advice and you can always use Twitter or Facebook to get in touch with us as well. With our webteam manning the Tweet decks and Facebook site, you can be sure you'll get the best service we can offer!

Our 116-page 2013 catalogue is out now and it's packed full of gardening ideas, products and solutions to the problems every gardener faces, plus plenty more seasonal ideas to help get the harvest in and keep it fresh!

Happy gardening!