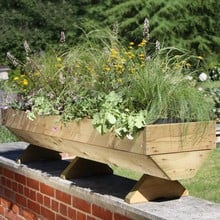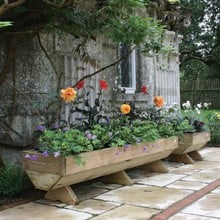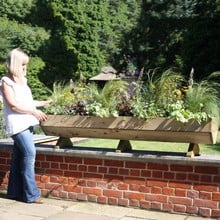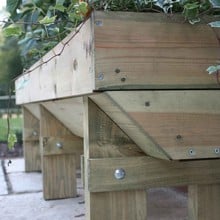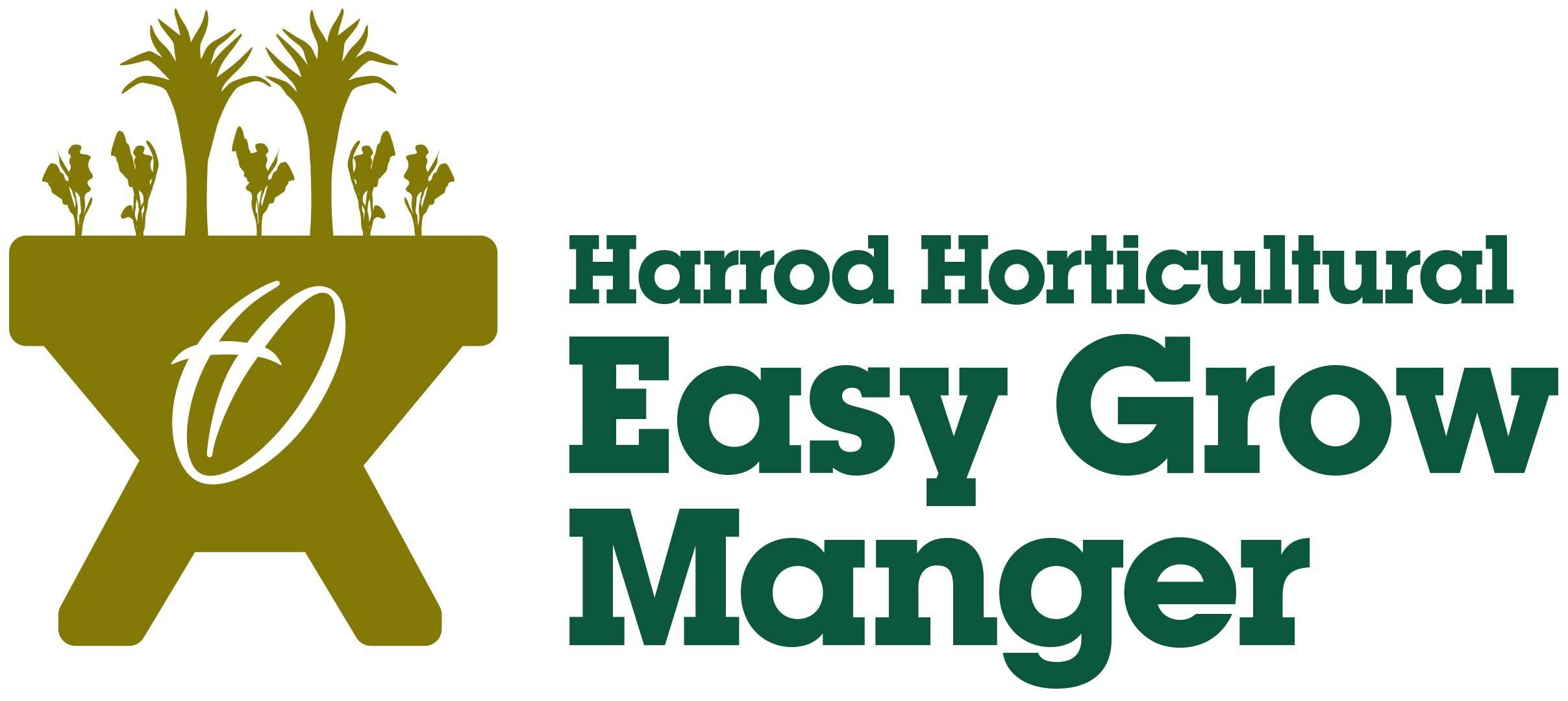 The Micro Manger Trough Style Planters are a slimline version of the Maxi and Mini Manger Raised Planters and are arguably the best way to grow your own vegetables, fruit, salad and herbs when space is at a premium

You'll be producing big yields on a small scale in raised height comfort with little or no maintenance and interference from certain pests; and as gardeners ourselves, we're rather pleased with the small but perfectly formed micro manger planters we've both researched and designed.

Standing 45cm High and 37cm Wide, the Micro Manger Raised Planter – smallest sibling of the taller, longer and deeper Maxi Manger Raised Planters - provides growing options that single level raised beds can't dream of offering - plant your salads and shallow rooting crops round the edge of the timber manger and let the plants (including carrots and parsnips) which require extra depth really stretch their legs in the centre, where 22cm (8½") of soil is available.
Manufactured from Scandinavian softwood sourced from sustainably managed forests, the 2cm (¾") thick planed timber is high pressure treated using a safe preserve. The timber is kiln dried and selected to a structural standard to ensure high quality. The Micro Trough Planter has a 3 year structural guarantee and comes with a thick, fitted, non-woven polypropylene fabric liner which aids water retention, contains fine sand and compost and helps prevent leaching.
Our small perennial plant collection is a perfect selection to complement these micro manger planters and includes one of each of the following, ARMERIA maritima 'Splendens', HEATHERS Erica vagans 'Mrs D.F. Maxwell' , HELIANTHEMUM 'The Bride', LAVANDULA angustifolia 'Munstead', LEWISIA Sunset hybrids and PRIMULA veris.

The narrow 37cm (1ft 3") wide Micro Manger Raised Planters are available in four lengths - 0.6m (2ft),1.2m (4ft),1.8m (6ft) and 2.4m (8ft) - giving you ample opportunity to produce home grown vegetables in style and comfort!
Micro Manger Raised Planter manufactured from 2cm/¾" thick planed timber
Made using Scandinavian softwood sourced from sustainably managed forests

The timber is kiln dried and selected to a structural standard to ensure high quality

Stands 45cm (1'6") in height and measures 37cm (1'3") wide
Available in 4 sizes - 0.6m (2ft), 1.2m (4ft), 1.8m (6ft) and 2.4m (8ft)
Timber is high pressure treated with a safe preserve following consultation with Garden Organic
Provides a handy 22cm (8½") growing depth in the centre
3 year structural guarantee
This product is supplied as a kit for self assembly
Strengthened with internal supports and leg braces
Comes complete with thick, fitted, non-woven polypropylene fabric liner specially tailored for the bed
Ideal for both shallow and deep rooting vegetables
Enables you to work at a comfortable height
Thwarts some ground-dwelling pests
Liner helps prevent residue leaching onto patio or courtyard and protects wood even further
Opens up growing options on patios, balconies and terraces and in courtyards
Ideal for town or city gardens with limited space
Allows gardeners with back problems to carry on growing
Supplied with full assembly instructions
Recommended two person assembly
We strongly recommend the use of an electric screwdriver with a clutch for assembly and a Pozidrive (PZ2) screwdriver or screw bit to make assembly of the Manger Raised Planter much quicker and easier
Maxi Manger and Mini Manger Sizes also available
Replacement Liners are also available separately
19th June 2016
I'd looked at all sorts of planters and came across this one. It's great to have a variety of lengths to choose from. I think the price was competitive and the quality has certainly been worth paying for. I'd recommend this item and my vegetables seem to be doing rather well!
11th November 2014
Easy to assemble, nice functional bit of kit. Only downside is that it is slightly pricey.
11th May 2012
Fairly easy to assemble (especially if you drink wine while husband puts together). The liner is a good fit and this size is perfect for outside the back door. Ideal for herbs, spring onions and salad. The Mini Manger looks good and hopefully what it has helped grow will taste good too.
How Much Compost?
When working out the amount of compost required to fill your Micro Manger Raised Planter, use the following simple guide - each 2ft length requires 34 litres of material. Don't forget to add plenty of organic matter to improve both soil structure and water retention!


What The Press Say
---
guardian.co.uk
2011-04-04
Spring Makeover : 10 Quick Ideas For Sprucing Up
Featured Product
---