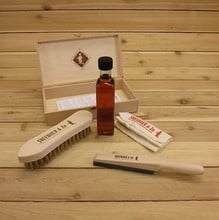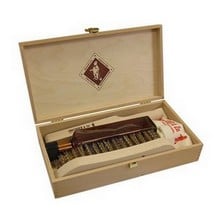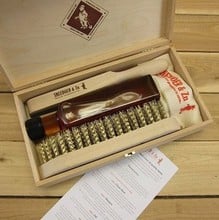 Sneeboer Tool Maintenance Kit
£5.95 P&P
The Sneeboer Tool Maintenance Kit keeps all manner of quality hand-forged stainless steel Sneeboer tools in perfect health no matter what the garden may throw at them - not that these Dutch masterpieces aren't capable of dealing with all garden soil types and conditions!
Read More
The Sneeboer Tool Maintenance Kit keeps all manner of quality hand-forged stainless steel Sneeboer tools in perfect health no matter what the garden may throw at them - not that these Dutch masterpieces aren't capable of dealing with all garden soil types and conditions!
The Sneeboer tool kit consists of a sharpener, strong wire brush, linseed oil and cloth - essential for keeping your Sneeboer tools in tip-top condition - from the top of the handle to the tip of the blade. The oil is used for wiping ash handles and is also particularly useful for cleaning and coating carbon steel Sneeboer tools; use the sharpener to keep an edge on bladed tools like the asparagus knife and there's also a multi-use wire brush for effective cleaning - even the most stubborn clay won't have an answer.
If you're planning to purchase a Sneeboer tool or are lucky enough to own a shed full already, get the Sneeboer tool maintenance kit on your shopping list asap - after all, you wouldn't drive around in a dirty Rolls Royce would you?!
Sneeboer Tool Maintenance Kit a must for all Sneeboer tools
Supplied in stylish presentation box
Includes 250ml bottle of linseed oil, cloth, sharpener and brush
Linseed oil is used to coat untreated handles before or after use
Oil also suitable for coating carbon steel tool heads and blades - stainless implements do not require this treatment
Sharpener is ideal for restoring sharp edges on tool blades
Brush measures 22cm in length
29th November 2016
What the details don't tell you is that these tools come in a beautiful wooden box. This made them the perfect gift for a gardener friend. They look great but must wait until Christmas to see if my friend will love them too.
6th February 2015
Excellent idea for keeping tools up to scratch, well presented and delivered promptly.
To help you get the most from your Sneeboer Tool Maintenance Kit—and keep your tools in tip-top condition—we've put together the following information...
Cleaning
The wire brush has been specially designed to remove even the most stubborn of soil deposits from the blades of your garden tools. Sneeboer have even specially selected the wire as it gives the best cleaning results when used on stainless steel. The brush is best used on dry soil—so when you've finished digging, pop in for a cup of tea whilst the mud dries!
Sharpening
The sharpener can be used to restore a sharp cutting egde to your tool blades. Tools blades or faces must be clean and dry before sharpening. You can use the linseed oil contained in the kit for sharpening purposes if necessary.
Treating
Linseed oil can be used to dampen the sharpener prior to sharpening but it is far more effective in preserving the ash handles of Sneeboer tools. Use the cloth to wipe the oil over the shaft and hand grips of the handle and work it into the wood. Always store the linseed oil-soaked cloth in a tin as materials used with this oil could spontaneously ignite. The heads of stainless steel tools do not require oiling, but if you have any carbon steel spades, forks, shovels etc., they will certainly benefit from a wipe-down with the oil.
What The Press Say
---
Gardens Illustrated
2012-10-26
Dig In Shop Front
Look after the tools that take care of your garden. Scrub, polish and sharpen before storing this winter with the Sneeboer tools maintenance kit.
---
House & Garden
2012-01-02
Outside Interests : Clare Foster finds fresh gardening inspiration
Time to give your tools a winter make-over to ensure they are in good working order for the start of the spring, The useful Sneeboer Tool Maintenance Kit contains linseed oil for treating wooden handles and caoing carbon-steel blades, a wire brush for getting stubborn dirt out, a whetstone for sharpening blades, and a tin in which to store the oil soaked cloth.
---