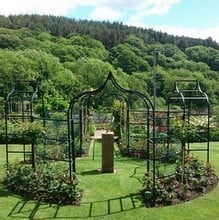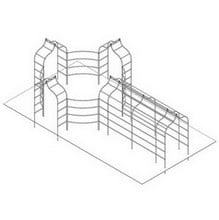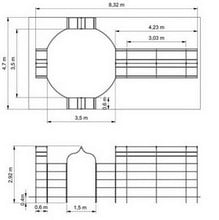 Ogee Arch, Curved Fence and Pergola - Bespoke Design
Free P&P
This bespoke Ogee Garden Arch, Curved Fence and Pergola design like our best selling Ogee garden arches is manufactured using heavy duty galvanised steel framework which is black powder coated for a stylish and extremely durable finish, and comes with a 10 year framework guarantee.
Read More
10 Year
Framework
Guarantee
Exclusive Designed &
Made by us in the UK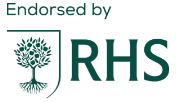 This bespoke Ogee Garden Arch, Curved Fence and Pergola design like our best selling Ogee garden arches is manufactured using heavy duty galvanised steel framework which is black powder coated for a stylish and extremely durable finish, and comes with a 10 year framework guarantee.
This bespoke arches, fence and pergola structure is made up of 4 ogee arches, 4 curved fence panels and a bespoke ogee pergola and supplied with all flush fitting plastic-capped steel connectors and black stainless steel bolts finishing off the black powder coated look.
Check our customer projects page for further background and details on this bespoke garden project and many others.
"I am very pleased with the quality of the product and a number of people asked me at my garden open day who had supplied it and I gave them the details." Mrs Toulson, County Durham
Bespoke designed and manufactured by us in the UK
10 year framework guarantee
Unique 25mm x 1.5mm wall square section steel framework provides exceptional strength
Steel Framework is fully galvanised and matt black polyester powder coated for a weatherproof finish
Black flush fitting connectors include steel inserts for greater strength and rigidity
Heavy duty black stainless steel bolts
Hole former available for easy ground installation
Ideal for segmenting a garden or framing featured plants or a structure
Self Assembly required - Full assembly and installation instructions provided
Ideal for Climbers and Evergreen Climbers particularly hydrangea, vitis, campsis, celastrus, hedera, clematis, trachelospermum
and actinidia
EXTRA OPTIONS & MADE TO MEASURE!
Ogee Garden Arch, Curved Fence and Pergola Design-Bespoke Design is unavailable to buy online - please contact our made to measure team for more information and to place an order:-
email - madetomeasure@harrod.uk.com
phone - 0333 400 1444
We are here to help with your Garden Arch or Pergola projects and can offer a complete Made to Measure Service. Our Expert Design Team have previously created an Ogee linked arch, in a bespoke design.
Visit our Made to Measure page for more information and to complete our easy online Made to Measure Quotation Form
Above Ground Fixings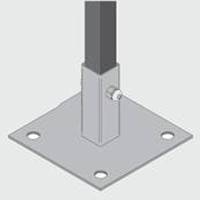 If you wish to fix your Garden Arch or Pergola above ground on a concrete surface, we can supply surface mount sockets that the arch uprights can then slot into. This option costs approx 25%-30% extra. Please call 0333 400 1444 (8.30am to 5.30pm Mon-Fri) for details or email madetomeasure@harrod.uk.com
Be the first to write a review for this product.