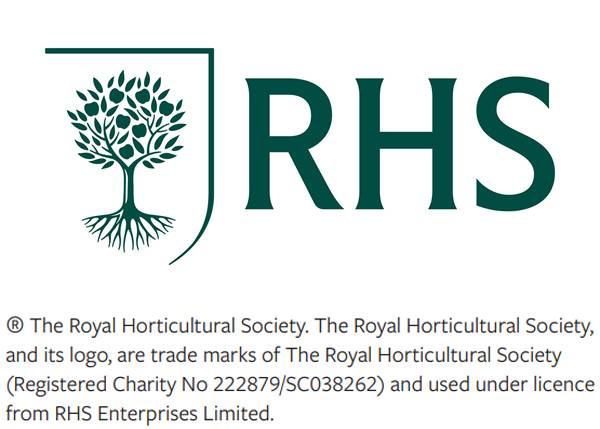 The mesmerising, curvilinear style of our Ogee Garden Pergola which comes together in a distinctive point offers a particularly commanding presence in the garden.
The structure provided by our Ogee Arch Garden Pergola is breathtaking, makes a real visual impact in your garden and when you consider the same top quality materials and expertise in design and manufacture which goes into our existing Garden Arch range is used on the Ogee Pergola, you'll welcome the substance as well as the style!

The Pergola Base Unit consists of 3 linked arches, simply choose the length of the base unit, then select the width of the pergola and finally add the extension kits to reach the required overall length.
As with our Garden Arches, the garden pergolas are designed for below ground installation with 40cm/16" allowed on each upright for ground insertion.
Ogee Arch Garden Pergola Base Units are available in 4 width options 1.5m, 2m, 2.5m & 3m
All base units are available in 2 length options 2.08m & 3.08m
1.5m Wide Base Unit measures 2.52m High
2m Wide Base Unit measures 2.86m High
2.5m & 3m Wide Base Units measures 2.91m High
All measurements are external
Quality steel framework is made from 1.5mm thick x 25mm square steel section
10 year guarantee
Framework galvanised inside and out
Laser cut front plates
Powder coated textured black finish
Durable steel reinforced connectors fit inside the bar for a flush and neat finish
Stainless steel bolts have a discreet black coating
Pergola built from a BASE unit consisting of 3 connected arcs and as many EXTENSION kits to achieve the overall length
Choose your preferred length of BASE unit and EXTENSION kit and a width/height size
Extra 40cm/16" is allowed on each upright for inserting the uprights into the ground
2 sizes of base units available - 2.08m L (1.03m distance between each arc) & 3.08m L (1.53m distance between each arc)
Corresponding extension kit sizes are 1.03m L and 1.53m L
Self Assembly required - full assembly and installation instructions included
We do not provide an installation service
For additional extension kits for an exisiting pergola please contact our Customer Service Team on 0333 400 6400 (local rate)
EXTRA OPTIONS & MADE TO MEASURE!
We are here to help with your Garden Pergola Project and can offer a complete Made to Measure Service. Our Expert Design Team have previously created an Ogee linked arch, and an Ogee arch, curved fence and pergola project in a bespoke design. If you don't see the ideal size for your garden please contact our Made to Measure team:
Above Ground Fixings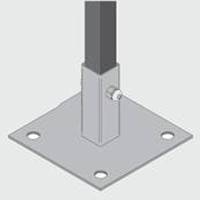 If you wish to fix your Garden Pergola above ground on a concrete surface, we can supply surface mount sockets that the arch uprights can then slot into. This option costs approx 25%-30% extra. Please call 0333 400 1444 (8.30am to 5.30pm Mon-Fri) for details or email madetomeasure@harrod.uk.com
14th May 2022
Excellent product at a fair price which really enhances the garden. Although ground mounting is OK I may well add some concrete as it lacks rigidity in my soil. Overall very pleased with product.
14th March 2014
Nice and high for hanging bird feeders and blends in well with the garden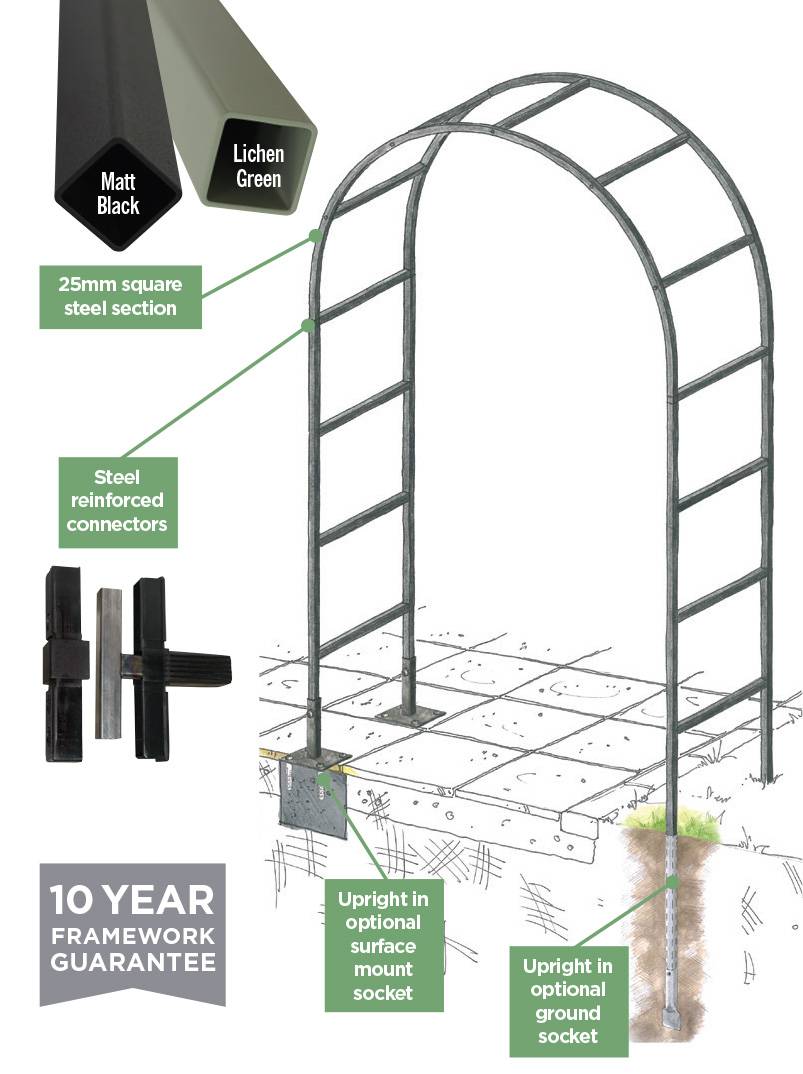 Below Ground Installation
We allow an extra 40cm/16" on the uprights to insert directly into the ground which should then be concreted into place if soil is soft. We recommend an optional Hole Former to assist whilst our optional Ground Sockets make for an even easier installation and further improve on the already exceptional stability of the pergolas in soft soils.
If you want to install the pergola above ground on a patio or concrete surface we can supply alternative installation fixings - contact our Made to Measure team on 0333 400 1444 (local rate) or email madetomeasure@harrod.uk.com
CHOOSING YOUR PERGOLA
A pergola is built from a BASE unit consisting of 3 connected uprights and as many single upright extension kits to achieve the overall length.
3 considerations for size:-
Width and height.
Length of Base Unit - either 2.08m (1.03m distance between uprights) or 3.08m (1.53m distance between uprights)
Number of single upright Extension Kits required to achieve your walkway length – each one either 1.03m L or 1.53m L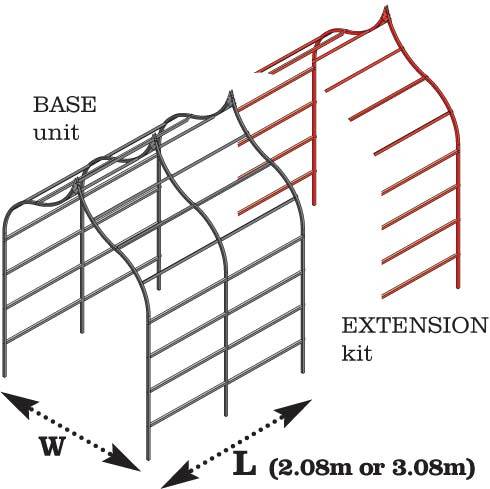 View Example Order
OGEE PERGOLA EXAMPLE ORDER
Here's an example of how to order your Ogee Pergola. The Pergola shown below measures 6.14m in length (1.53m between each arch), stands 2.52m in height and is 1.5 wide.
To construct a Pergola to these dimensions, you'll need to order the following:
ARC-084 (1.5m Wide x 2.52m High Base Unit) x 1
ARC-085 (1.5m Wide x 2.53m High Extension Kit) x 2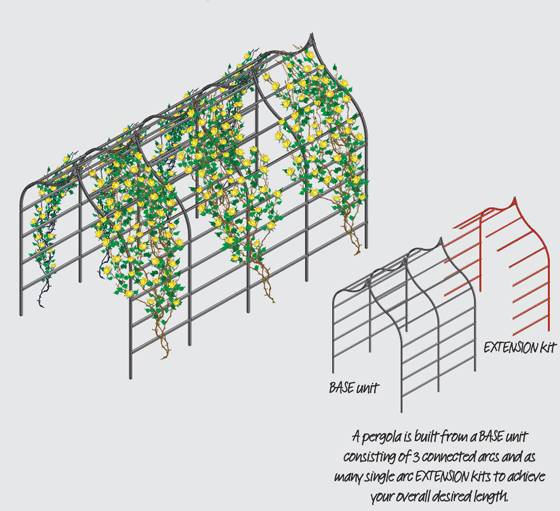 Installing your pergola on hard ground or concrete?
We can supply surface mount sockets for the uprights to slot into. These can be secured with galvanised steel pins for hard ground or special bolts for concrete.

This option costs approx. 25-30% extra.
Call 0333 400 1444 (local rate) for details. (8.30am - 5.30pm Mon-Fri)