Our gardens are something we have all grown to appreciate more than ever after more than a year of lockdowns confining us to our own spaces. But how many of us really appreciate and utilise our outdoor space?
We interviewed Brigitte Girling (Creator of Moss and Stone) who teaches an array of flower classes which will allow you to develop 'naturally artful, animated designs creating a visual story within your work'. Brigitte is incredibly passionate about the beauty in flowers and the uniqueness each one holds. Teaching at her home and using her own garden as a space to guide others to their creativity, the unique experience she offers is inspiring.

What advice would you give to someone who is looking to get into gardening?
I think my best advice would be to just start! Learning about gardening is a lifelong project and you can't possibly know everything about design, plants, soil types, vegetables, containers, seed sowing, propagation from the beginning. The learning opportunities are endless and ultimately, I believe this is one of the main joys of gardening. A constant journey of discovery. Whether you have a windowsill, balcony, courtyard or six acres there is always an opportunity to garden. You will make mistakes. Everyone always makes mistakes no matter how long in the gardening tooth they are! Plants won't flourish, you will get the light or soil conditions wrong, you will suffer some annoying pests but you will also have magical moments of indescribable joy when a seed you have sown germinates, and emerges from the soil in just two days, or when a plant you thought had died sends out fresh new shoots because you didn't realise it was a perennial or you taste for the first time, your very own freshly picked crop of bitter sweet rocket leaves.
Ultimately, my advice would be, start small, don't be too ambitious, realise that gardening takes time unlike those TV shows that suggest it can all happen overnight. Enjoy the wins and accept the losses. Start with something you think you are going to love…growing some radishes, sowing some annual cosmos seeds or choosing some plants to encourage wildlife into your space. Allow your gardening knowledge to grow and flourish over time with your garden. But a word of warning…be careful, this gardening malarky is addictive!
Why do you love what you do?
The relationship I have with the flowers I design with is so interwoven with my lifelong love of gardening my work just doesn't feel like work. I find that arranging my flowers and nurturing my garden are both wonderful ways to clear my mind and relax. It's almost meditative. As I garden, I am constantly distracted by my wildlife companions, a fluttering butterfly on the buddleia, a tumbling bee in a poppy head, the constant joy of bird song and spotting the returning summer migrants. The warm sunshine on my back and the pleasure of sitting on my bench absorbing it all is indescribably wonderful…so simple but wonderful. Similarly, picking my flowers and then really observing their beauty, the flecks, speckles and freckles of colour. A delicious, sweet scent and perfect little details; a flouncy ruffle or twisty crinkled new leaf. These moments are utterly enchanting and what I try to celebrate in my arrangements.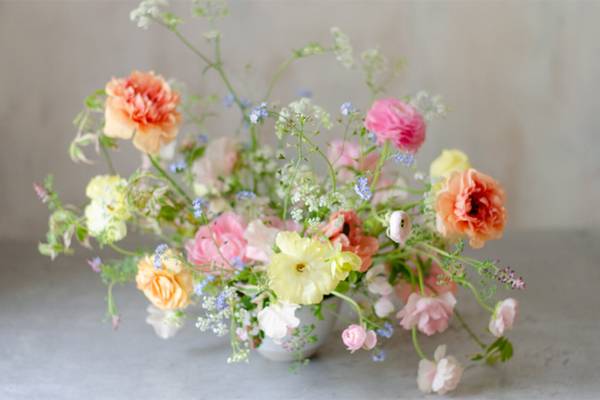 Why do you think it is so important for us to interact with nature and gardening?
There is something intrinsically satisfying about having your hands in the soil. There is plenty of scientific evidence now that demonstrates that this connection with the earth is so important for our mental well-being as well as the more obvious health benefits gained from the exercise of gardening. There is something fundamental about reengaging with nature and the soil. It is calming, therapeutic, endlessly satisfying and nurturing both for yourself, your garden and nature. Life can be frenetic, full of worries, full of comparison and challenges and fears for the future. But gardening is such an optimistic activity. As Nelson Henderson is often quoted as saying:
'The true meaning of life is to plant trees; under whose shade you do not expect to sit.'
Gardening expresses an expectation that the future will be good and if you can garden with wildlife at the forefront of your mind, the future could be very good!
How have you found lockdown without being able to teach classes face-to-face?
I have missed teaching enormously. Spending a day with a person who loves flowers and arranging as much as myself is very special. I am often asked by non-flower obsessed friends 'what on earth do you talk about all day with someone you have never met before?' This always amuses me because to be with a fellow flower lover is to be with a friend and the conversations about colour, design, shape, form are endless and invigorating. I find my days teaching hugely inspiring, so I have missed that a lot. But the silver lining has been having so much more time to spend in my garden; sowing seeds, pricking out, planting, weeding, moving things, redesigning areas and feeling slightly more in control rather than rushing to get things done!
It also opened up other opportunities that I didn't have time to consider before. I have created a series of online courses where every month I create a bouquet, a bowl arrangement and a larger event piece with flowers picked from my garden. It has all been beautifully videoed by a local wedding videographer Harry King, who obviously found himself unable to work too. This has been an amazingly satisfying experience and a wonderful record of my garden throughout a whole year, plus, of course, a welcome new income stream. Oh, and I also started a podcast with two floral friends called The Restless Creatives Podcast. I somewhat foolishly offered to do the editing as well, which given I am a complete technophobe has been, as you may imagine, a very time consuming and steep learning curve! You can find us chatting to fellow creatives from various genres, musicians to journalists and everything in between on YouTube or any podcast provider!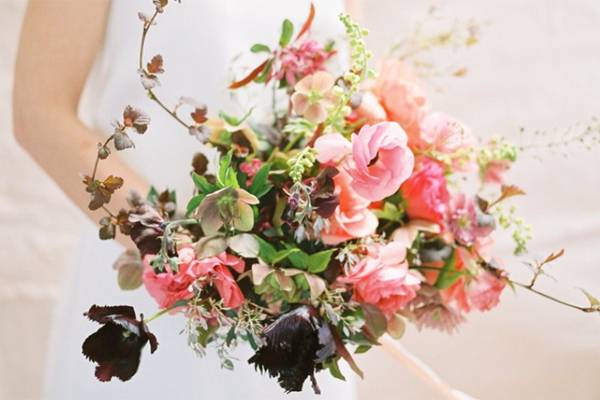 What would you say is the main thing to remember when creating flower arrangements? Is there a top tip you can share?
I think you should always try to create something for yourself. Something that you love, using colours and materials that you enjoy. Afterall, creating an arrangement is creating a work of art and because it is such a subjective exercise you cannot hope to please everybody. So, don't! Just please yourself! Having said that there are obviously some fundamental principles to arranging that can make the overall display more pleasing but that is a huge topic to cover! It's probably easier to explain the basic idea behind my designs. I am always trying to recreate a little garden in a bowl or a bouquet. I observe what happens in nature and I try to emulate that in my designs to give that sense of light airy looseness that I love.
My top tip would be to never use floral foam. It is made up of tiny microplastics that will not decompose and is consequently very bad for the environment. There are so many environmentally sensitive alternatives it just isn't necessary. I tend to use chicken wire and floral pin frogs to support my flowers. I reuse these over and over and over again. My children will inherit them!
What do you love about Harrod Horticultural products?
I love Harrod Horticultural products for several reasons. Obviously, they are extremely practical, very well made and a lot of thought goes into making them aesthetically attractive too. I also love that the company is based in my home county of Suffolk and the majority of the products are designed and manufactured here too. I love to support local independent businesses and this one just fits the bill in every sense for me!
I particularly love the rusty supports because they just look so good in the garden even through the winter. They make beautifully architectural visual notes on the darkest bleakest days and of course in the growing months they are just incredibly useful!
Do you have any advice on which plant supports are best suited to certain plants?
I think the grow through supports are fantastic for tall plants that put on a lot of length very quickly. Get them in place early and it will be a floppy problem solved! The peony supports are fabulous for heavy headed plants. I use the large ones for many of my roses and the smaller ones are great for the peonies. The double arc supports are perfect for preventing plants from flopping on to pathways. I have them holding back gaura and bladder campion which can be a real nuisance if they tumble onto the paths and grass. Trying to hook them back up after they have succumbed is never particularly satisfactory…trust me I have tried! Frankly though, the supports are so versatile that their uses are really too numerous to mention. Basically, whatever you go for you will wonder how you lived without them!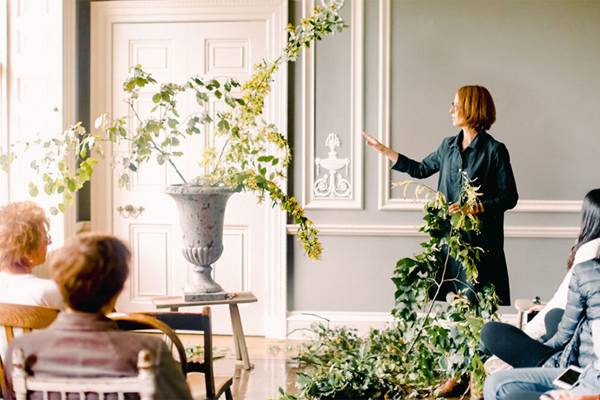 A big thank you to Brigitte for her time and make sure you visit Brigitte's website - Moss & Stone - undone florals to find out more about Brigitte's love of teaching the art of floral design. Brigitte also has a popular instagram account https://www.instagram.com/mossandstonefloraldesign/ with some stunning images of her work.
A recent instagram video of Brigitte talking through her garden and highlighting some of the plant supports she is using.
View this post on Instagram