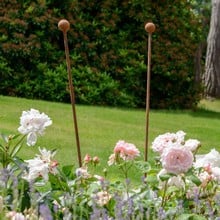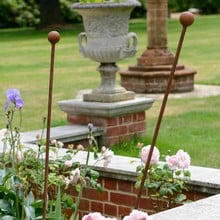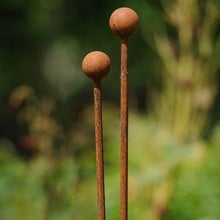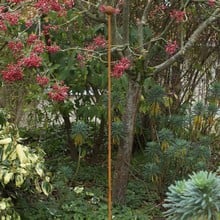 Steel Plant Stakes - Rust Finish (2 Pack)
£5.95 P&P
The Harrod Steel Plant Stakes in Natural Rust finish provide strong support and protection for tall plants in a borders or container and are also ideal for supporting young trees.
Read More
Exclusive Designed &
Made by us in the UK
These heavy duty plant stakes, made from solid steel rod 12mm thick, are supplied in plain degreased steel which quickly develops an even rust coating. These long lasting steel plant supports measure 1.75m high and are topped with a stylish ball finial.
Designed and manufactured by us in the UK, the plant stakes are supplied in a pack of 2. These strong supports are perfect for larger plants in the garden providing reliable unobtrusive support.
Exclusively designed and manufactured by us in the UK
Plant Stakes made from 12mm thick steel rod
Supplied in degreased plain steel which quickly develops a natural rust coating
Each stake measures 1.75m high
Stake topped with stylish ball finial
Supplied in pack of 2
Ideal for larger plants and young trees
13th November 2021
Ordered more to make an informal fence.
17th July 2017
An excellent product.Ready to go on arrival.Look really good and add interest to the garden Shall be ordering more in the future
19th August 2016
I love these tall good looking plant supports! They add height and interest to my garden. No fuss to put together, ready to do the job immediately you unpack them. Flexible and versatile these rods are great for your climbers to wrap themselves around, but also look good standing alone. Great buy!