I love November. The first light frosts have arrived, but still there are days warm enough to garden in your shirt sleeves. This month has been all about finishing the clearing and tidying of the garden and preparing for Winter. This is one of my favourite jobs of the year. The clear, freshly dug ground is oozing with the promise of what is to come next year. I already have it all planned in my head!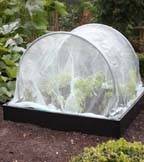 What I don't love about November is the leaves. Still they keep falling. There is a row of trees at one end of the Kitchen Garden which has covered the raised beds and gravel paths in abundance. Thankfully the Raised Beds have Hoops and Cover Kits on them so I can easily brush the leaves off and the crops aren't affected. And the Wire Leaf Composter is completely full, so I when the leaves are falling on my newly cleared paths, I can think of all the lovely leaf mould to come. I'll be glad when the trees are bare!
This month Jo has finished pruning the blackcurrants and blackberries. The blackberries have lovely long fresh stems that will hold next year's fruit and these need tying in securely. Jo has been using the fantastic Gripple Tensioner system to add new wires to the frame. It is so effective and easy to use. The new stems have then been tied in with Soft Ties and the job is done. Blackcurrants and blackberries have very thick stems so it's a good idea to have a good sharp, strong set of Felco Aluminium Loppers on hand.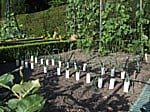 Despite Winter rapidly approaching, there are still crops aplenty in the Kitchen Garden. The leeks in particular look and taste amazing. I've also been harvesting cabbages, pak choi, spinach and carrots. I'm resisting the temptation to lift any parsnips until they have been sweetened by some hard frosts. The brussel sprouts are swelling nicely and have been staked to stop them toppling. Unfortunately, the dreaded whitefly has arrived so I've had to spray them with soap solution, I used our Organic Savona Fatty Acid Concentrate for this. The brassicas are covered with Butterfly Netting throughout the season and next year I will make a note to change this to Fine Insect Mesh later in the season to try and stop the whitefly from returning again.
Even though the weather is turning, there is still sowing that can be done, particularly under glass. I've sowed some Pea 'Meteor' for an early crop next year. Also Sweet Peas can be started off now to try and get an early start in the spring. Peas and beans love a deep root run, so it's a good idea to use Rootrainers when sowing them to get the plants off to a good start. In the greenhouse, I've sown Japanese Greens, Mustard Greens and Winter Density Lettuce, along with some Lettuce Valdor for the cold frame.
When the outside jobs are done for the day, it's time for my favourite November task of them all – Shopping! Settled in the warm and armed with a hot cup of tea, it's time to start browsing the seed catalogues for next year's crops and of course, the Harrod Horticultural brochure will be close at hand. I am really looking forward to using our new and exciting products which we will be stocking next year, trying out new methods of growing vegetables in our quest to achieve as higher possible yield, and of course sharing our successes and the occasional failure with you! I've already ordered myself a new energy efficient Indiana Electric Heater for the newly Bubble Wrapped greenhouse, this year I used the new Bubble wrap with bigger bubbles! I'll let you know how it goes when it's up and running...
Here are some of the jobs we've got planned for December in Stephanie's Kitchen Garden:
· Pot up a rhubarb plant ready to bring into the greenhouse to be forced after it has been frosted by the weather.
· Bubble Wrap any large pots that can't be brought under cover to protect them from frost. It's also a good idea to raise them onto Pot Feet to prevent them becoming water logged.
· Plant Shallots under Fleece to stop the birds from pulling them up.
· Dig over any bare ground and incorporate organic matter to improve the soil.
· Keep the crops clear of any garden debris.
· Remove yellow leaves from Brussel Sprouts to prevent mould and mildew from setting in.
We're always here to offer advice and support – go to the 'Ask the Expert' section on the website and Email Horticultural Advisor Jo Blackwell with your Kitchen Garden queries or Pest Control expert Julian Ives and they'll do their best to help!
We're busy tweeting about all things Harrod Horticultural - what we're doing, special offers, gardening tips and advice and you can always use Twitter or Facebook to get in touch with us as well. With our webteam manning the Tweet decks and Facebook site, you can be sure you'll get the best service we can offer!


Our 116-page Autumn 2012 catalogue is out now and it's packed full of gardening ideas, products and solutions to the problems every gardener faces, plus plenty more seasonal ideas to help get the harvest in and keep it fresh!

Happy gardening!