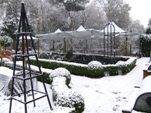 We've had our first snowfall of the Winter in the Kitchen Garden this month. A beautiful white, festive blanket covering everything in sight. Jo quickly took the netting off our vegetable cage to prevent the snow from weighing the net down and causing it to sag. She also shook the snow off our Slot and Lock portable cages. Luckily we had all our tender plants fleeced and ready for a cold snap.
The new Indiana greenhouse heater is up and running and, in combination with the bubble wrap, is keeping tender vegetables in the greenhouse well protected. However, my seedlings have become a welcome feast for mice during the recent cold weather. As well as Humane traps, we've installed a Pest stop device which is keeping the little blighters at bay!
Winter is a brilliant time for making changes in the Kitchen Garden while there is time to spare and before every inch of available space becomes crammed with crops. I have ordered all my seeds for 2013 and drawn up my plan of the garden for the year ahead. As part of this, I decided I needed more growing space and have just installed some new allotment raised beds. These have been filled with Rolawn Topsoil. Within days of completion, I had two of them planted up with shallot sets.
Jo has potted up a rhubarb plant and moved it into the greenhouse to force an early crop. This has been covered, but I keep taking a sneaky peek at the promising pink tip starting to develop. Also this month, I have harvested my first Brussel Sprouts which were delicious. There are many more waiting to adorn my Christmas Dinner table along with some lovely sweet parsnips. Can't wait!
Here are some of the jobs we've got planned for January in Stephanie's Kitchen Garden:
· Soil improvement. A perfect job for cold days and for working off that Christmas food! Dig in plenty of manure or organic matter to get your soil ready for the new growing season. Then cover with polythene to keep the nutrients in and help warm up the soil.
· As soon as your seed potatoes arrive, set them out in trays and start them chitting.
· Keep checking over wintering crops. Pick off any dead leaves and keep them clear of garden debris to prevent rot setting in.
We're always here to offer advice and support – go to the 'Ask the Expert' section on the website and Email Horticultural Advisor Jo Blackwell with your Kitchen Garden queries or Pest Control expert Gavin Hatt and they'll do their best to help!
We're busy tweeting about all things Harrod Horticultural - what we're doing, special offers, gardening tips and advice and you can always use Twitter or Facebook to get in touch with us as well. With our webteam manning the Tweet decks and Facebook site, you can be sure you'll get the best service we can offer!


Our 116-page 2013 catalogue is out now and it's packed full of gardening ideas, products and solutions to the problems every gardener faces, plus plenty more seasonal ideas to help get the harvest in and keep it fresh!

Happy gardening and Merry Christmas!