It is hard to believe that this time last year the Kitchen Garden was covered with a thick blanket of snow. The weather has certainly been milder this winter and it shows. The overwintering crops are enjoying the conditions and are well forward on last year. However, as all kitchen gardeners know only too well, the weather can change in a heartbeat, so the fleece and cloches are on hand – just in case....
Our garlic and onions are growing well and next month we will be giving them a boost by giving them a feed of Sulphate of Potash. Our chard, spinach, cabbages and calabrese are looking very healthy and ready to put on some delicious leaf growth ready for harvesting later next month. We've been harvesting kale all winter and these plants should carry on producing leaves well into the spring. We've also been harvesting brussel sprouts, winter salads, leeks and parsnips this month. No sign of the hungry gap just yet!
This month we have planted out our shallot sets. Last year we had an amazing crop and I am keen to repeat this! They have been covered with fleece to keep them cosy and to stop the birds from pulling them out of the soil. We have also put rhubarb forcers on some mature plants to bring on some juicy tenders early stems. The plants that were forced last year will grow normally this year to give them a rest. Our seeds potatoes have arrived and have been laid out in seed trays to start chitting. For me, this always heralds the start of the gardening year and a sign that the long winter is coming to an end.
Jo has finally finished cleaning all the pots and staging in the greenhouse. Everything has been scrubbed to rid them of any pests that may be lingering and the greenhouse looks immaculate. It's a blank canvas waiting for the season ahead to begin in earnest. Of course we have some crops that have been growing all winter long in the greenhouse. Mint and thyme are putting on plenty of lush flavoursome growth and rosemary cuttings are bushing out nicely. In the heated propagator, we sowed some parsley in December and these are ready for pricking out. In the greenhouse boarder we have chard and spinach filling out nicely. The first week in February, sowing will begin on a big scale and the new kitchen gardening year will get underway.
Jo has also been taking stock of our feeds, fertilisers and pest control. She likes to get stocked up in advance so that whatever she needs is close at hand. There is nothing worse than discovering slugs or caterpillars on a crop and then have to wait for the desired product to arrive in the post. So the shelves in the potting shed are stocked up and ready to go before the first seed is sown!
Also in January, we chose a bright sunny day to update our herb planters. Some leggy, sad looking sage and thyme has been dug out, given a good haircut and settled into the cold frame to recover. In the meantime we added some winter colour to the pots. They look lovely.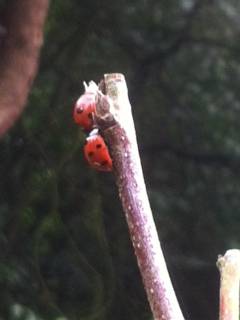 We enjoy numerous wildlife visitors in the Kitchen Garden – some of them welcome, others not so welcome! In January the birds have been flocking to our feeders which have to be refilled often. Hopefully the same birds will be feasting on pests later in the year to help us control our garden naturally. We've also spotted the first ladybirds of the year. Let's hope it's a bumper year for them too.
Here are some of the jobs we've got planned for the February in Stephanie's Kitchen Garden:
- Clear debris quickly to keep the garden tidy and prevent pests and diseases from over wintering.
- Winter Wash fruit trees and bushes
- Prune Autumn fruiting raspberry cane down to thhe ground and give a generous mulch with well rotted manure.
- Sow seed in a heated propagator. We will be sowing broad beans, turnips, early peas, summer cabbage, cauliflower, aubergines, brussel sprouts, celery and celeriac.
We're always here to offer advice and support. Go to the Ask the Expert section on the website and Email Horticultural Advisor Jo Blackwell with your Kitchen Garden queries or Pest Control expert Gavin Hatt and they'll do their best to help!
We're busy tweeting about all things Harrod Horticultural - what we're doing, special offers, gardening tips and advice and you can always use Twitter or Facebook to get in touch with us as well. With our webteam manning the Tweet decks and Facebook site, you can be sure you'll get the best service we can offer!
Our 116-page 2014 catalogue is out now and it's packed full of gardening ideas, products and solutions to the problems every gardener faces, plus plenty more seasonal ideas to help get the harvest in and keep it fresh!


Happy gardening!