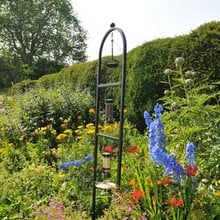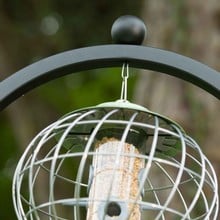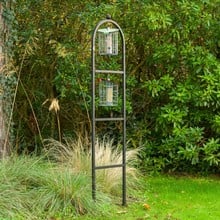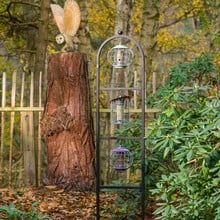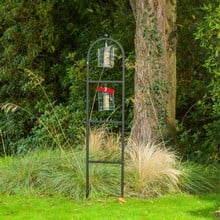 Harrod Arched Top Bird Feeding Station
£9.95 P&P
Our Arch Top Bird Feeding Station has been designed following a number of customer requests, can hang up to 3 feeders and is ideal for supporting climbing plants, making the feeding station a real garden focal point.
Read More
10 Year
Framework
Guarantee
Exclusive Designed &
Made by us in the UK
The Arch Top Feeding Station stands 2.11m High out of the ground and is made using strong 1 inch steel tube, galavanised inside and out and matt black powder coated for a long lasting stylish finish. The discreet stainless steel fixings are also black coated.
The feeding station is designed to hold 3 feeders (max. 40cm/16" H, not included) which can be hung from the silver coloured spring clips which fit into the framework to provide a strong hanging point.
This attractive Arch Topped Bird Feeding Station is also ideal for supporting climbing plants making the bird station a real focal point of the garden.
Exclusive - Designed and Made in the UK by Us
Designed to hold 3 feeders (max. 40cm/16" H)
1 inch square steel tube, fully galvanised, matt black powder coated
2.11m high out of the ground
Designed to be inserted 0.3m into ground
Measures 49cm wide
10 year framework guarantee
Discreet black coated stainless steel fixings
Spring clip hooks in silver colour for hanging bird feeders
Self assembly required
A hole former can be used for installation in hard ground - available separately
Crown Topped Bird Feeding Station also available
18th September 2018
Delivered on time; easy to assemble (although does need concreting in). Looks smart but doesn't hold enough bird feeders
7th June 2016
This is a really nice piece for the garden. Easy to put together and we have knocked into the garden and its standing up really well. I am growing a climbing rose up one side, and jasmine up the other side, and its a really lovely feature. The birds are happy with it, and perch on the cross bars as well as the feeders. I did find undoing the squirrel proof hooks a little tiresome as we dont have a problem with them, so i bought some S hooks for a couple of pound and hung the feeders on them, so much easier to take down and fill. I am really pleased with this - it felt expensive, but its really made a great feature in the garden.
9th June 2014
VERY EASY TO ASSEMBLE. VERY STRONG AND STURDY SO NO MORE FEEDING STATIONS TOPPLING OVER . LOOKS GREAT IN THE GARDEN . MY ONLY ISSUE IS THE LITTLE STAINLESS HOOKS THAT HAVE TO COME OUT EVERY TIME I FILL THE FEEDER AS MOST OF MY FEEDERS HAVE CLOSED HOOKS NOT OPEN ENDED
What The Press Say
---
Amateur Gardening
November 2013
New Product - Tried and Tested
A feeding station that will sit easily in any garden design, well away from the likes of newly cleaned windows, or fencing that acts as a launch pad for cats. Made from 1 inch square galvanised steel tubing that's matt black powder coated, the arched top bird feeding station is 6ft 6ins tall and can hold up to three 16ins feeders. It includes squirrel proof fixing hooks and fixings for a seed catching tray. The beauty of the design is that it can double up as a support for climbing plants during the summer months, giving a real dual purpose and value for money. If you want to go for a slightly more intricate look there's a crown-topped style that comes in at £149
---