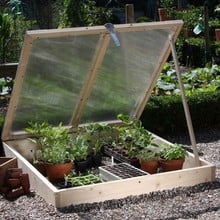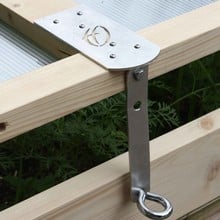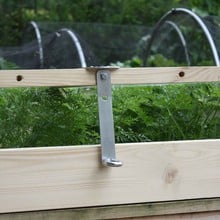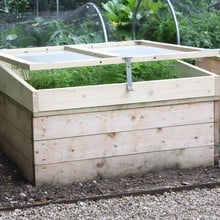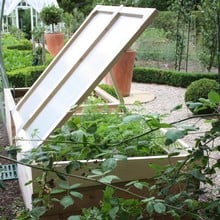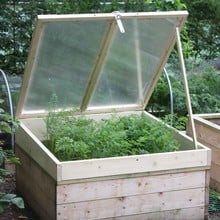 Our Harrod Horticultural Wooden Cold Frame has been designed in-house and is a real addition to any kitchen garden, vegetable plot, allotment or general garden set-up because it's so versatile and well built!

The Cold Frame can be placed on paving or pea shingle where the stored heat generated by the stone will help with hardening off; you may want to place the frame directly over crops in open soil or, thanks to our clever design, the cold frame can be easily secured to one of our 1.2m (4ft) square Allotment or Standard Raised Beds for instant protection from the seed sowing stage onwards.

Manufactured from pressure treated 3.5cm (1½") thick timber, the cold frame will easily outlive the 3 year guarantee and the 4mm thick twin wall polycarabonate glazing in the adjustable roof - closed, ajar and fully open - allows plenty of light to reach the hardening off plants inside and with a raft of other features - including two lid support arms, rain water drainage holes and aluminium strengthening plates and fixings - this cold frame won't let you or your plants down!
Wooden Cold Frame designed and manufactured in-house by Harrod Horticultural
Use for overwintering pot plants and more established specimens
Frame made from pressure treated 3.5cm (1½") thick timber
Cold frame glazed with 4mm thick twin wall polycarbonate
Measures 122cm square
Extra Deep 31cm H Front and 38cm H Rear thanks to the 15cm 'raiser' base
Fitted with aluminium strengthening plates, catch and steel pin for securing lid
Lid can be locked in 3 positions - closed, ajar and fully open
Support arms hold roof firmly in open position
Rain water drainage holes prevent water build-up on lid
Stand timber cold frame on paving so plants benefit from stored heat
Can be placed directly over seedlings or plants in open soil
Designed to fit on a Harrod Horticultural 1.2m square (4ft) Standard or Allotment Raised Bed for full plant protection
Brackets for fixing to a raised bed included
Suitable for over-wintering pot plants
3 year guarantee
Supplied flat-packed
Full assembly instructions included
10th July 2018
Cold frame was of a very high quality, and the price was reasonable.
23rd March 2014
Construction materials are very strong and should be long lasting. The only negative comment is the opening mechanism. The latch provides two positions for minimal opening, but the larger opening mechanism only provides one position and uses nuts for security, rather than wing nuts.
What The Press Say
---
Amateur Gardening
2012-12-22
Peter Seabrook "My ultimate 3 gardening must-haves..."
"The cold frame is never out of use year-round - all those windowsill-raised plants spend time in the cold frame hardening off and getting protection throughout the year"
---
Amateur Gardening
2011-10-29
Tried and tested cold frames with Julia Heaton.
Build 5* Pressure treated timber with twin walled polycarbonate glazing. Aluminium plates and fixings included. 48in x 48in x 9in. Features 5* The roof is adjustable and can be fixed in three different positions. It also has drainage holes to avoid sitting water. Can be fixed on top of a Harrod Horticultural home allotment. Brackets included. Preformance 5* Not the easiest of frames to erect however it was definitely the strongest. The timber is thick and heavy and it sits low to the ground. It could be sat over open ground to help protect plants or on a patio where it could hold 15 trays. Very heavy so requires two to move it. Value 4* Comes with a three year guarantee. Although pricey it has a number of uses and is heavy enough to withstand winter winds.
---