September has been unseasonably warm in Stephanie's Kitchen Garden. For most of the month we have been experiencing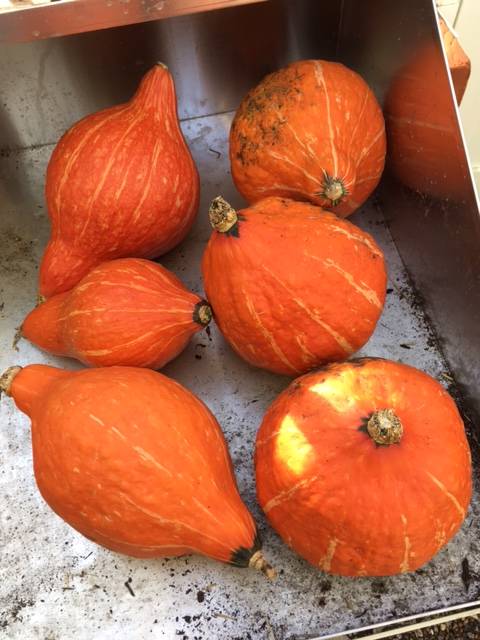 heatwave conditions, with temperatures only returning to normal within the last week. The garden has loved it and sun loving crops such as sweet potatoes have thrived. Here on the East coast we have had very little rainfall; plenty being forecast but never actually reaching us. The soil in the surrounding grounds is dusty and dry and we have sent most of the month trying to keep all parts of the garden watered. In the Kitchen Garden the irrigation has been busy and I feel as though I have spent most of the month with a watering can in my hand!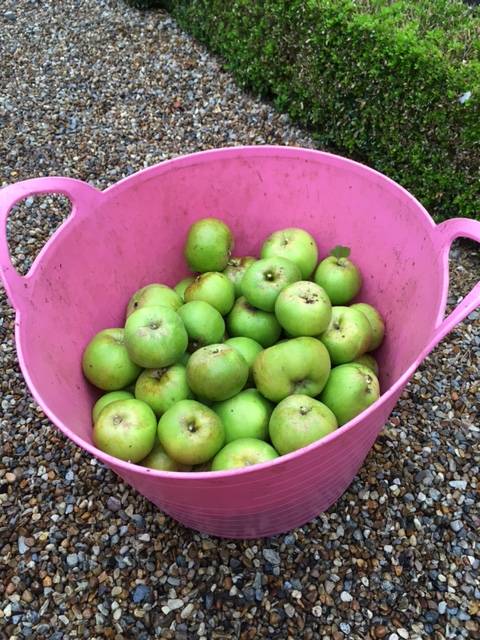 As I write this, there are signs of mildew on some of the squash and courgettes leaves, but overall our hard work has kept the garden healthy. The beans are continuing to crop well as are our tomatoes, cucumbers, peppers and courgettes. We have harvested our early squash with later varieties continuing to swell. The celery is perfectly ready for picking and we are enjoying it whilst the conditions for it are good as it won't enjoy very cold nights. Currently it is nestled in a grow frame which should help prolong it.
Our apple trees have been dripping in fruits all summer and they are a really good size. Our dessert apples are still ripening on the trees, but only last week, we cropped our bramleys. We had started to get a few windfalls so gave a couple of fruits a gentle twist. They came away easily indicating that it was time to harvest them. We dug the apple rack out of the shed and set it up in a cool corner of the garage, laying out the apples on each tier with a small space between each fruit to allow air to circulate and stop them rotting. I have just spent a satisfying weekend peeling and chopping them before bagging them up and popping them in the freezer. There'll certainly be lots of apple pie ahead for us through the winter!
September is the ideal month to prune evergreen hedges and get them neat and tidy before the winter.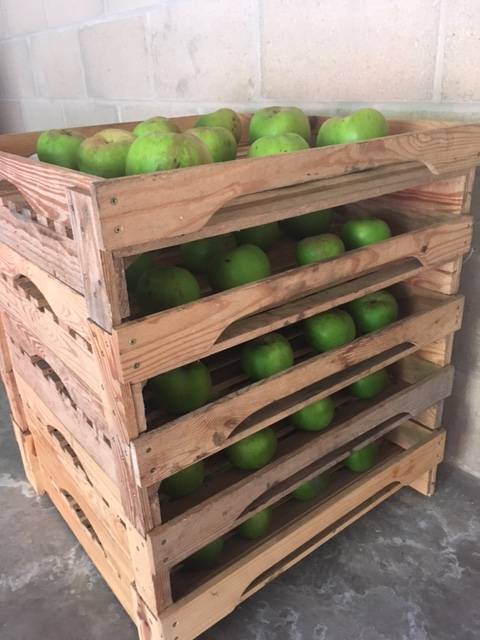 Hedges trimmed now are unlikely to put on any significant growth before the cold weather hits us, so they will stay looking crisp for the months ahead. Stephanie's Kitchen Garden is surrounded by a large yew hedge, which helps create a microclimate ideal for growing fruit and veg. During the summer months, it serves as a back drop for all of the lovely plants that it surrounds. Almost unseen, it slowly puts on growth until suddenly, as we start to clear the crops, it is revealed and it becomes apparent how untidy it has become. Once clipped, it will become a structural focus in the garden providing winter interest and a home to birds and wildlife.
This month we were out with the ladders, barrows and pruning shears taking on the annual prune. Last year, our yew clippings were collected and taken to be used in the manufacture of cancer drugs; making us proud and deeply satisfied. Unfortunately this year, the drug companies don't require as many clippings, so they have been discarded. Hopefully next year, we can donate them once again. Cllpping the hedges is a big, time-consuming job, but deeply satisfying.
Inside the greenhouse our summer crops are still going strong and show no signs of slowing down. The cucumber plants, trained across the top bars of the roof, now reach from one side of the greenhouse to another. At a time where we would normally be consigning these plants to the compost bins, they are still producing fruits. With our minds on next year, we have sown garlic, broad beans, spinach and rocket into seed trays and squeezed them into available spaces on the greenhouse staging.
I often express the virtue of keeping a garden journal, detailing crops, harvests and weather conditions. This month has given a particularly interesting example of why I find it so useful. Last September I detailed the falling leaves and the use of cloches to keep tender crops going. I wrote of cold nights and of switching on the greenhouse heater. None of these apply to September 2016, obviously due to the warm weather we have had. These jobs from September are now on my 'to do' list for October. This is a perfect example of why gardening advice books should always be used as guidance rather than law, as only Mother Nature can dictate what should be done and when.
Here are some of the jobs we've got planned for October in Stephanie's Kitchen Garden:
Clear leaves and plant debris as it falls to keep the garden tidy and pest-free.
Switch on the greenhouse heater on cold nights.
Clear away growhouses when tomatoes finish cropping.
Continue harvesting!
We're always here to offer help and support. Go to the Ask the Expert section on our website and email Horticultural Advisor Jo Blackwell with your Kitchen Garden and she'll do her best to help.
We're busy tweeting about all things Harrod Horticultural - what we're doing, special offers, gardening tips and advice and you can always use Twitter or Facebook to get in touch with us as well. With our webteam manning the Tweet desks and Facebook site, you can be sure you will get the best service we can offer.
Our 108 page catalogue is out now and is packed full of gardening ideas and products to solve the problems every gardener faces, plus plenty more seasonal ideas for harvesting, storage and preserving solutions.
Happy gardening!