The Harrod Slot & Slide Compost Bins have been carefully designed to create an efficient and dependable garden compost bin, manufactured from thick 19mm planks which slide into strong aluminium post fixings for easy access to turn the compost pile or collect finished compost.
The compost bins are available in 2 sizes; 564 Litre (78cm High x 93cm square) and 1219 Litre (78cm High x 1.33m square) and are supplied as single compost starter bins (excluding lids), or add additional bins to create a continuous composting system. The 3 bay compost systems (as seen in the main image) are supplied with lids.
Special Offer - Buy 3 Bay Compost Systems & Save - Medium System Save £95 / Large System Save £70
Our unique design offers a generous capacity to help create intensive core heat, as big compost heaps are self insulating. Manufactured from high pressure treated Scandinavian softwood the composters have good airflow and the optional lids keep the heat in for faster composting and will deters pests and help keep moisture levels constant.
The bins require some initial construction and we recommend using an electric screwdriver to fix the end plates to the planks which then allow the planks to easily slide up and down the aluminium post fixing plates, for easy access to the bin to turn and aerate the heap – essential for promoting oxygen and increasing microbial activity.
Designed & Manufactured by us in the UK
3 year structural guarantee
Available in 2 sizes - 564 Litre (78cm High x 93cm square) and 1219 Litre (78cm High x 1.33m square)
Available as single starter bins & additional bins which link to the starter bin
Optional lids available separately - lids fit inside frame for a flush finish
Lid helps keep heat in, deter pests and keeps moisture levels constant
Manufactured from Scandinavian softwood sourced from sustainably managed forests
19mm thick planks high pressure treated with a safe preserve for longer life
Panels slide out for easy access to turn and aerate heap
Slatted sides allow some air flow
Instructions contain detailed information for making compost
Self assembly required
An electric screwdriver is essential to aid assembly
Planks require attachment of simple end plates and posts require attachment of aluminium guides
Please Note: The lids are not designed to be an airtight fit and will have a gap around them so that they can be easily removed.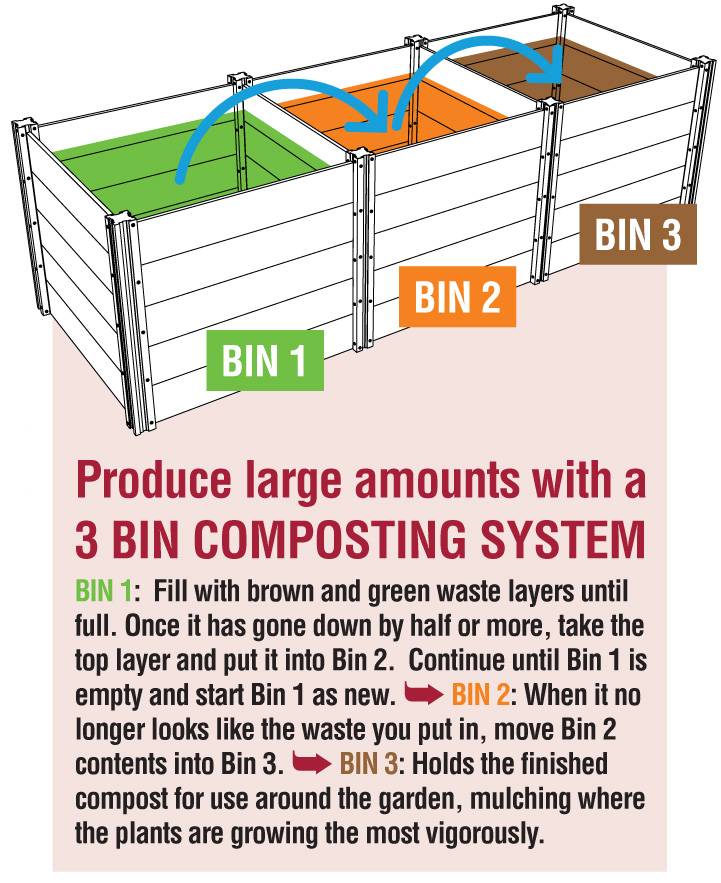 8th April 2023
I am a woman in her mid seventies and it took me six days to assemble the three bins. It was fiddly but I managed it and am delighted with the results. The wood in the bins is of good quality and I think it will last. I find it easy to fill the bins and to access them. My bins have lids, so there is no smell from house hold compost. I have been composting for years and think easy access will be of benefit to me in the future.
18th March 2023
The bin is OK but requires a great deal of assembly, an electric screwdriver is essential. To my mind the depth of a compost bin is important and this bin is a little short in this department it could have done with being six planks deep rather than five (the advertising pictures seem to me to be misleading with regard to this aspect of its size).
Many thanks for your feedback. Your comments have been passed onto our R and D Dept.
29th September 2022
This compost bin is a kit, not a simple, slot together, option. A two bay bin needed me to drill 420 holes to attach metal fittings with the same number of screws. Thank goodness I had a power drill and electric screwdriver! The battens for the lids were very difficult to fit and the kit did not include a drill bit to match the screws. The screws for the central battens screws were not long enough. Do not buy this compost bin unless you are a keen DIYer - in which case you could save a lot of money and do something yourself, much more cheaply.
Many thanks for your feedback. Your comments have been passed onto our R & D Dept. for further review.
What can go in to a conventional bin and how does it all work?
Success depends on heat, biology and a good balance of ingredients, added in approximately 10cm. layers. 'Green' waste (grass, border and hedge trimmings, snipped or shredded woody prunings) heats up steamily, starts to break down rapidly and can be stirred into layers below to speed everything up. 'Brown' waste (e.g. shredded paper, packaging and straw) should be added at regular intervals to counteract the wetness of the greenery and will rot down too. Manure from herbivores (chickens, pet rabbits) adds zest to the whole mixture, as does the odd spadeful
of soil.
Autumn leaves are best composted on their own in hessian bags or cages, since they rot down more slowly and in a different way.
What shouldn't go in?
Moss (which refuses to rot and can therefore be unwittingly spread around)
Seeding weeds or garden thugs (i.e. Verbascums, Fennel) Roots of perennial weeds such as ground elder and bindweed – unless they are thoroughly dried off in the sun first. Cat and dog (i.e. carnivore) manure. Meat or cheese kitchen scraps or vegetable waste that has been contaminated by them.
Common problems
Too dry? Water the heap and/or add more greenery and cover it tightly to keep the heat in.
Smelly? Add more 'brown' ingredients, but no grass clippings or kitchen waste for a while. Stir the contents to open it up. Leave the lid off.
Rats? This is a tricky one - they may try to move in if there is a regular source of food nearby (i.e. a bird table or poultry house).
Slugs and snails? No problem. They are doing their bit for the composting process, and at least it keeps them away from your lettuces and hostas.
Our Horticulturist says; "Home composting is a must for any serious gardener. Well rotted compost adds essential organic matter to soil along with humus and greatly improves structure and the soil's ability to hold onto water and nutrients.

What's more, home composting is free, can be easy and greatly helps the environment as less compostable material makes it to landfill sites where it produces harmful methane gas - and you cut down on trips to the garden centre to buy compost too. It's a win/win situation!

It's also surprising how much compostable material your garden and kitchen produces; of course there's the usual, stems, deadheaded flowers, leaves and spent plants from the veg patch or border but don't forget kitchen peelings, cardboard and newspaper from inside the house. Filling a bin or building a heap is never a problem!"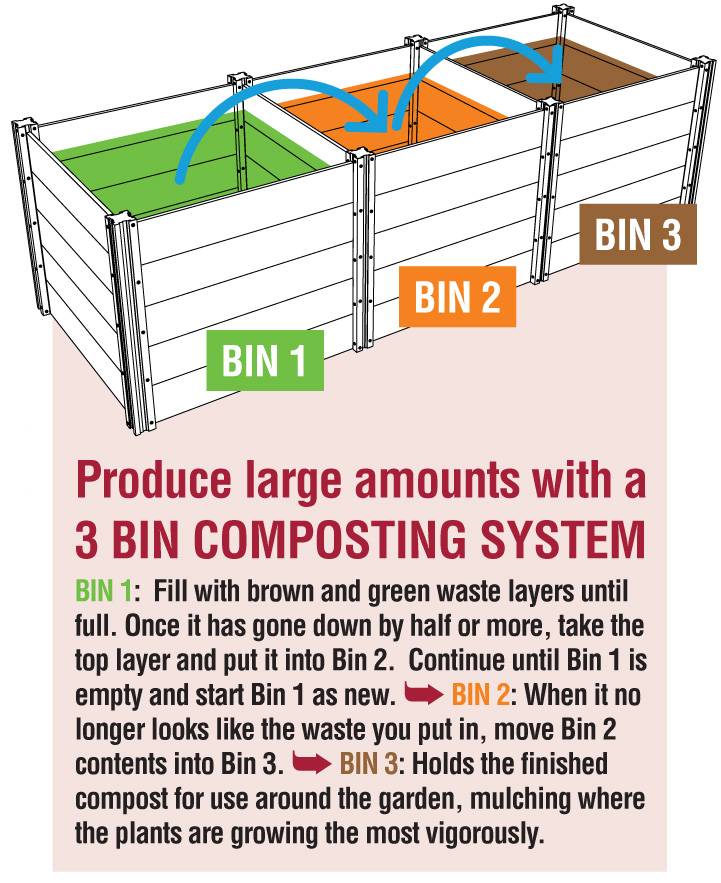 What The Press Say
---
Grow Your Own
October 2015
Composters and Wormeries on Test - Dave Finkle
If you are up for a bit of light construction then get your hands on these handy composters, they require and hour or two to assemble. These solid compost bins look traditional and practical and concept is very well though out - the planks slide in and out with ease, permitting easy control and access when managing your black gold. I think the most impressive point is the flexibility the range offers - you can simply add on another bay as and when you need. If this isn't enough, the timber is pressure treated and provided with a three year structural warranty. A sound purchase in my view!
---