At the beginning of October, we were still experiencing very dry conditions in Stephanie's Kitchen Garden and hoping for a little rain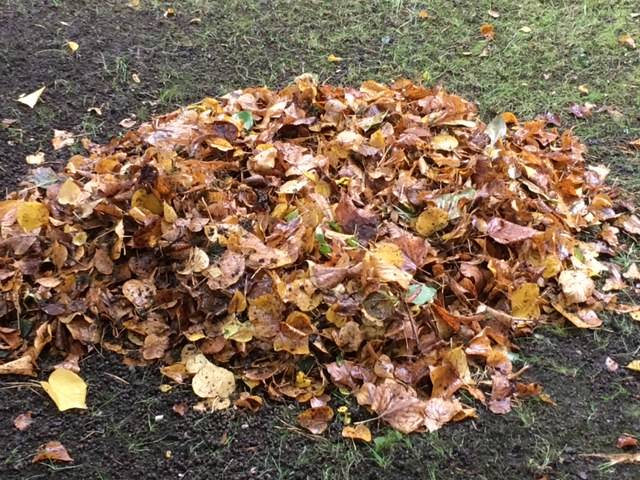 to dampen the dusty ground. We should have been more careful what we wished for. Now it feels as though it has been raining forever and the cold north east winds are making it uncomfortably cold for both gardeners and crops alike. The sun has a little warmth, but the biting winds are pegging back the temperatures dramatically.
The extreme wet and heavy downpours are making the soil unworkable, so we have been getting on with some jobs inside the greenhouse instead. Early in the month, we turned on the heater to make sure the temperatures don't drop too far at night. This will keep our crops warm and happy and hopefully cropping for longer. We are still currently picking cucumbers, cucamelons, chilli peppers and the last of our tomatoes. We have cleared away the old capillary matting from the greenhouse staging, which has done a brilliant job of keeping the humidity levels high during the really hot weather. Now that the weather is cooler, it is no longer needed as our plants won't relish being sat on cold damp matting. The staging has been given a quick clean to keep it shiny to help reflect the light onto the leaves of sun-loving peppers and aubergines.
Despite the summer only just fading into autumn, we already have our minds on next year. This month, we sowed our broad beans to get an early start for next year's crop. They've been sown into rootrainers and we have started them off in the greenhouse; covering the tops of the trays with a sheet of chicken wire to stop greedy mice from pinching them before they germinate. Once they have established, they will be moved into the cold frame to grow on before being planted outside in November. Our garlic is also growing well in seed trays in the cold frame. This will be planted into two new raised beds in front of the greenhouse as soon as they have been built. This is a lovely sunny sheltered spot that the garlic will love.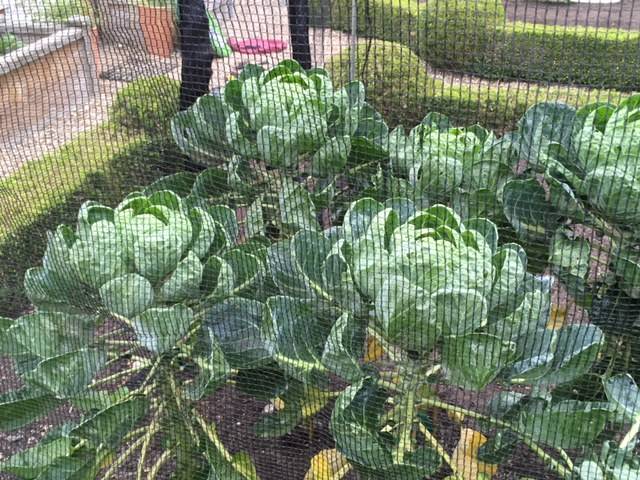 Outside, our brussel sprouts have succombed to whitefly. We have had problems with this in the past so always cover our brassicas with insect mesh which is very effective. Recently, we changed the mesh to netting for a photoshoot and foolishly didn't replace the mesh. We have been spraying them with a chilli and garlic water spray weekly to try and control the whitefly. Next year, we will interplant the sprouts with marigolds, the smell of which should hopefully deter the whitefly from settling in again.
The biting winds and plummeting temperatures have led to the inevitable ground covering of leaves from the trees all around the garden. The raking and barrowing of leaves has replaced watering as the daily must do job. The leaf mould bays, empty after our big spring mulch, are already beginning to fill steadily. As a tidy gardener at heart, falling leaves are not my favourite garden sight and the next couple of months will be spent trying to keep the garden tidy – a battle with Mother Nature that I know we will lose. As soon as the rake and barrow are put away, more leaves will fall and all our work will be undone.
The birds have also sensed the change in the season and are more actively looking for food. This week we will be giving our bird feeders a good clean before stocking them up for the colder weather ahead. As food supplies begin to dwindle, our feather friends will appreciate a regular supply of food. They will now be looking for shelter so it is a really good time to be putting up nesting boxes, or cleaning out existing ones.
The last of our apples and pears have now been harvested and are currently laid neatly on the apple racks in a cool dark corner of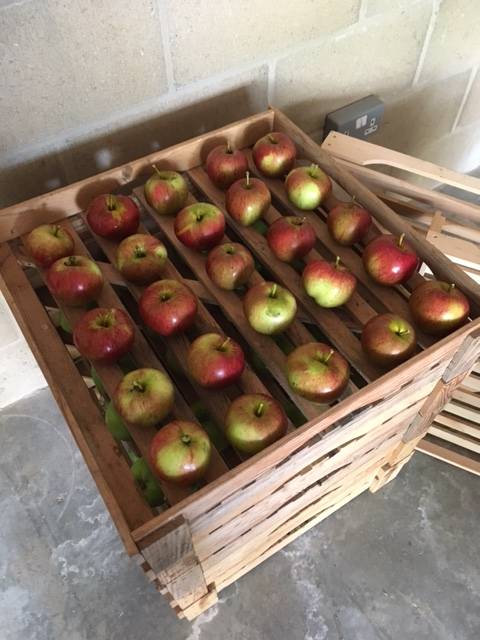 the garage. It's been one of the biggest harvests I can remember – so big, that our apple rack is full despite having extra new layers added. Consequently the pears had to make do with a homemade rack made from seed boxes and hazel fencing. Safely tucked away from opportunistic birds, we have discovered a new threat to our precious crop. Our two gorgeous retrievers Ruby and Millie, like nothing more than to snack on a forbidden apple or pear. They now spend a lot of their time loitering near the garage door in the hope of sneaking in and stealing some.
Here are some of the jobs we've got planned for November in Stephanie's Kitchen Garden:
Clear leaves and plant debris as it falls to keep the garden tidy and pest-free.
Harvest sweet potatoes and remaining squash.
Clear away the old bean plants and tidy away the supports ready for use next year.
Plant out garlic and broad bean plants.
Complete next year's seed order.
We're always here to offer help and support. Go to the Ask the Expert section on our website and email Horticultural Advisor Jo Blackwell with your Kitchen Garden and she'll do her best to help.
We're busy tweeting about all things Harrod Horticultural - what we're doing, special offers, gardening tips and advice and you can always use Twitter or Facebook to get in touch with us as well. With our webteam manning the Tweet desks and Facebook site, you can be sure you will get the best service we can offer.
Our 108 page catalogue is out now and is packed full of gardening ideas and products to solve the problems every gardener faces, plus plenty more seasonal ideas for harvesting, storage and preserving solutions.
Happy gardening!