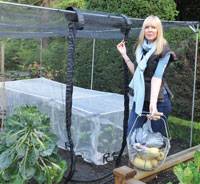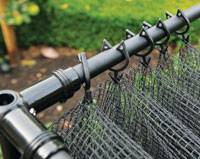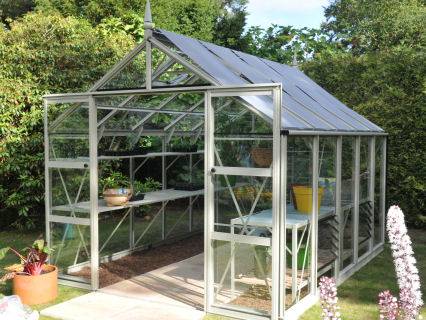 For those of you familiar with our award winning Harrod Slot and lock connectors, we have been busy extending our range that now includes extreme weather and easy access vegetable cage kits. They feature the NEW and innovative Harrod Frame Saver Clips that enable the covers to simply slide to one side like a shower curtain for easy access to the plot, whilst they release the netting from the cage in storm force winds or under the weight of snow fall to prevent the framework from buckling or bending! A real revolution to the frustrations of accessing crops and the damage that the unpredictable UK weather can be cause to vegetable cages.
Anything clever that saves time and effort is always welcome. Gardeners will therefore be delighted to discover the NEW Harrod Easy Claw Net Pegs and the NEW Harrod Double Zip Net Access Strip. The snap-proof pegs have a claw feature at the top to secure netting to allow it to be hooked and unhooked without ever having to remove the peg itself from the ground. For even quicker access to netted structures, there is nothing more convenient once a Harrod Double Zip Net Access Strip that has been fixed in place, allowing you to unzip to the ground and roll up to create a door opening. Simple yet ingenious solutions...
Other exclusive designs NEW for 2014 are the solid Harrod Steel Wire Obelisks with 3 interesting designs - Square Column, Round Column and Pyramid; perfect for supporting your sweet peas or your Kitchen Garden Runner Beans. We've also added new Harrod Wire Support Frames too - trumpet support, tall circular or short circular - the ideal corsetry for any flowers.
The wire range is available in 2 distinctive finishes – natural rust and the classic Harrod matt black powder coating. If you haven't already planted out your fruit bushes and trees then don't panic there's still time. For the best results, plant them in rows and train them along a reliable support system, just like our NEW Harrod Steel Fruit Growing Supports, ideal for summer and autumn raspberries and red and white currants. Each design has carefully considered the ideal spacing and configuration of steel posts, steel support rods and steel wire to achieve optimum growing success - all fully galvanised in a smart matt black powder coating, giving a long lasting finish and complete with a 10 year guarantee.
Considering installing a greenhouse in time for Spring? Then you'll want a reliable brand that you know you can trust. Why not get your seeds off to a flying start this year with the NEW range of Harrod Superior Greenhouses, built with quality fittings and made to last, offering a 25 year guarantee on the Aluminium framework. The greenhouses come with lots added extras such as blinds and vast amounts of ventilation. Each Greenhouse can be fully customised to meet your needs and come in 3 striking colours: Pine Green, Antique Ivory and Willow Grey. If you're restricted by space and want something practical but a bit special then you could consider the Harrod Elegance Glasshouse. Octagonal in shape and finished in a beautiful powder coated Willow Grey colour, it really will brighten up any corner of your garden.