The netting pegs will secure any netting with a 7mm+ mesh size and can be further secured into the ground with a steel ground peg if required - available separately.
Our new claw design pegs have been designed to make securing and releasing garden netting over frames quick and simple, but the pegs will also not break if stood on, so will last a long time too.
Innovative design - patent pending GB1319615.9
Claw design holds netting securely
Pegs insert 15cm into the ground
Netting can be quickly released without removing peg
Flexible so will not break if stood on
Works on netting 7mm+ mesh size
Peg can be secured in the soil with steel ground pegs (available separately)
Supplied in packs of 10 or 20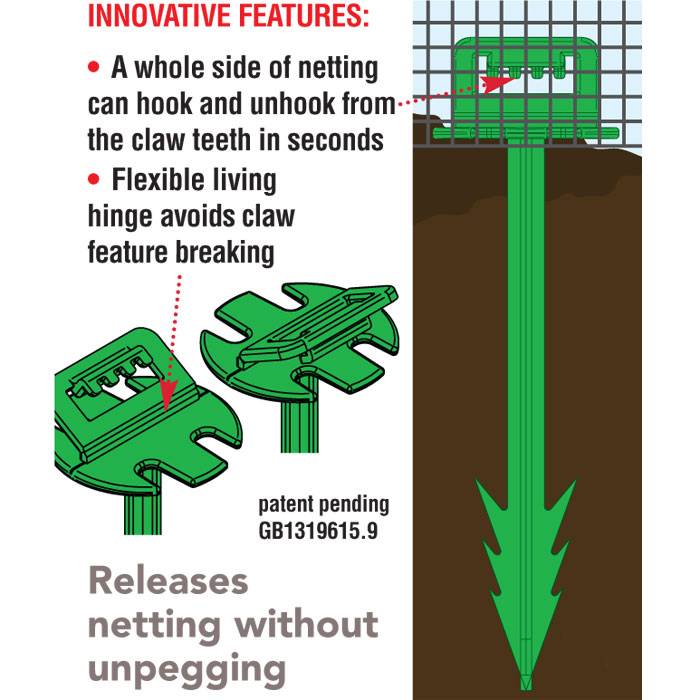 30th March 2022
I first came across these pegs when I bought a fruit cage and found them very useful so ordered more to use with the netting
13th April 2019
Very usefull and easy to use. Unfortunately the flexability of the top section appears to be its weak point. The pegs are not sturdy enough to last several seasons, particularly if the top section is flexed in use. I have to continually replace pegs if I need them for netting. Once the top has split however the main section og pegs form a very durable row marker.
What The Press Say
---
Womens Weekly Gardening
May 2014
Whats New
Harrod Horticultural's Easy Claw (£3.45 for 10) is a device that gives quick access to netted structures. Also new is a user-friendly zip to use on fruit cages (from £12.95). Visit the Mail Order Shop at www.harrodhorticultural.com
---
'Which' Gardening
March 2014
New Products - We cast an expert eye over some of the new gardening products now available and give you our verdict.
Our Verdict - These net pegs are made from tough plastic, with a flexible claw at the top that hooks onto the netting. There is a notch so they can be secured with a metal spike if needed but I found that they held firm even without it. With the net pegs in place, I could easily unhook the netting to get access to the plants underneath. I tried them with a variety of net sizes, and they worked fine with mesh sizes 7mm and up. James Robbins, researcher.
---