Harrod Elegance Glasshouse
£4.95 P&P
The Harrod Elegance octagonal greenhouses fuse together the practical and space efficient needs of a greenhouse with impressive functionality and sleek architectural lines. This impressive combination results in a compelling design.
Read More
Our remarkably well proportioned octagonal shape Harrod Elegance Glasshouse has elevated design to a higher level. It fuses together the practical and space efficient needs of a greenhouse with impressive functionality and sleek architectural lines. The result of this compelling combination is a magnificent focal point that will dramatically enhance all garden settings and could be used as an opulent place to spend some peaceful time too.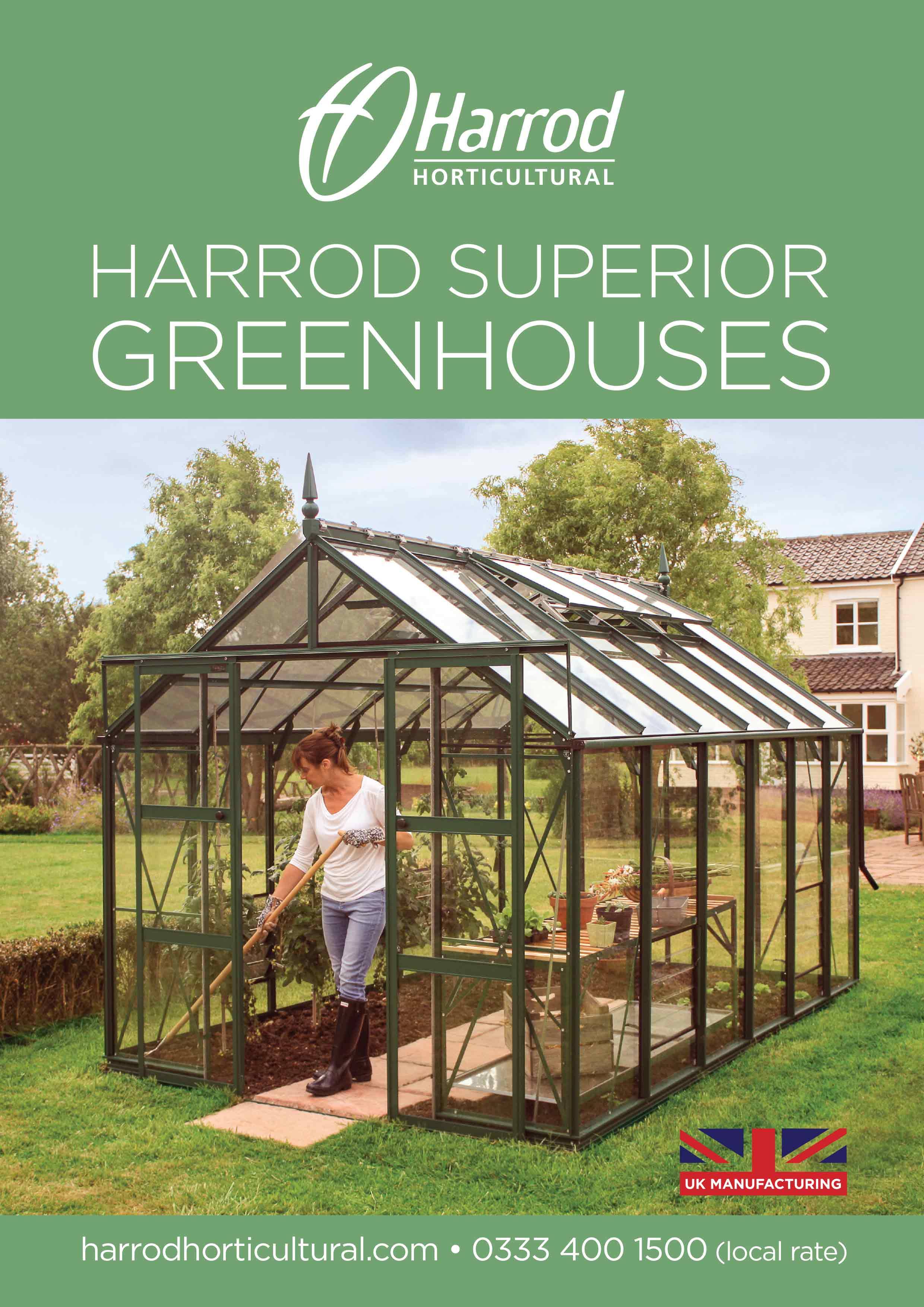 Browse our online catalogue for lots more information about our stunning range of greenhouses.
Please Note: The Harrod Elegance Glasshouse must be installed on a solid base - either concrete or paving slabs.
• Superior strength 25 YEAR GUARANTEED ALUMINIUM FRAMEWORK that is polyester powder coated Willow Grey for a luxury colour finish and topped with an elegant finial.
• Strong base panels add a substantial appearance and protects the glass too.
• Glazed with premium 4mm toughened glass for both strength and your safety. It's far superior to 3mm glass often found in many greenhouses. All glass confirms to the required British Standard and carries the BS Kitemark EN12150-1:20.
• 5ft 7" tall door with quality mortice latch and lock.
• Box section glazing system, no clips or beads.
• Stylish frameless roof vent, fitted with the renowned high quality Bayliss autovent.
• Complete with robust 5 bladed louvre vent.
• Base Width (Flat to Flat): 2.05m/6ft 7ins; Height to Ridge (including finial): 3.04m/9ft 10ins; Height to Eave: 1.76m/5ft 7ins.
PRICE INCLUDES INSTALLATION to most mainland UK areas onto your suitably prepared base.
CUSTOMISE YOUR HARROD ELEGANCE GLASSHOUSE with optional integral cedar staging. Our high specification cedar staging allows you to stand in the centre of the Glasshouse and work all round yourself. The contemporary slats with aluminium finishings introduce a modern clean style, a delight to anyone that appreciates attention to detail.
Eye-level Cedar Staging(3 Bay Wide x 30cm/1ft Deep) GRO-404 £130.00
Lower level Cedar Staging (5 Bay Wide x 60cm/2ft Deep) GRO-403 £195.00
Delivery - please allow 6-8 weeks delivery. Please note that Greenhouses are delivered on lorries and if access is restricted then there will be an extra surcharge for delivery on a smaller vehicle. There is an additional surcharge for deliveries to Scotland, Wales and Cornwall - please call 0333 400 1444 for a quote.
Glasshouse Base
The Harrod Elegance Glasshouse Base needs to be hardstanding of some description. Various options are explained below. Extreme care must be taken to ensure that the base is large enough to accommodate the external size and shape of the Glasshouse. It is also imperative that it is completely smooth and level (there is no 'give' in a straight piece of aluminium!):
Option 1:
Paving Slabs: must be laid flat and level and, at a minimum, must be slightly over the Glasshouse footprint size and shape.
Option 2:
Concrete Pad: see 'Paving Slabs' above.
Option 3:
Brick or Block Perimeter Plinth: must be laid on suitable footings so that it is level and exactly to the correct Glasshouse footprint size and shape
On all types of hardstand base the Glasshouse is held in its permanent position by plugging and screwing down using the specially supplied base brackets and, wherever possible, the supplied rawlbolts. However, please note that some hardstand bases may require a different fixing, which is the customer's responsibility to supply. We also strongly recommend with bricks that the top course is laid 'frogs down' to give a smooth surface on which to sit and fix down the Glasshouse and that bricks/blocks/slabs are of a type that will minimise the risk of cracking or splintering when drilled.
Soil: whilst the Glasshouse has an exceedingly strong frame, its shape should be supported with no risk over time of ground movement. For this reason, we do not recommend installation straight onto soil.