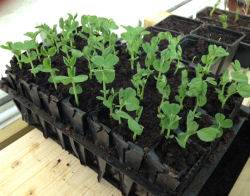 This week in Stephanie's Kitchen Garden, the sowing season is in full swing and we will be squeezing trays of seeds into every corner of the greenhouse.
The staging was cleaned and laid with new capillary matting over the winter months. Greedily, we have two heated propagators installed as we are growing our own summer bedding this year as well as the vegetable crops. Earlier crops, such as tomatoes, peppers, chillies, celeriac, aubergines, peas and celery are growing well in modules. This week they will be joined by chard, spinach, rocket, basil and tarragon, along with further sowings of different varieties of tomatoes.
Outside, we will be sowing early carrots and beetroot into raised beds and covering them with a cloche to protect them from the winter conditions.
We will also be testing the PH of our soil this week. This will indicate whether we need to apply lime to the beds where our brassicas will be growing. Brassicas like a neutral to alkaline soil to grow to their best and our addition of manure to the soil over the winter may well have increased the acidity. An application of lime now will help reduce the acidity ready for planting. It will also help protect against the dreaded clubroot.