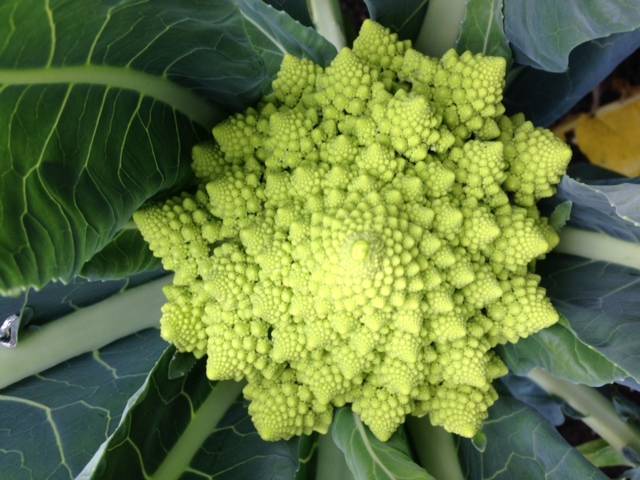 August has been a month of extremes, beginning with hot sunny weather and ending with chilly autumn nights and plenty of rain. This has brought its share of challenges and kept us on our toes. It's been a month of successes and failures.
2014 as been the Year of the Slug in Stephanie's Kitchen Garden. We've managed to win the battle with most garden pests this year, but the slugs and snails are putting up the biggest fight. Only this morning, Jo went around the garden collecting snails in a trug. These hide in the box hedges and venture out in wet weather so after rainfall they are easy to find and dispose of. We've been applying nemaslug to our vegetable borders and raised beds all year and this has kept the slug population down, but they can still be found venturing in from the surrounding gardens. Our cold frame has become a fast food outlet for slugs as they climb in for a snack. We've lined the edges of the frame with copper tape to prevent this happening again.
Another problem caused by the recent warm wet weather is potato blight and this struck in the Kitchen Garden this month. Our potato crop was healthy and thriving, producing a lovely crop of new potatoes. Then overnight the maincrop potatoes started to turn brown and crispy. Jo quickly took the tops off and burned them. The potatoes were left in the ground for a week or two to harden the skins and will be harvested next week. We won't be leaving them in the ground for long with slugs around.
Despite the slugs and the blight, the rest of the garden has thrived in the wet weather conditions. We've had a bumper harvest this year so far and this looks set to continue. Our blueberries have been fantastic and we've had the best sweetcorn crop in recent years. Our butternut squash plants are currently trying to take over the entire garden despite our best efforts to train them over an obelisk and up a squash frame in a raised bed. We've also had excellent results from our courgettes, celery, peas and beans.
Inside the vegetable cage, our brassicas are reaching great heights. Our broccoli plants are now nearly as tall as we are and have been cropping non stop for a few months now. We've had our first Romanesco Cauliflowers having failed to produce a single one last year, and there are more forming. Our sprouts are looking lush and healthy and the tiny sproutlets are beginning to swell. Our insect mesh cover is certainly proving to be a success and we will be continuing with this for all our brassicas in future.
This month we have been planting out spinach and chard into our allotment beds. Neither of these crops have needed much in the way of protection on our plot previously so you can imagine my amazement when I sat in the potting shed having a well deserved cup of tea only to see a fat pigeon perch on the edge of the raised bed and start tucking into my chard! The cup of tea was quickly abandoned as I shooed the pigeon away and dug out some bird netting.
Also this month, we have been planting our Christmas dinner. Our parsnips and sprouts have been growing since February and are looking very promising. We have also frozen some peas and runner beans to join them on our Christmas plate. To add the final touches to our Yuletide fayre, we are now sowing carrots which we aim to be picking in December. We will be sowing some in large pots to be brought into the greenhouse later in the year, and we will also be sowing some into our mangers, which will have covers on once the weather turns cooler. The final addition will be the potatoes. These are being planted into potato sacks and will again be moved into the greenhouse when the weather turns cold, and should be ready to crop in time for Christmas day. How lovely it will be to boast a Christmas lunch that is totally home grown!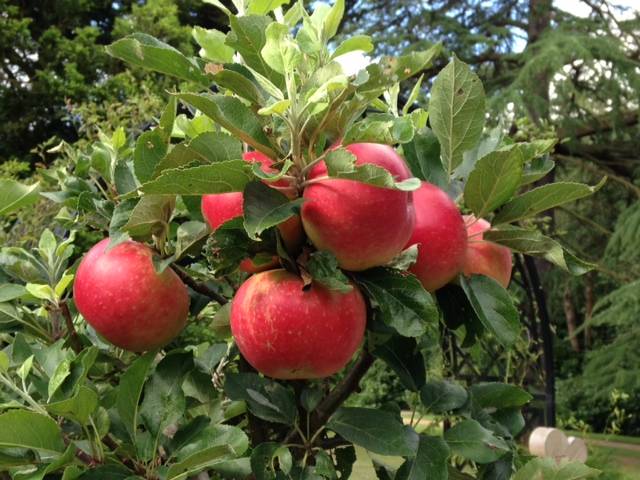 Our espalier apples have carried a beautiful crop this year. Our discovery apples are bright red and smell amazing. But it pays to keep an eye on them. Jo was quick to spot wasp damage on one this week, so we harvested them all to make sure we don't lose our crop to scavenging insects.
August has certainly proved that vigilance pays in the war against the Kitchen Garden pest!
Here are some of the jobs we've got planned for September in Stephanie's Kitchen Garden:
Hoe and weed beds regularly to prevent weeds taking moisture and goodness from the soil
Continue weekly foliar feed with liquid seaweed for fruit trees.

Apply Nemaslug to beds and borders every six weeks.

Feed tomato, peppers, aubergines and cucumbers weekly with a liquid tomato feed

Sow seeds for Winter crops such as chard and spinach.

Harvest maincrop potatoes.
Dig over bare soil and add compost or manure.
We're always here to offer advice and support. Go to the Ask the Expert section on the website and Email Horticultural Advisor Jo Blackwell with your Kitchen Garden queries or Pest Control expert Gavin Hatt and they'll do their best to help!
We're busy tweeting about all things Harrod Horticultural - what we're doing, special offers, gardening tips and advice and you can always use Twitter or Facebook to get in touch with us as well. With our webteam manning the Tweet decks and Facebook site, you can be sure you'll get the best service we can offer!
Our 108-page 2014 catalogue is out now and it's packed full of gardening ideas, products and solutions to the problems every gardener faces, plus plenty more seasonal ideas to help get the harvest in and keep it fresh!
Happy gardening!