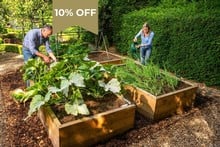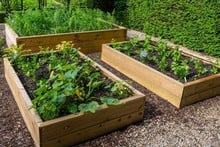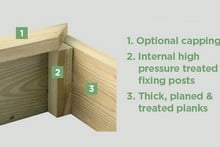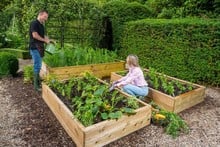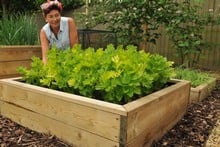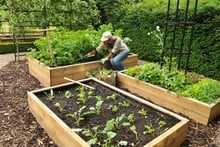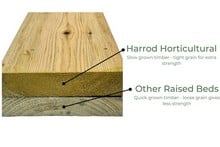 Allotment Wooden Raised Beds
£9.95 P&P
Allotment Wooden Raised Beds are a great introduction to raised bed gardening, giving you a cost effective way to grow your own fruit and veg in your garden or plot. The raised beds are made using thick English wooden planks, planed all round and come pre-drilled for easy assembly.
Read More
Allotment Wooden Raised Beds are a great introduction to raised bed gardening, giving you a cost effective way to grow your own fruit and veg in your garden or plot. The raised beds are made using thick English wooden planks, planed all round and come pre-drilled for easy assembly.
Made from premium quality slow-grown dense timber containing a greater proportion of the hardier late growth than faster-grown timber. Not to be confused with the less dense wooden planks supplied in many cheaper raised bed kits avaialble. This slow grown timber has a much tighter grain (as shown below) which gives the planks greater strength.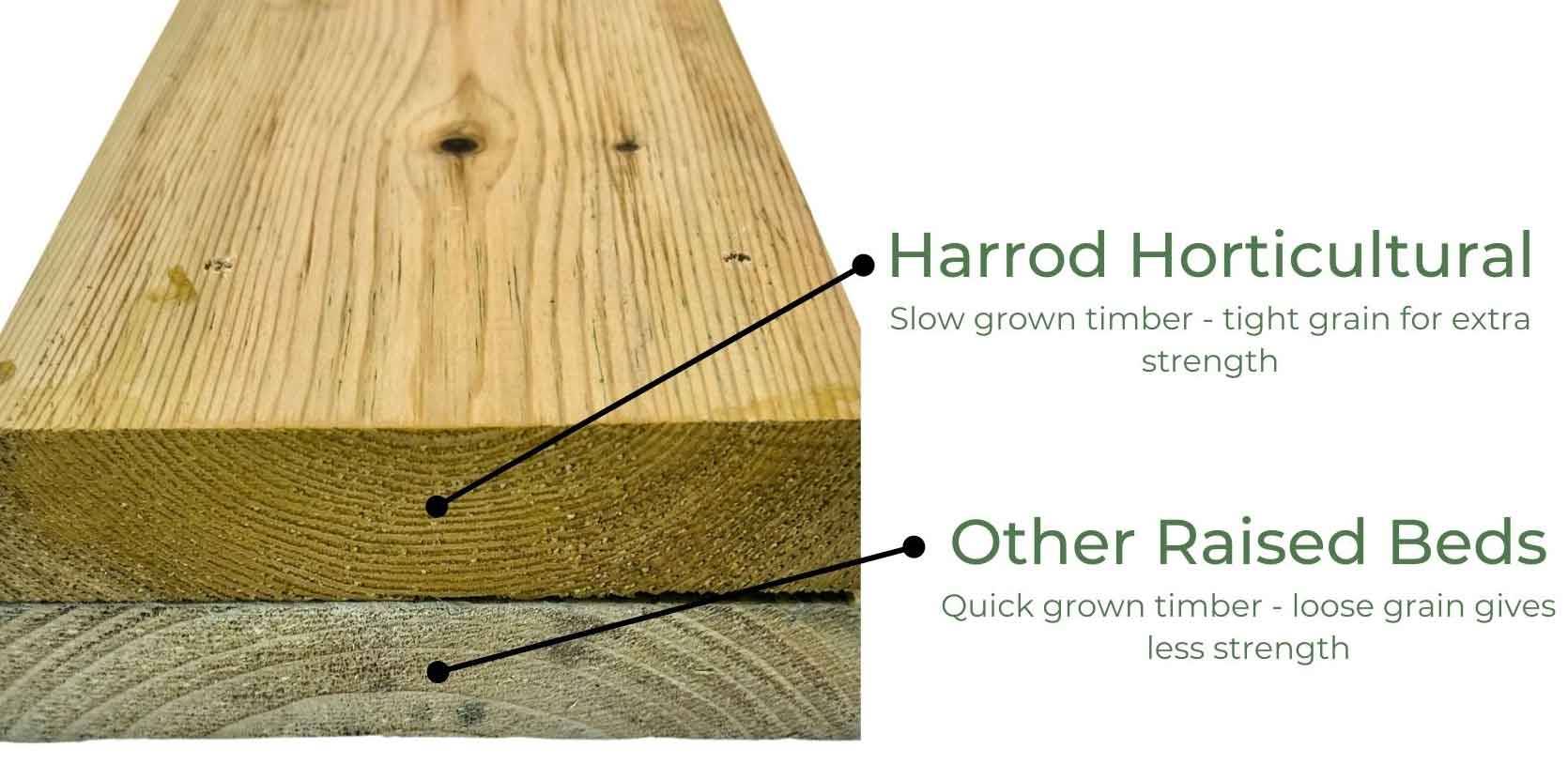 Our Allotment Raised Grow Beds are available in a range of sizes and depths to suit your outside space. The beds are perfect for vegetable growing, but also make stylish planters for flowers or specimen trees.
Please note: timber is a natural product and susceptible to shrinkage/swelling, all sizes are nominal +/- 5mm. Sizes apply to external dimensions.
Supplied with pre-drilled planks, internal wooden corner fixing posts and galvanised screws
Optional capping (2cm/0.75" H x 5.5cm/2" W) gives the top of beds an elegant finish
Made from quality 20mm/0.75" thick straight cut English softwood timber planks from sustainably managed forests
Planks are planed all round
2 year structural guarantee
Allotment Wooden Raised Beds available in 3 heights (from 15cm/6" to 45cm/18") and 10 length/width options.
Simple to assemble - full instructions provided
High pressure treated with a non-toxic preservative which is plant and human safe, complies with all EU standards and does not contain CCA (Chromated Copper Arsenate)
There are also various Wooden Raised Bed Protection Covers available to protect your crops.
Raised Bed Liners available separately - ideal when beds are on hard surface.
We strongly recommend the use of an electric screwdriver for assembly
Find out more about the Benefits of Growing in Raised Beds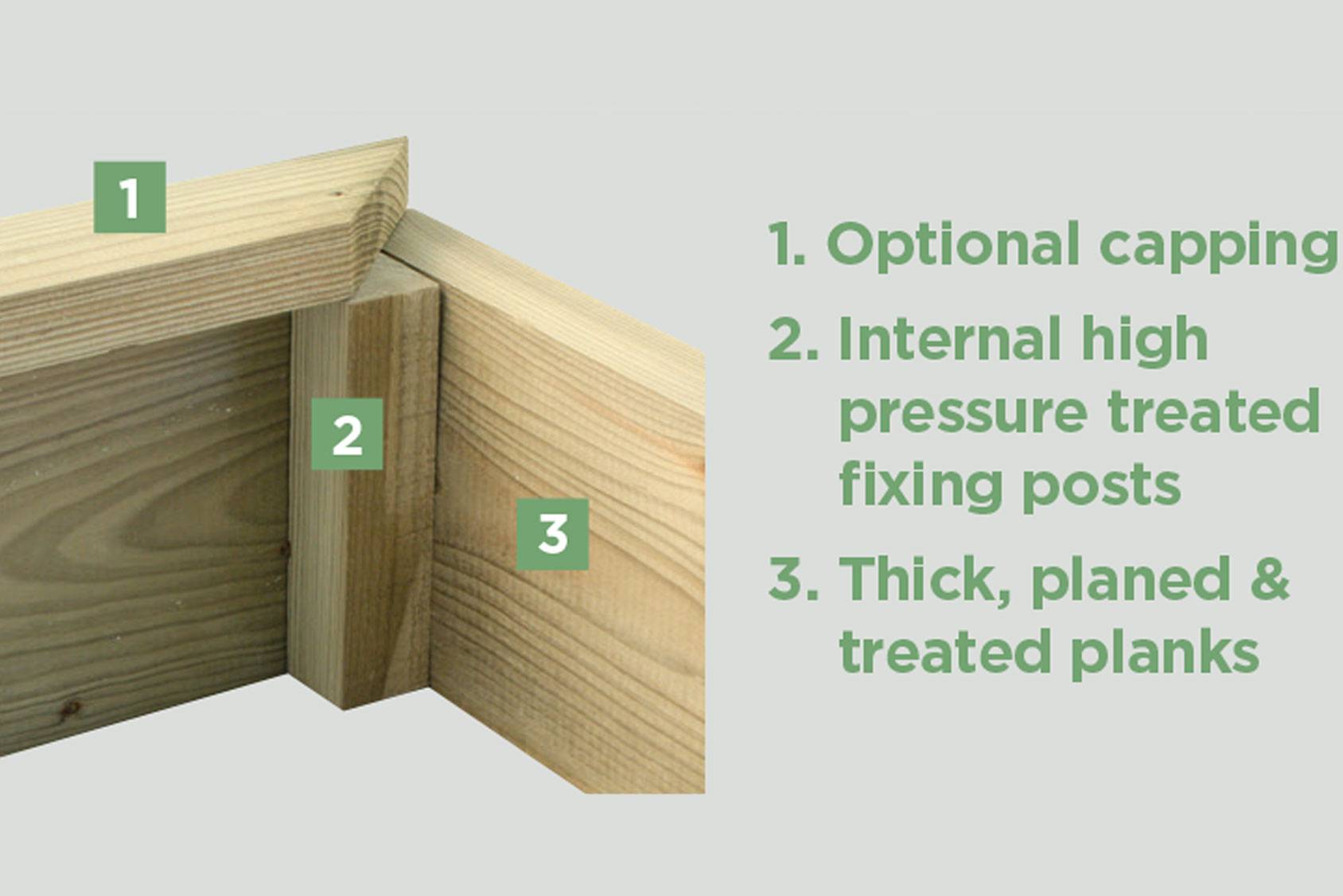 NB. Main image shows allotment raised beds with capping.
21st February 2023
The beds and the liners arrived in 7 separate packages , all well packed and all correct. I was impressed with the way the planks had been drilled for the offset construction and this pre drilling made assembly easier. To try to extend the life of the wood I decided to paint each piece with a clear varnish before assembling the frame. As the raised bed was intended for growing vegetables I wanted wood with a safe preservative but finding a top paint which was suitable was not easy as the manufacturers seem very unwilling to commit themselves. The instructions suggest an additional coating of safe preservative so perhaps you could recommend one and also a safe paint.
Many thanks for your feedback. However, we do suggest using our Eco-Wood treatment, a proven non-toxic wood preservative which prevents white rot fungi and most insects excluding termites. It is supplied in packets which are simply mixed with water, the environmentally safe treatment can be painted onto raised beds, fences, decking, wooden panels and plenty of other timber garden structures. https://www.harrodhorticultural.com/eco-wood-treatment-pid8674.html
19th May 2022
We have been using Harrods raised beds for 13 years. They have always been rather costly but have now become very expensive.. In order to affords to replace older beds we have started using the allotment raised beds made of thinner wood and with a much shorter guarantee. Harrods are, I'm afraid, in danger or pricing themselves out of the market.
Allotment Raised Beds - Planning and Planting Information
To help you price up and make the most of your raised beds - and most importantly enjoy growing in them - we've compiled a list of factors to consider when choosing, siting and filling your beds.
For starters, raised beds can be placed directly onto soil, lawn or paving and can be filled directly - but not exclusively, see below - with a fertile, organic rich, light & friable topsoil/compost such as the vegetable and fruit topsoil that we supply via our partnership with Rolawn.

Calculating the quantity of soil you will require to fill your beds is relatively simple; you just need to multiply the length of your bed by the width and the depth in metres, multiply by 1000 and the figure you arrive at is the amount of compost you'll need in litres. All the Rolawn soil we supply is delivered in 500 litre tote bags so you can tell immediately how many bags you'll need to order using the calculation below.
2.4m long x 1.2m wide x 15cm deep = (2.4 x 1.2 x 0.15) x 1000 = 432 litres - 1 x 500 litre tote bag required
For the best growing results, we'd advise you to fill your beds with 75% topsoil and use a bulky organic matter - such as farmyard manure or home-made compost - to make up the other 25%. For more details on filling your raised bed, please contact our Customer Services Team.
One of the benefits of a raised bed is the fact you can tailor the growing medium to the plants you are wishing to grow. For example you can use ericaceous compost for acid loving plants or you may want to grow carrots in sand.
If you want to improve the drainage of your bed you can add a layer of gravel approximately 5cm / 2" deep at the base, but note that the level of drainage will be dictated mainly by the ground that the bed is sitting on. If for example the bed is sitting on a free draining sandy soil you may want to lay down a semi-permeable ground sheet beneath the bed to reduce the drainage. We'd also advise you to use one of our specially designed Raised Bed Liners when positioning your bed on a patio, concrete or other hardstanding area. Not only will these thick, one piece, non-woven polypropylene fabric liners protect the timber frame of the bed even further but they will cut down on the leaching of sand and other fine soil particles - and they make emptying a bed much easier at the end of the season too!
We've also produced a quick guide to the depth of bed you'll need to grow favourite Kitchen Garden crops. This list is by no means definitive but if you're unsure of how many tiers to go for, the over-riding advice is to go deeper - this gives you the flexibility to grow a wider variation of vegetables in the future and also helps with crop rotation.
Here's that list;
| | | |
| --- | --- | --- |
| Vegetable Type | Depth of Bed Required | Number of Tiers |
| Carrots | 30/40cm | 2 Tier at least |
| Potatoes | 30/40cm | 2 Tier at least |
| Parsnips | 30/40cm | 2 Tier at least |
| Beans | 15/20cm | 1 Tier at least |
| Peas | 15/20cm | 1 Tier at least |
| Courgettes | 15/20cm | 1 Tier at least |
| Beetroot | 30/40cm | 2 Tier at least |

If you'd like further information on our Wooden Raised Beds, or would like to discuss any feature of this product, please call our Customer Services Department on 0333 400 6400 or e-mail us at enquiries@harrod.uk.com – we'd be delighted to help!
What The Press Say
---
Grow Your Own
2019-07-26
Subscribers Offer
The 1.2m x 1.2m bed is perfect for smaller gardens and allotments
---
Kitchen Garden
2013-10-08
Garden Store - Our roundup of the latest products and services for Kitchen Gardeners
Growing crops in raised beds is very popular and can help to contain the growing area and divide the plot up, making maintenance easier. Some gardeners make their own raised beds from recycled materials but if you are not a lover of DIY then the next best thing is to buy good value kits. The Allotment Raised Beds from Harrod Horticultural are good for those on a tight budget. The bed kits are made from 20mm thick FSC pressure treated timber planks that have been pre-drilled. They come with internal wooden corner fixing posts and galvanised screws. Optional capping is available to give them a more elegant finish.
---