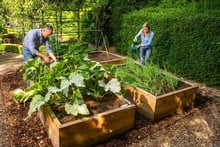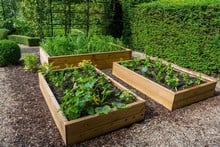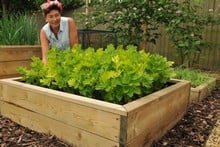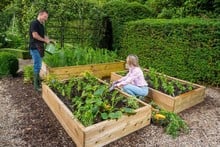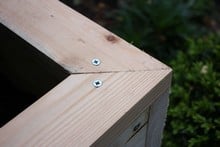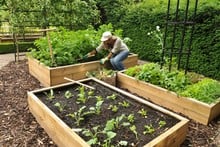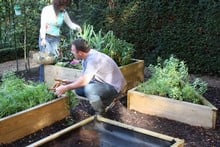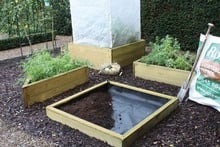 Allotment Wooden Raised Beds
£9.95 P&P
2 Year
Structural
Guarantee
Exclusive Designed &
Made by us in the UK
Allotment Wooden Raised Beds are ideal if you're new to raised bed gardening and growing your own veg and you might not want to splash out on our Standard or Superior wooden raised beds - and that is precisely the reason why we've added this budget Wooden Allotment Raised Bed kit to our range.
Our range of Allotment Raised Grow Beds are perfect for vegetable growing, but also make stylish planters for flowers or specimen trees.
Our Allotment Raised Beds are not available in bespoke sizes, if you require a bespoke sized raised bed please see our Superior Raised Beds.
Please note that as timber is a natural product and is susceptible to shrinkage/swelling, all sizes are therefore nominal +/- 5mm. Sizes apply to external dimensions.
Supplied with pre-drilled planks, internal wooden corner fixing posts and galvanised screws
Optional capping (2cm/0.75" H x 5.5cm/2" W) gives the top of beds an elegant finish
Made from quality 20mm/0.75" thick straight cut Scandanavian softwood timber planks from sustainably managed forests
2 year structural guarantee
Allotment Wooden Raised Beds available in 3 heights (from 15cm/6" to 45cm/18") and 10 length/width options.
Simple to assemble - full instructions provided
High pressure treated with a non-toxic preservative after consultation with the country's leading organic growing body - Garden Organic - before selecting treatment. The treatment is plant and human safe, complies with all EU standards governing wood preservatives and does not contain CCA (Chromated Copper Arsenate)
Also available in a Corner version for tight spaces
There are also various Wooden Raised Bed Protection Covers available to protect your crops.
Raised Bed Liners available separately - ideal when beds are on hard surface.
Raised Bed Irrigation Kits are also available
This product is supplied as a kit for self assembly
We strongly recommend the use of an electric screwdriver with a clutch for assembly and a Pozidrive (PZ2) screwdriver or screw bit
Unavailable in bespoke sizes, for bespoke sizes please see our Superior Raised Beds

Find out more about the Benefits of Growing in Raised Beds
NB. Main image shows allotment raised beds with capping.
19th May 2022
We have been using Harrods raised beds for 13 years. They have always been rather costly but have now become very expensive.. In order to affords to replace older beds we have started using the allotment raised beds made of thinner wood and with a much shorter guarantee. Harrods are, I'm afraid, in danger or pricing themselves out of the market.
12th May 2022
Very pleased with the product easy to put together and excellent prompt service thanks
What The Press Say
---
Grow Your Own
2019-07-26
Subscribers Offer
The 1.2m x 1.2m bed is perfect for smaller gardens and allotments
---
Kitchen Garden
2013-10-08
Garden Store - Our roundup of the latest products and services for Kitchen Gardeners
Growing crops in raised beds is very popular and can help to contain the growing area and divide the plot up, making maintenance easier. Some gardeners make their own raised beds from recycled materials but if you are not a lover of DIY then the next best thing is to buy good value kits. The Allotment Raised Beds from Harrod Horticultural are good for those on a tight budget. The bed kits are made from 20mm thick FSC pressure treated timber planks that have been pre-drilled. They come with internal wooden corner fixing posts and galvanised screws. Optional capping is available to give them a more elegant finish.
---