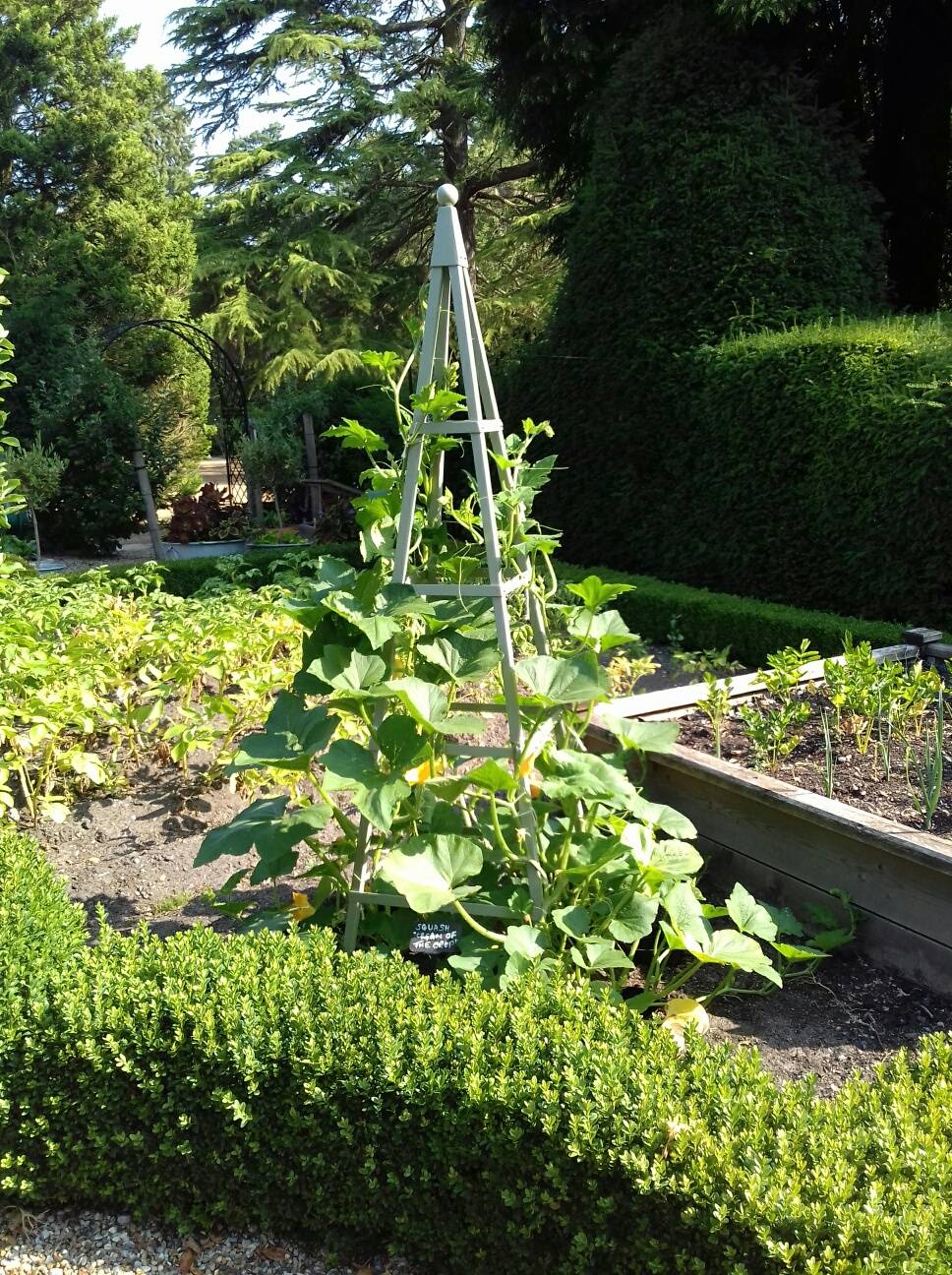 There has only been one topic of conversation amongst gardens during July 2018 and it is the weather. When we finally arrived in Spring this year, after such an awful winter, we sighed with relief and looked forward to a summer of growing. But Mother Nature was obviously not through with trying to stretch our gardening skills and now we are battling with the Mediterranean Melt! As I write this, we are now into our 5th day without rain and the scorching sun is baking the ground hard and dry. The forecast for the next two weeks ahead shows no sign of rain to come. I have not gardened a summer like this before.
As a result of the drought, like many gardeners around the country we now seem to find ourselves constantly watering, or worrying about watering, our crops. Rather than despair about the disasters being caused by the scorching weather, we have decided to revel in the positive effects the hot sunshine is having. This month we harvested blackcurrants that were sweet enough to eat straight from the bush, rather than being too sour to taste in their raw state. Our celery is growing rapidly, as are our squashes and beans. The courgettes are positively basking and setting so many fruits that a glut is on the horizon. Our apple trees are smothered in fruits even after we have thinned bucketfuls from the branches. We have harvested our first aubergines, tomatoes and chillies and for the first time in many years we are drying our shallots and onions on the soil rather than racks in the greenhouse out of the rain!
Moving our pots into the shade of a north facing fence and standing them in trays to keep water at their feet has proved very effective. We have mulched raised beds with strulch and the plants certainly seem to be happier for it. All plants are given a thorough soaking and a good feed before the strulch is spread on the top of the soil.
The greenhouse blinds are keeping temperatures down inside the greenhouse and the capillary matting we put on the staging back at the start of the growing season is doing a brilliant job of keeping humidity levels up. The plants certainly seem happy enough.
Whi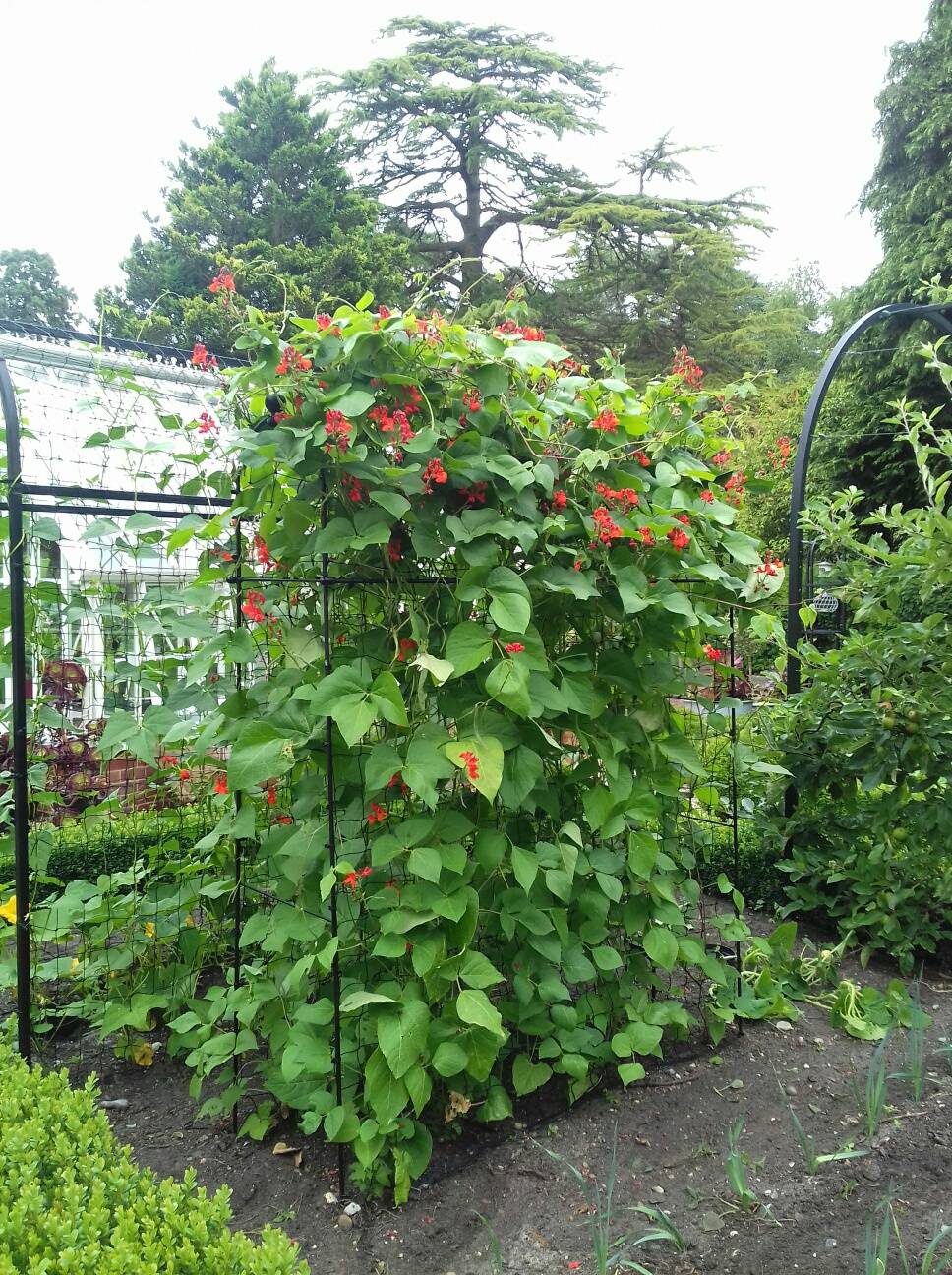 lst the heat and sun are giving us plenty of work to do, they are also helping to put on a lovely display around the gardens. The roses are smothered in flowers and our herb garden is revelling in the Mediterranean style conditions. Our Kitchen Garden sunflowers are putting on a fabulous display and this week we have now hit glut levels of harvests from our runner beans and climbing French beans. Bowlfuls of blueberries are making their way into the kitchen with plenty more ripening in the sunshine.
In the past week we have turned our thoughts to life at the end of the heatwave and have ordered little plants of autumn and winter vegetables. We have already sown spinach and carrots but with the daily toll of watering, decided to buy plug plants for our kale, cabbages and cauliflowers to make life a little easier on ourselves. They should arrive any day and will be planted out and kept well-watered!
Earlier in the month we planted out broad beans for autumn harvesting. We have never grown them for autumn harvesting before and are very excited to see how they perform. We have a large space where our disastrous onions and garlic grew that we had originally earmarked for our leeks. Given our white rot problems we couldn't use it for leeks so when we saw an advert for autumn broad beans we decided to give them a try. The little plants arrived and were promptly planted before being protected with a chicken wire frame and covered by bird netting to stop the resident pigeon and mouse population from snacking on them. They are very happily putting on good growth and it will be interesting to see how they get on.
Our apple, pears, peaches, plums and nectarines are swelling nicely in the hot summer weather and we have already harvested a few apricots. In the last few days wasps have started to arrive in the garden signalling that it is time to put up some traps to stop them from destroying our crops. We have problems with wasps most years and have tried many solutions over the years. Our home-made honey traps are by far the most effective form of pest control that we have used. It's also a great way to recycle your plastic bottles.
Many of our crops are really enjoying the hot sunny weather and the water we are providing them with. Squash plants are growing a foot a day and the fruits are swelling almost as we watch. Courgettes are maturing overnight and beans are setting fruits incredibly quickly. It is really important to pick crops as often as possible to prevent them going to seed and prevent future produce. We are now picking beans every other day as we like them small and tender. The same applies to courgettes; much better small than a huge marrow!
Our fruit trees have put on a lot of growth this year and are look decidedly untidy. Over the next few weeks we will give them a summer prune. This will not only make them look better but will create fruiting spurs for next year. Each shoot off the main stems will be pruned back to 3 leaves above the basal cluster. This is a really satisfying job and one of my favourites as it is quite a transformation. It also allows the light to the developing apples which will helps them ripen at the end of the season. I suspect the trees will need a further pruning around the end of August given the rate at which they are currently growing.
Hopefully, by next month's diary entry we will be enjoying long summer days and very wet nights and the gardens and gardeners will be a little less heat-stressed! In the meantime, we will continue to garden and water in the very early morning when the weather is comfortable and enjoy the harvests that our efforts have brought.
Here are some of the jobs we've got planned for August in Stephanie's Kitchen Garden:
Harvest!
Prune espalier fruit trees.
Plant out winter vegetable plants.
Hoe off weeds regularly to stop them taking hold.
Continue watering!
We're always here to offer help and support. Go to the Ask the Expert section on our website and email horticultural advisor Jo Blackwell with your queries and she'll do her best to help.
We're busy tweeting about all things Harrod Horticultural – what we're doing, special offers, gardening tips and advice and you can always use Twitter or Facebook to get in touch with us as well. With our webteam manning the Tweet desks and Facebook site, you can be sure you will get the best service we can offer.
Our 108 page catalogue is out now and packed full of gardening ideas and products to solve the problems every gardener faces, plus plenty more seasonal ideas for harvesting, storage and preserving.