Well what a month August has been, hot, even hotter and dry. So, this month has been about watering and more watering and harvesting was has survived being baked.
Soft fruit has not faired well. The apples have tried their best to grow but with the lack of rain and then the mass of wasps, there won't be a bumper harvest. The discovery apple has suffered badly, the wasps have enjoyed them and its interesting how they eat all the insides of the apple and just leave a dried husk. So unfortunately, the wasp traps had to go up. The blackberries have not been a good crop, so far, the wasps again but fingers crossed with the rain we have had a new crop is growing so may be able to enjoy a bowl or two soon. I have been able to pick a few handfuls of raspberries but they are poor this year, what has been picked taste delightful.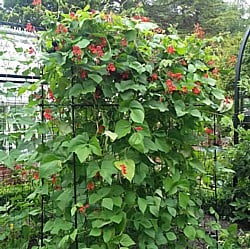 The French bean glut has ended and the runners, even though they are flowering again, it's a race between man and mouse now. The mice are climbing up the twisted mass of stems and leaves on the bean support. They are then enjoying nibbling through the skin to the tasty bean inside so most of the bean is wasted. The autumn broad beans we planted are looking promising. They appreciated being staked and are now heading sky wards. Flowers have been blossoming and bean pods are growing. Should be interesting to see how they continue to grow and taste.
The potato crop is now being dug up. 'Cara' has decided to reflower so I cut off all stems, as the day I was going to dig them up, it didn't stop raining till late in the afternoon. Must not grumble about the rain as we have seen so little of it. Now I have finally dug up the potatoes and its not a bad crop, various sizes, which for the shortage of water this summer is very good.
August is the traditional month for hedge clipping in Stephanie's Kitchen Garden; and there is a lot of hedge to clip! We have box hedges surrounding the main beds in the Kitchen Garden as well as a parterre and flower bed edging in the wider ornamental gardens. The Kitchen Garden is also surrounded by an impressive yew hedge and, of course, there are our standard bay and olive trees in our zinc planters.
The task of hedge clipping usually takes us most of August, alongside the usual gardening maintenance that is always required. Earlier in the month we began with the box hedging in the Kitchen Garden and the wider ornamental gardens and moved on to the standard trees. The yew hedges have yet to be trimmed and this will be completed during September.
We used to clip our box hedges in June, as is traditional. However, when we were unlucky enough to find box blight in our Kitchen Garden hedge, we were advised not to clip until August and this has proved to be good advice. We were very careful to collect as many of the clippings as possible, using mats under the hedges when they were cut. We were also careful to clip affected hedges on different days to unaffected areas of the garden to avoid transferring the spores on our clothes and shoes. Our hedge shears are cleaned with metholated spirit between hedges to avoid infecting other hedges. After clipping, the box hedges were treated to a seaweed feed to help them recover. A couple of weeks on and the hedges are still looking very green and healthy.
With all the harvesting that has been going on this month, some gaps have begun to appear in the beds around the garden. With so much activity in the garden at this time of the year, it is easy to forget that Autumn is rapidly approaching and the window of opportunity for planting out is diminishing. In the past couple of weeks, we have planted out savoy cabbages, kale and rocket. As I write this, I have just ordered autumn planting onion sets and seed garlic which will be started off in trays when they arrive and planted out in the autumn.
Here are some of the other jobs we've got planned for September in Stephanie's Kitchen Garden:
Apply nemaslug to the soil
Feed crops regularly
Harvest apples as they become ripe and store
Keep watering when conditions are dry
We're always here to offer help and support just email horticultural advisor Louise with your queries and she'll do her best to help.
We're busy tweeting about all things Harrod Horticultural – what we're doing, special offers, gardening tips and advice and you can always use Twitter or Facebook to get in touch with us as well.
Our catalogue is packed full of gardening ideas and products to solve the problems every gardener faces, plus plenty more seasonal ideas for harvesting, storage and preserving.