Since first exhibiting at the show 2004, RHS Chelsea Flower Show soon became the biggest event of the year for Harrod Horticultural, so let's take a trip down memory lane and reminisce on many of our fond memories at Chelsea Flower Show throughout the years!
Back in 2004 Harrod Horticultural exhibited at the prestigious RHS Chelsea Flower Show for the first time and what an experience it was. We were blown away by the number of visitors to the stand, the interest in the products and the gardening knowledge of the crowd. We only had a small offering with some link stake plant supports and Sneeboer Tools, but it was a great introduction to the show and whetted our appetite for the next year!
Harrod Horticultural Tradestand 2004
In 2005 we were offered a Tradestand on the prestigious Royal Pavilion Way! The bigger stand meant we were able to exhibit more of our collection at the time and Fruit Cages and our Sneeboer collection took centre stage. Little did we know at the time, this is where our Tradestand would be for the next 9 years!
The foundations of our beautiful Tardestands stayed the same throughout the next few years other than adaptation of the stand colours, array of new products and addition of impressive planting year after year.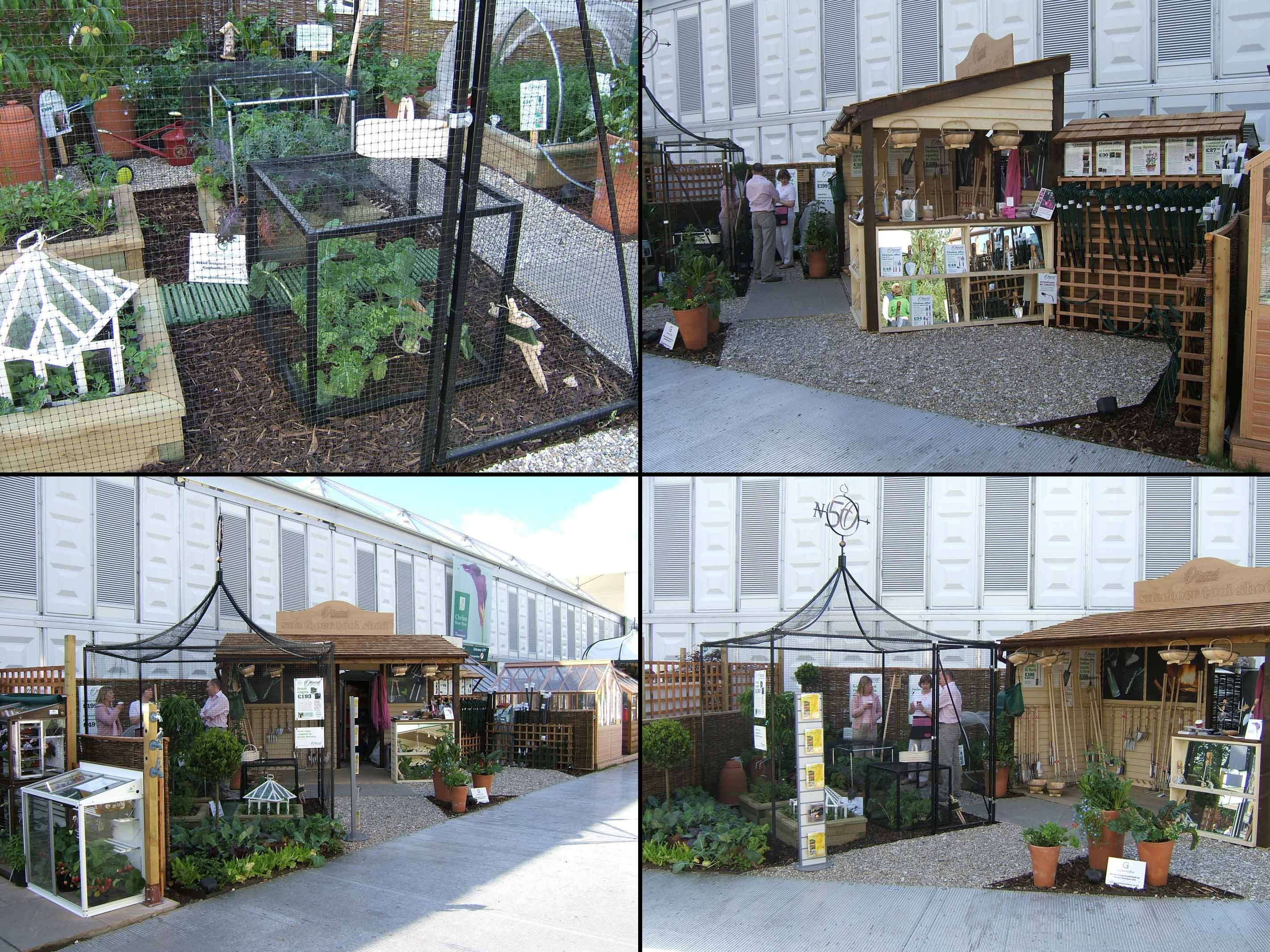 Harrod Horticultural Tradestand 2005
In 2008 we welcomed singer Kim Wilde onto the stand on Press Day which was a real privilege. This year we also launched our much-loved Fruit Presses which are still a brilliant seller to this day due their ease and durability!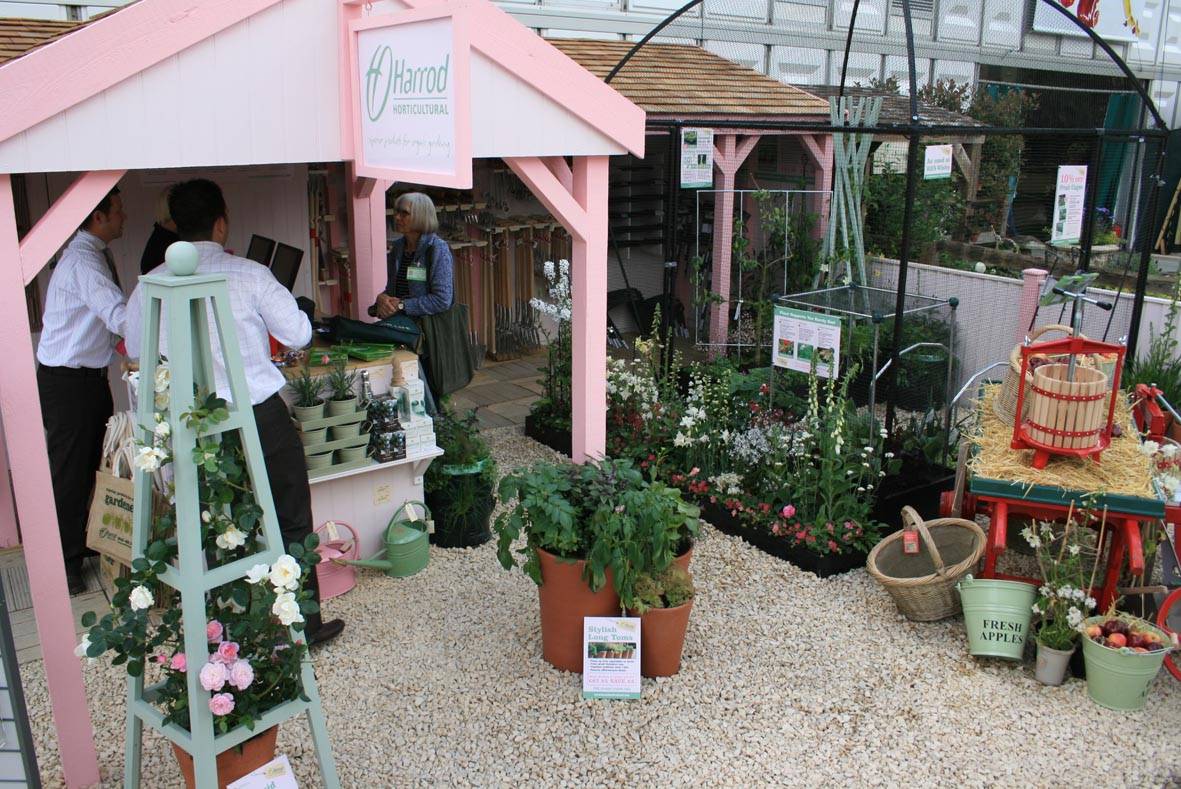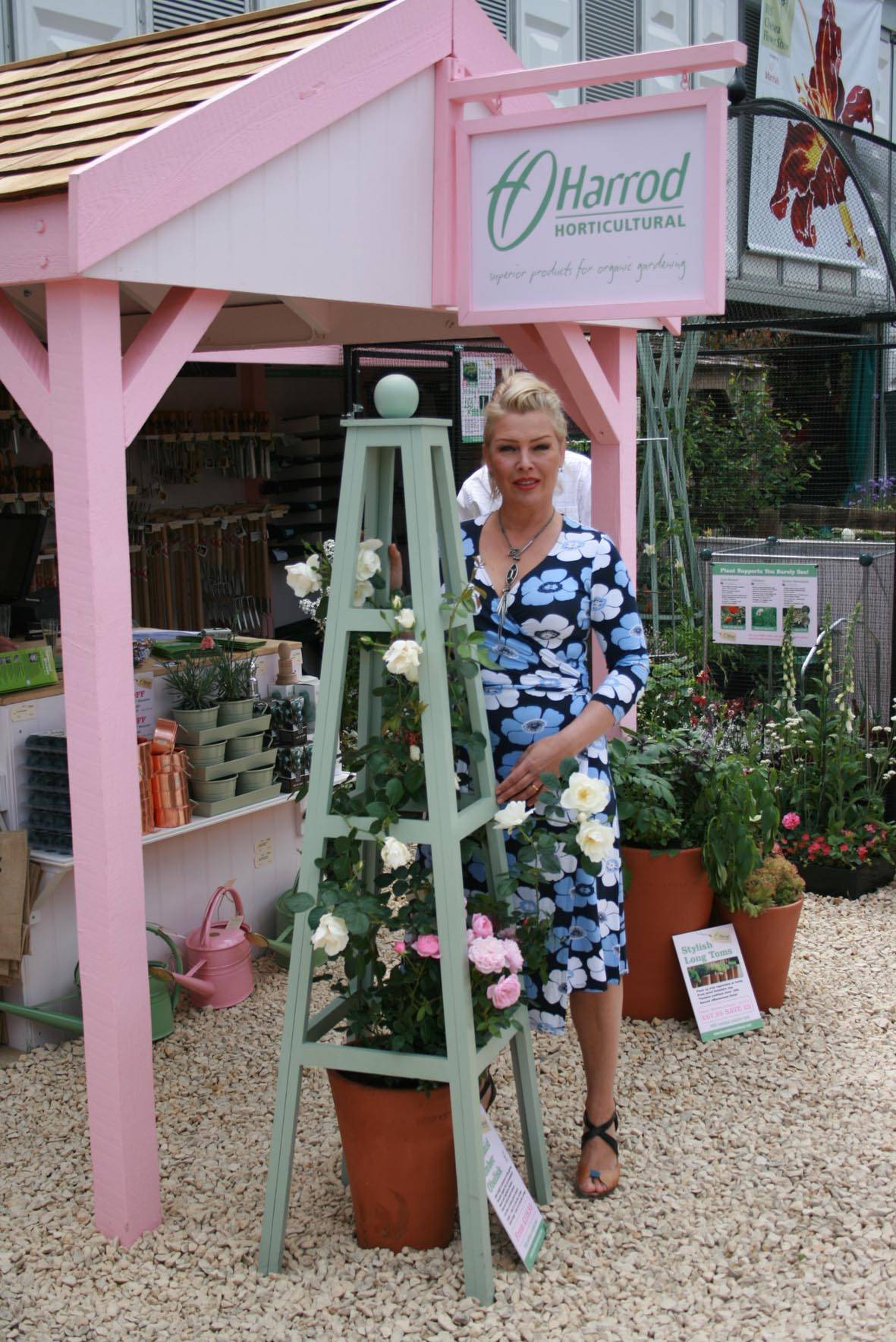 Harrod Horticultural Tradestand 2008
2009 was another fantastic show for us, with stand using the same design as previous years but this tear the colour theme was more light blue and cream. The weather was not as favourable as other years, but some were grateful that the sun was not beating down for those long 12 hour days! It didn't put off any showgoers and the update to the Sneeboer area worked really well.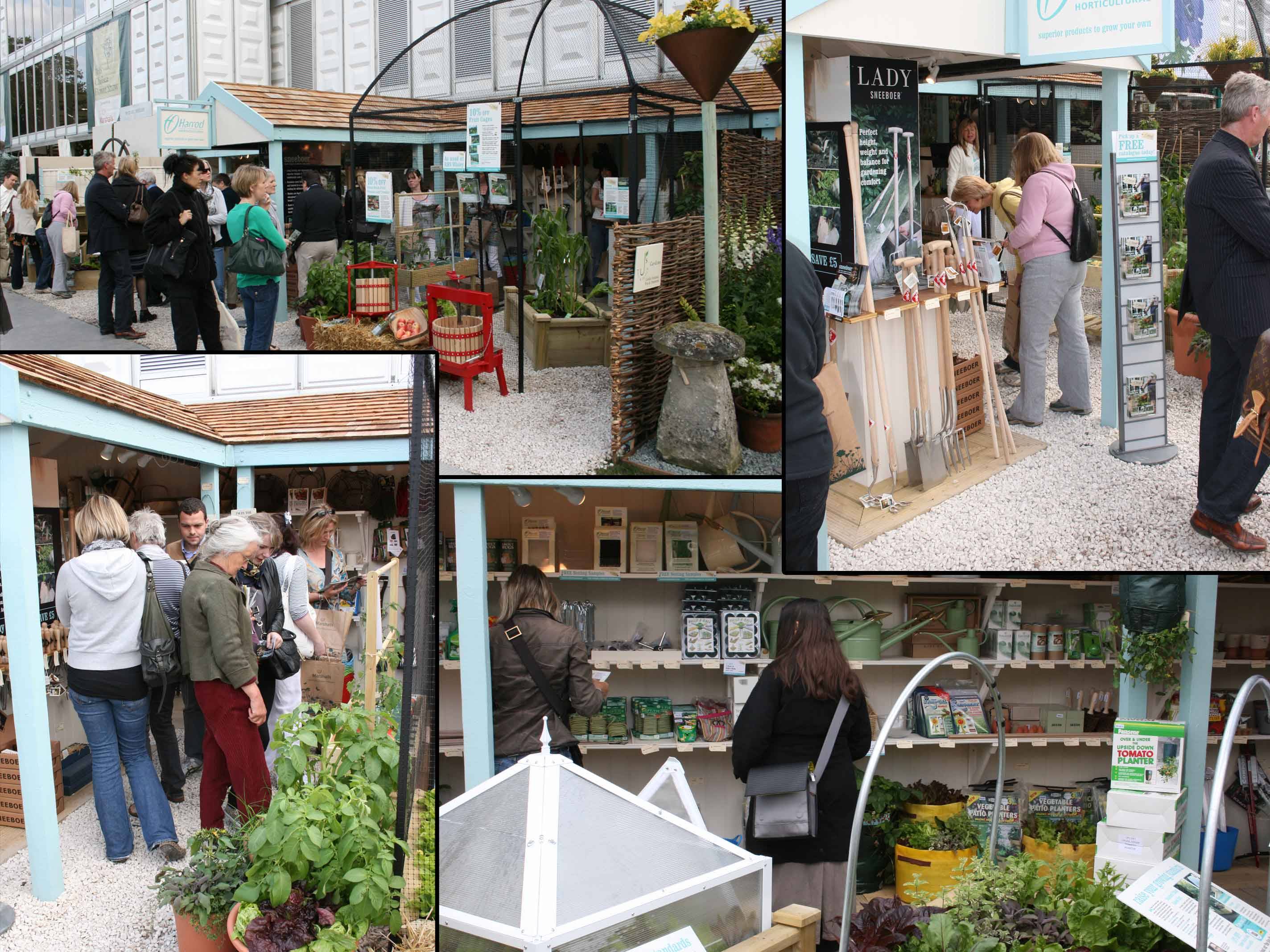 Harrod Horticultural Tradestand 2009
In 2010 we introduced a lot of new wooden planters to the range. This included our now very popular Manger Planters along with a Wall Planter, A-Frame Planter and a practical Ladder Planter. All designed to make it easier to grow your own on the patio or where space is limited. There was a lot of interest in the new planters at the show.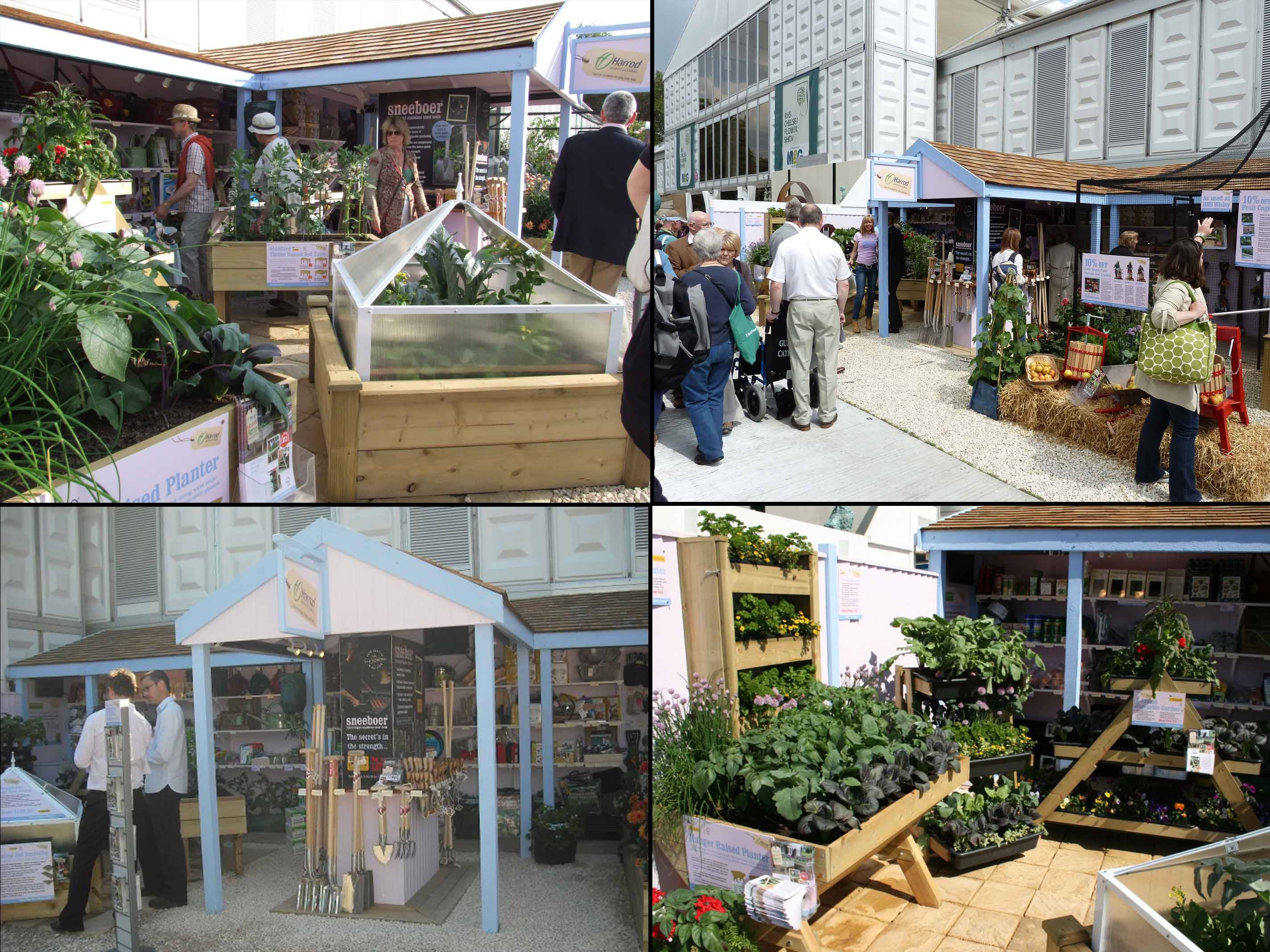 In 2011 we introduced our Garden Arches and Pergolas to the Chelsea crowds. Our large Gothic Pergola was star of the show creating a stunning walkway and entrance onto the stand. The trough planters, ladder planters and raised beds continued to get a lot of attention. Our peak roof cage also looked fantastic and gets lot of interest every year!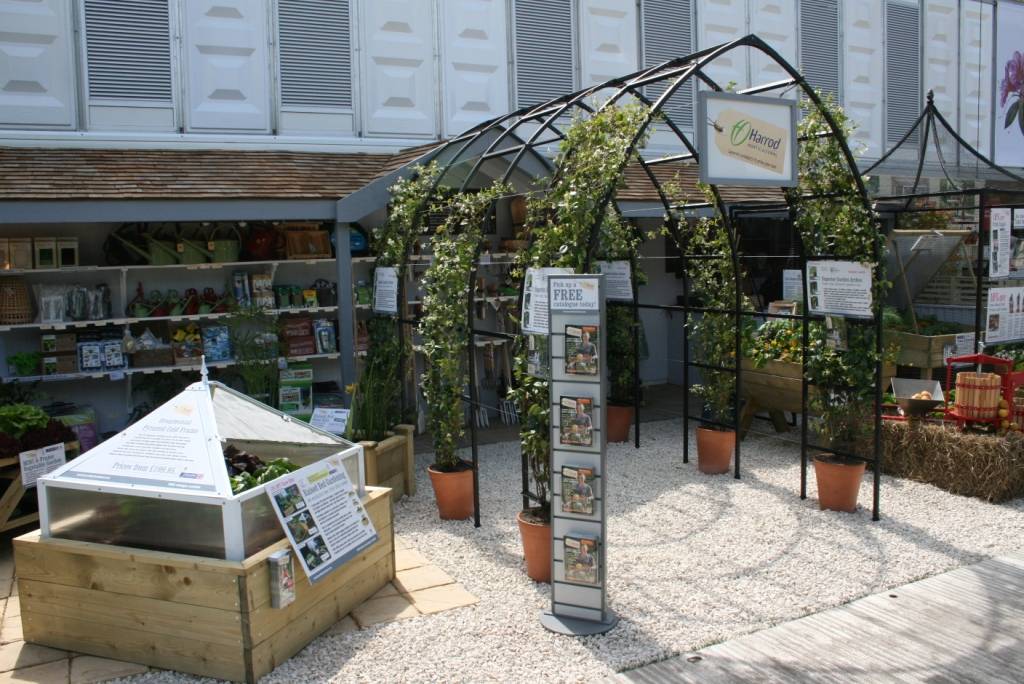 Harrod Horticultural Tradestand 2011
In 2012 we were delighted to win the RHS 2012 Garden Product of the Year Award for our innovative Harrod Slot & Lock ® Connectors, judged by the gardening elite, demonstrating our prowess in the gardening product design market. We were extremely proud of this award as it was the first time we have entered.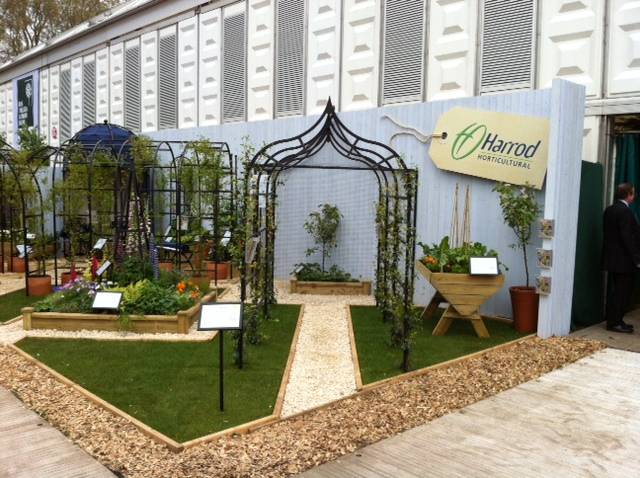 Harrod Horticultural Tradestand 2012
2013 marked 100 years of RHS The Chelsea Flower Show and Harrod Horticultural celebrated too having received the 'Certificate of Merit' for the outstanding presentation of our stand!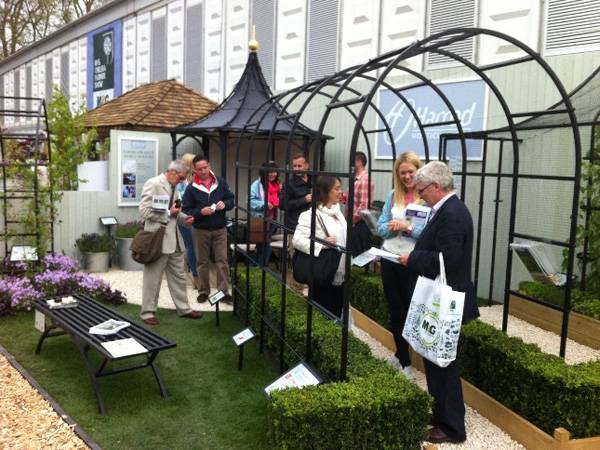 Harrod Horticultural Tradestand 2013
2014 rolled around and what a year it was for us!

We were honoured to be exhibiting on the Royal Hospital Way and this year, we had also entered our new 'Stormproof' vegetable cage to be considered for RHS Product of the Year. Alex Rocke (our Product Designer here at Harrod Horticultural) presented the cage to a panel of judges - including Deborah Meaden of Dragon's Den fame - who then deliberated and decided on the winner.

It was late on Sunday when we received the news that we were joint winners of the Chelsea Garden Product of the Year 2014 - winning the accolade twice in 3 years was a real testament to the innovation and quality manufacturing that we have at Harrod Horticultural and all the hard work that goes on behind the scenes to make our innovative product range!

Just when we thought it couldn't get any better, we were awarded another Four Star Tardestand Award! Safe to say we had a lot to live up to when we next exhibited in 2015…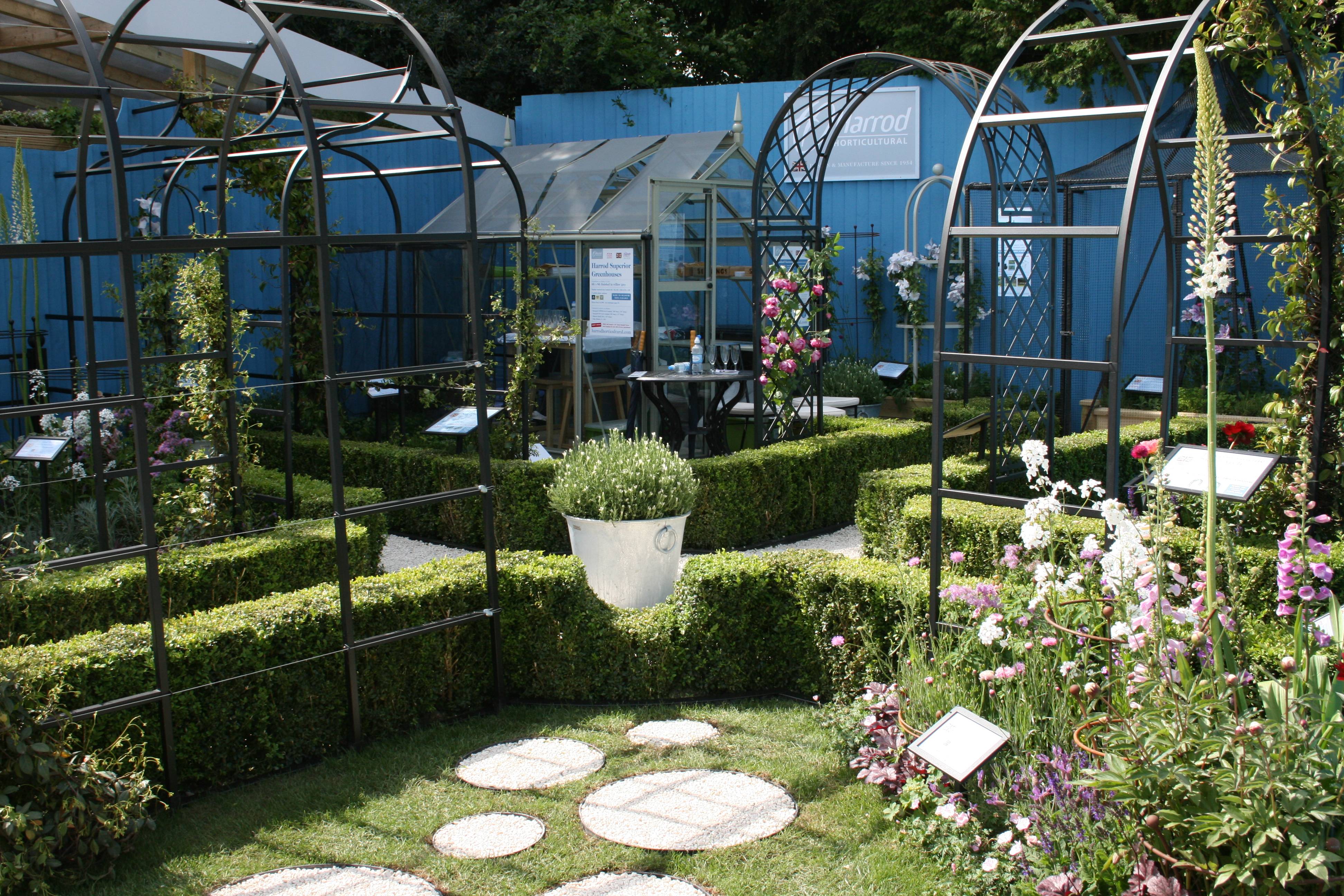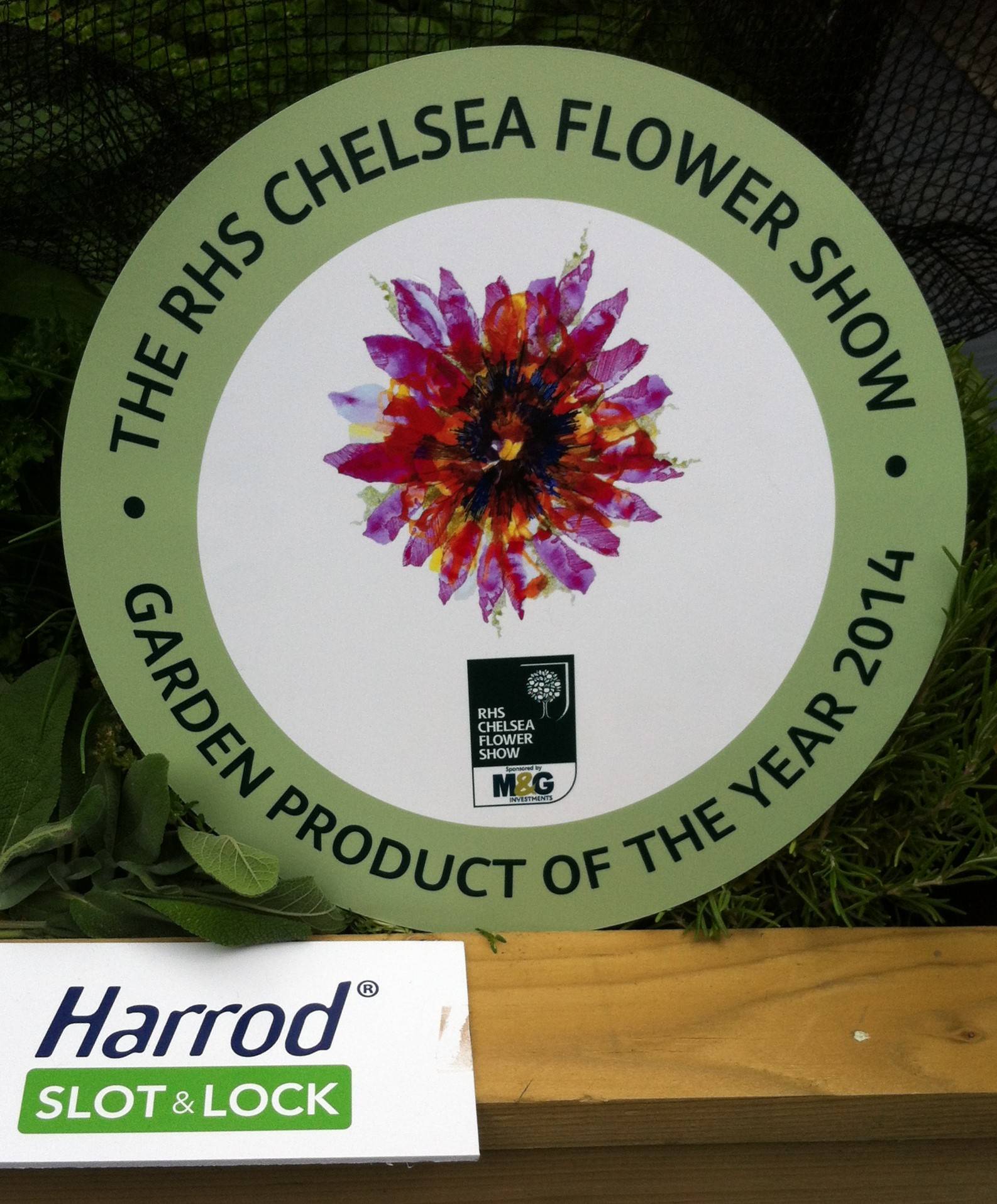 Harrod Horticultural Tradestand 2014
2015 saw us introduce our new Wire arches and Obelisks following a lot of customer feedback. These are much stronger than other versions in the market but more competitively priced than our standard garden arches and obelisks. We also offered these in a rust finish, a first for us, but the untreated steel finish which naturally develops an even rust coating over time was incredibly popular. We extended the finish across our plant supports and couldn't believe how much attention they received.
We also had some garden furniture on the stand to gauge customer reactions. This was a very high end prototype and got some really positive feedback on the furniture.
Our new Contemporary Pergola provided the backdrop to the stand and also provided some very welcome shelter on the stand from the sun and occasional shower!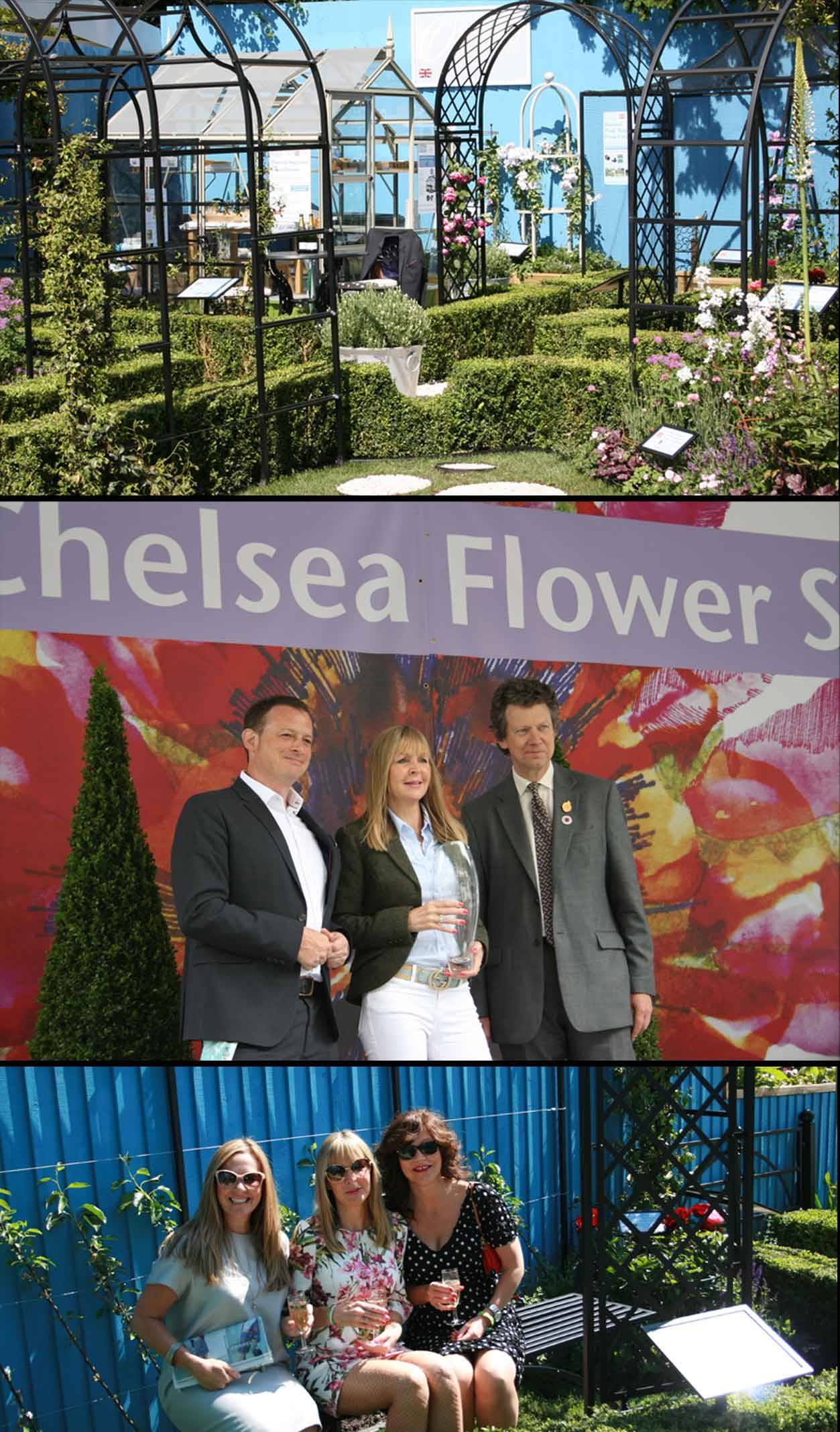 RHS Chelsea 2015
The Harrod Horticultural stand looked fantastic in 2016; we had some additional help with the planting from RHS Award Winning garden designer Frederic Whyte which looked stunning. Our newly released Ellipse Arch took centre stage on this Tradestand along with our Door Canopies and Contemporary Pergola.

We were also lucky enough to be awarded yet another 4-Star Tradestand Award.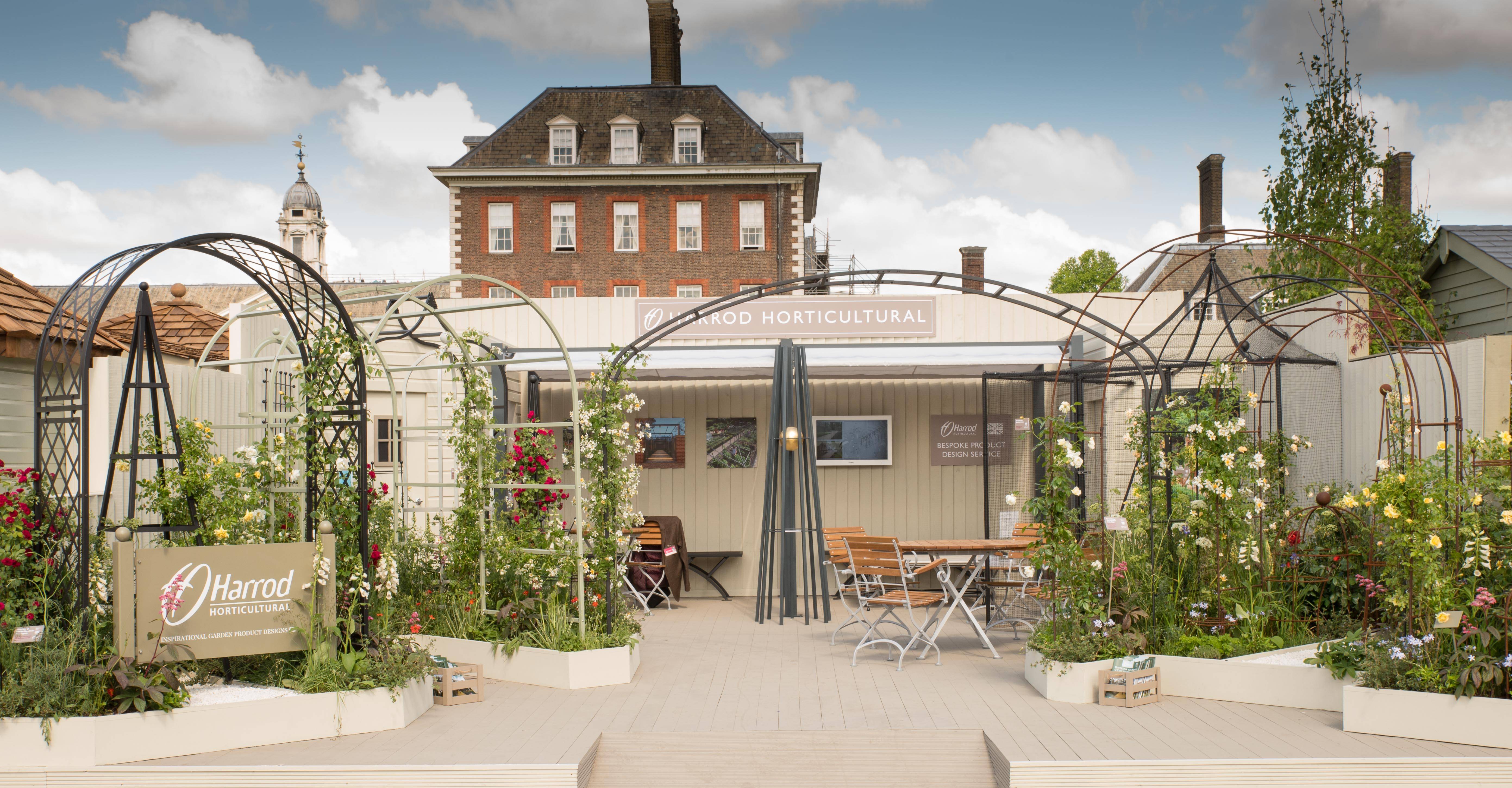 Harrod Horticultural Tradestand 2016
In 2018 we teamed up with the prestigious Burncoose Nurseries who are provided the planting. The climbing plants look stunning over our RHS Endorsed Garden Arches, Pergolas and Obelisks. The Metal Raised Beds will be getting a lot of attention with planting to complement the stylish Anthracite Grey and Heritage Green finishes.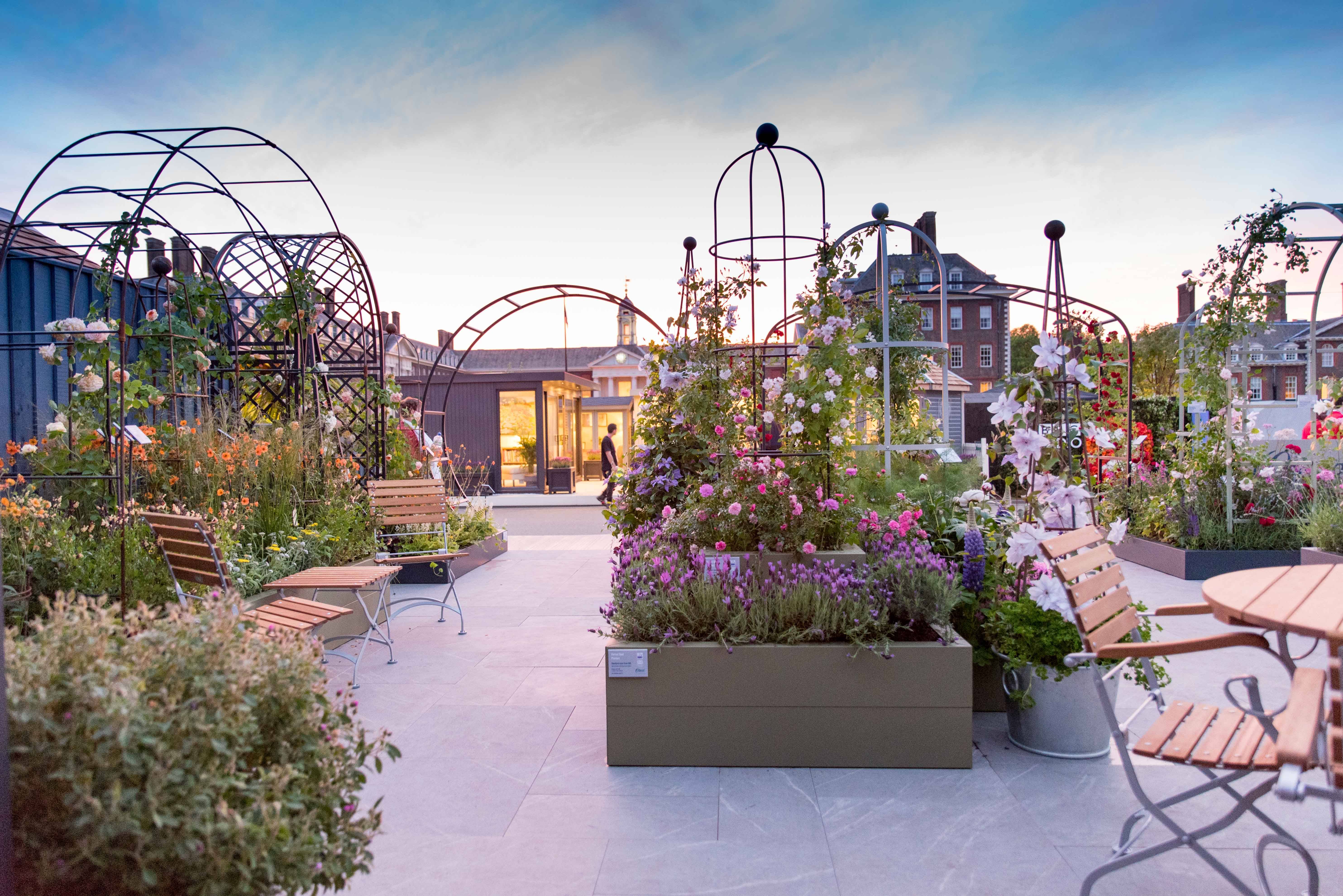 Harrod Horticultural Tradestand 2017
This year was all about garden structures, we showcased our new Harrod Modern Pergola System with laser cut panels which made a stunning feature in the glorious weather that year. We also took our planting to the next level this year to enhance all of our structures such as our Moongate Arch, Roman Arches, Ellipse Arch, obelisks, plant supports and metal raised beds.

Tuesday morning is always an anxious time around Chelsea with everyone wondering what award their garden or stand has received. When we arrived on the stand that morning, we couldn't believe we had been awarded a 5 Star Gold Tradestand Award, the highest we have ever achieved - cue the celebrations!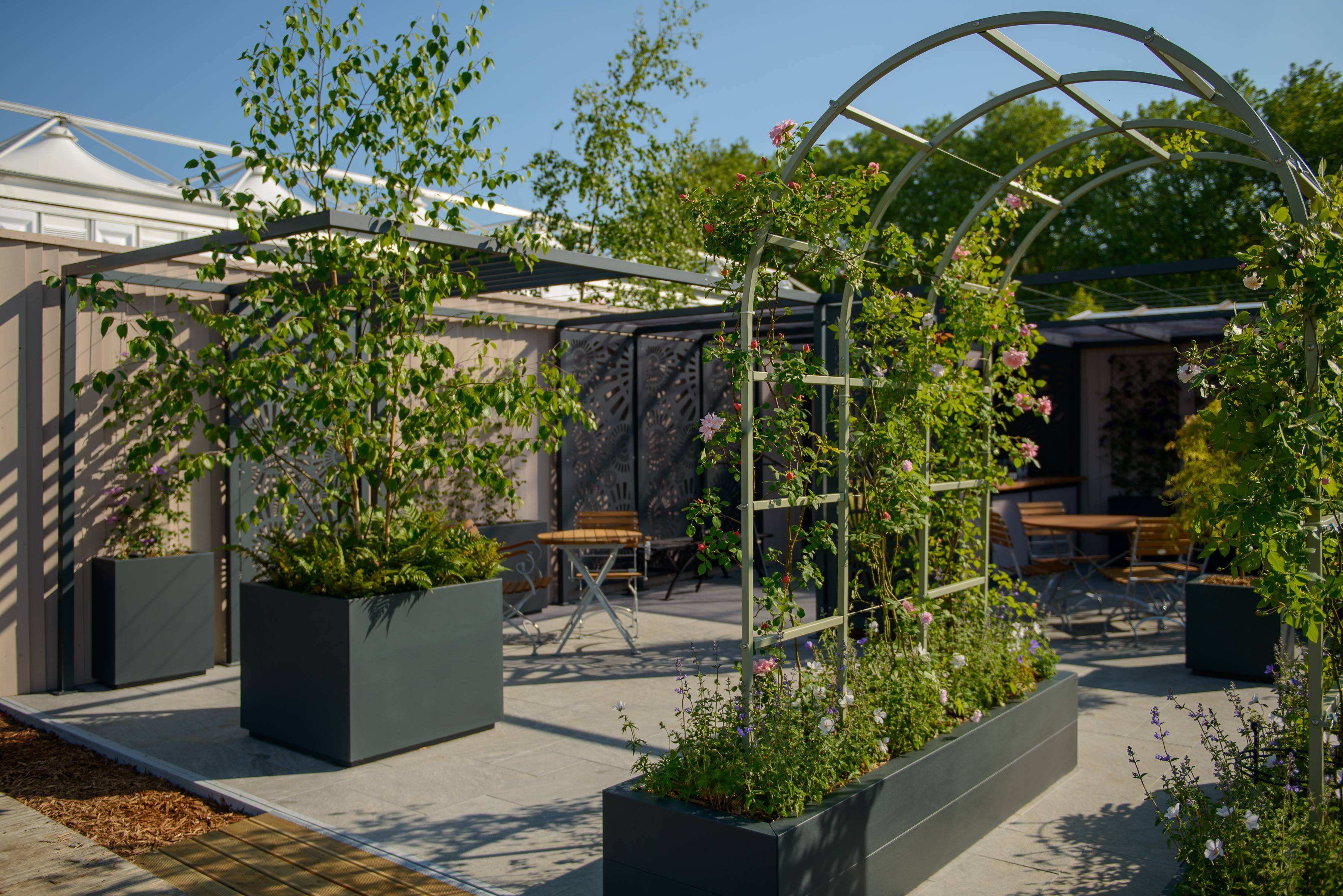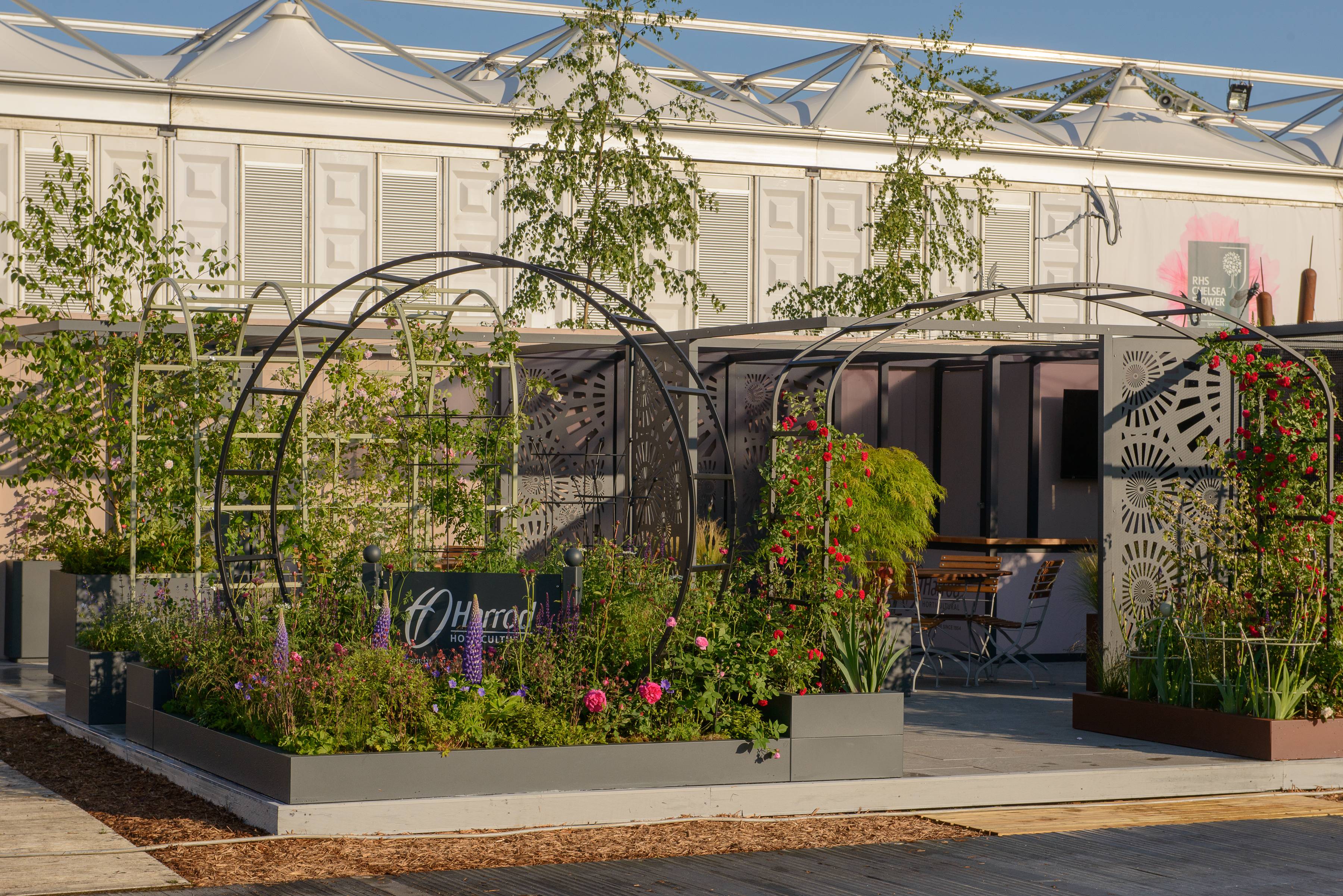 After last exhibiting at the RHS Chelsea Flower show back in 2018, 'excited to be back' in 2022 was an understatement!

We exhibited our Southwold Collection Garden Furniture for the very first time since its launch back in 2020, so we were eager to see how this the crowds at the show would react and it's safe to say we're delighted with how it went down, even with the unpredictable weather!

We were lucky enough to work with Thomas Hoblyn who planted our Southwold Collection Planters, Too Mnay Flowers who provided us with the beautiful floral decorations to top our tables and Talasy who kindly provided us with the perfect flooring tiles.