The Southwold Classic Planters have straight sides with square panelled detail on all four faces, detailed moulding on the top and bottom and feature a decorative ring on two sides. Available in 3 sizes these high-quality, heavy-duty planters are built to last and will be a real focal point in your outside space for years to come.
Perfect individually or as a pair of planters either side of a doorway or entrance, they can be used to create floral displays throughout the year and are also ideal for displaying specimen trees and plants.
Manufactured using high-quality steel, the planters will arrive in a weathered zinc finish, but over time they will lighten due to the natural oxidisation process and develop a beautiful aged patina giving them an antique classic look. Please note: in the images the planters are darker than how they will finish looking.
Each of the planters has a drainage hole and a rubber bung that gives you the option to use the planter both inside or out in the garden.
Harrod Horticultural Exclusive
High quality galvanised steel planters
Attractive square panel detail on each side of planter
Decorative ring feature on 2 sides
Planter has drainage hole with rubber bung included
Available in 3 sizes

Small - 50cm W x 50cm D x 50cm H / Internal Measurements: 42cm x 42cm / Weight: 22kg
Medium - 60cm W x 60cm D x 60cm H / Internal Measurements: 52cm x 52cm / Weight: 35kg
Large - 70cm W x 70cm D x 70cm H / Internal Measurements: 62cm x 62cm / Weight: 45kg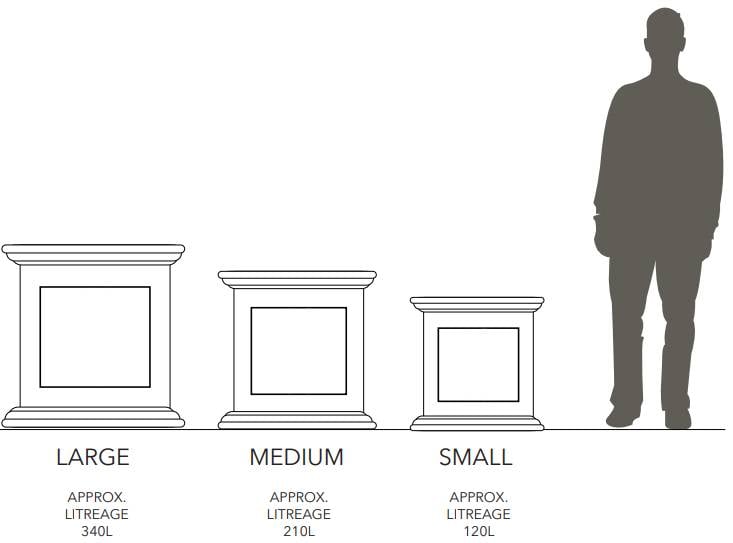 Be the first to write a review for this product.