Southwold Oval Dining Table 2.4m
£19.95 P&P
The Oval Dining Table 2.4m is part of the exclusive Harrod Southwold Garden Furniture Collection, a unique handcrafted range inspired by traditional English blacksmith furniture. The 2.4m oval dining table has stylish curved legs, scrolled feet and an attractive top design and has been thoughtfully designed to add style and comfort to your outside space.
Read More
Exclusive Designed &
Made by us in the UK
Long Guarantees
Please Note: Due to unprecedented demand please allow 16 weeks for delivery.
The Oval Dining Table 2.4m is part of the exclusive Harrod Southwold Garden Furniture Collection, a unique handcrafted range inspired by traditional English blacksmith furniture. The 2.4m oval dining table has stylish curved legs, scrolled feet and an attractive top design and has been thoughtfully designed to add style and comfort to your outside space.
This outdoor garden dining table is designed to seat up to 8 people, measuring 2.4m Long x 1.2m Deep and standing 73cm high. Manufactured using high grade steel which is hot dip galvanised and then 'hand etched' to achieve the stunning antique finish. Due to the hand made manufacturing and finishing methods used each table is unique and the appearance improves as it weathers.
The Southwold Garden Furniture range can be seen at the following locations - to find out more details please visit the Furniture Retailers Page:
The table is structurally guaranteed for 25 years, but our testing suggests that all the Southwold Furniture Collection can be genuinely considered as heirloom pieces that will last for generations if looked after.
Southwold Oval Garden Dining Table 2.4m (Table only - chairs available separately)
Measures 2.4m Long x 1.2m Deep x 73cm High - 65mm umbrella hole with bung supplied
Weight 110kg
25 Year Structural Guarantee
Handcrafted and finished using high grade steel
Attractive curved legs, scrolled feet and top design
Hot dip galvanised then hand dressed for exceptional corrosion protection
Hand Etch finish for a unique antiqued patina appearance that improves as it weathers and ages
Oval 1.8m Table is also available
Carver Chairs (with arms), Side Chairs (no arms), Benches (with back) & Benches (without back) available separately
Range Overview - Click Here

Furniture Care Pack included with beeswax polish, cloth and abrasive pad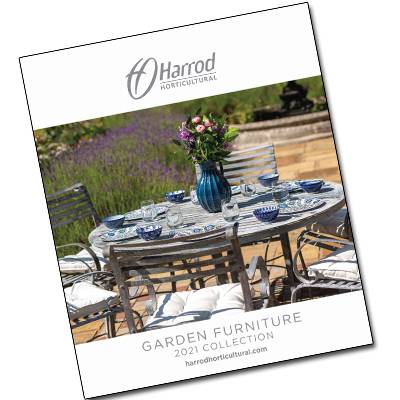 Browse the complete Handcrafted Southwold Range with our Online Furniture Catalogue and find out more about this stunning new furniture collection, exclusively designed and made in the UK. We can also send you a free copy, simply contact customer services on 0333 400 6400 or email enquiries@harrod.uk.com and we will get a copy sent to you.
Suggested Configurations:-
Southwold Oval Dining Table 2.4m & 6 Carver Chairs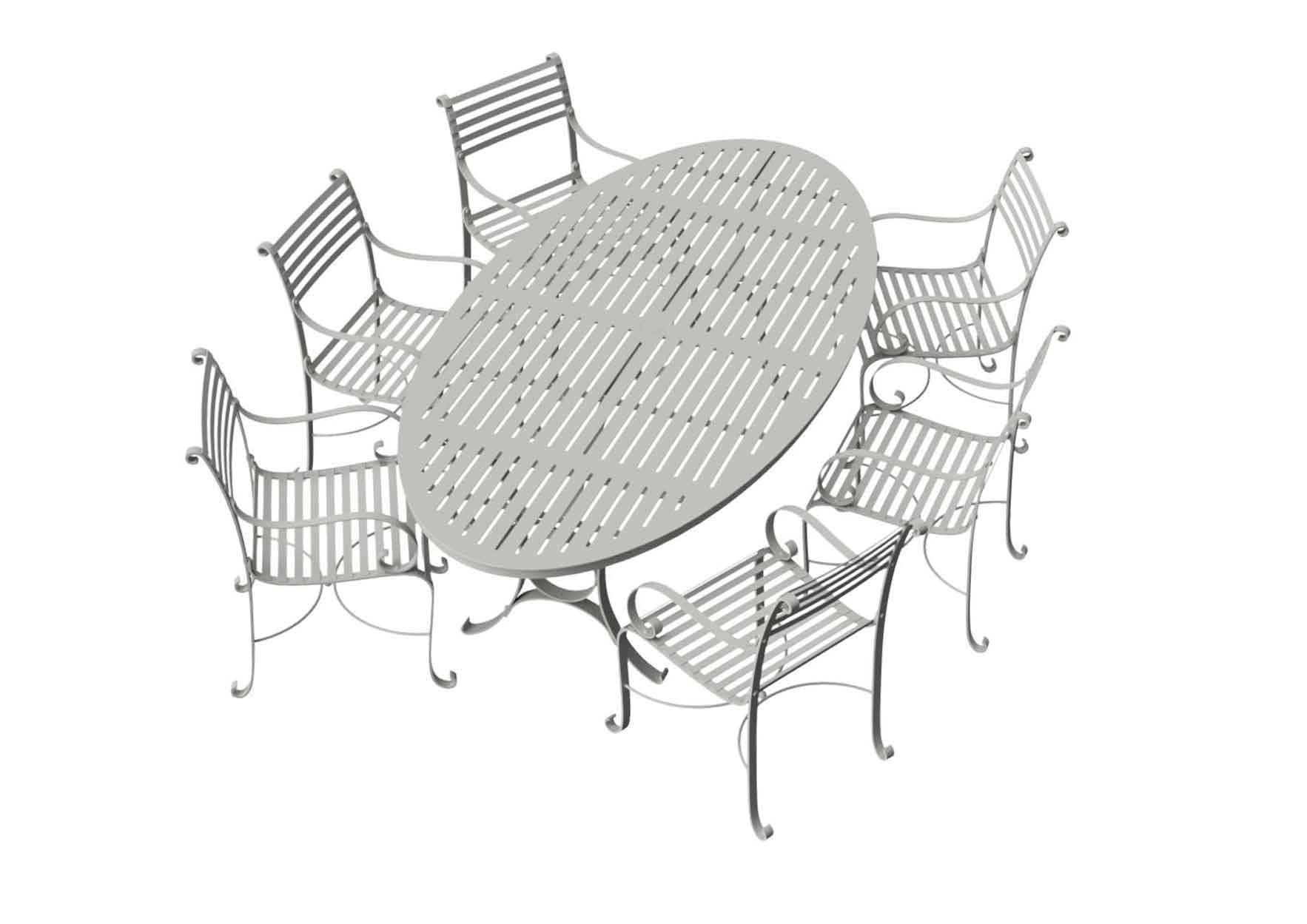 Southwold Oval Dining Table 2.4m & 8 Carver Chairs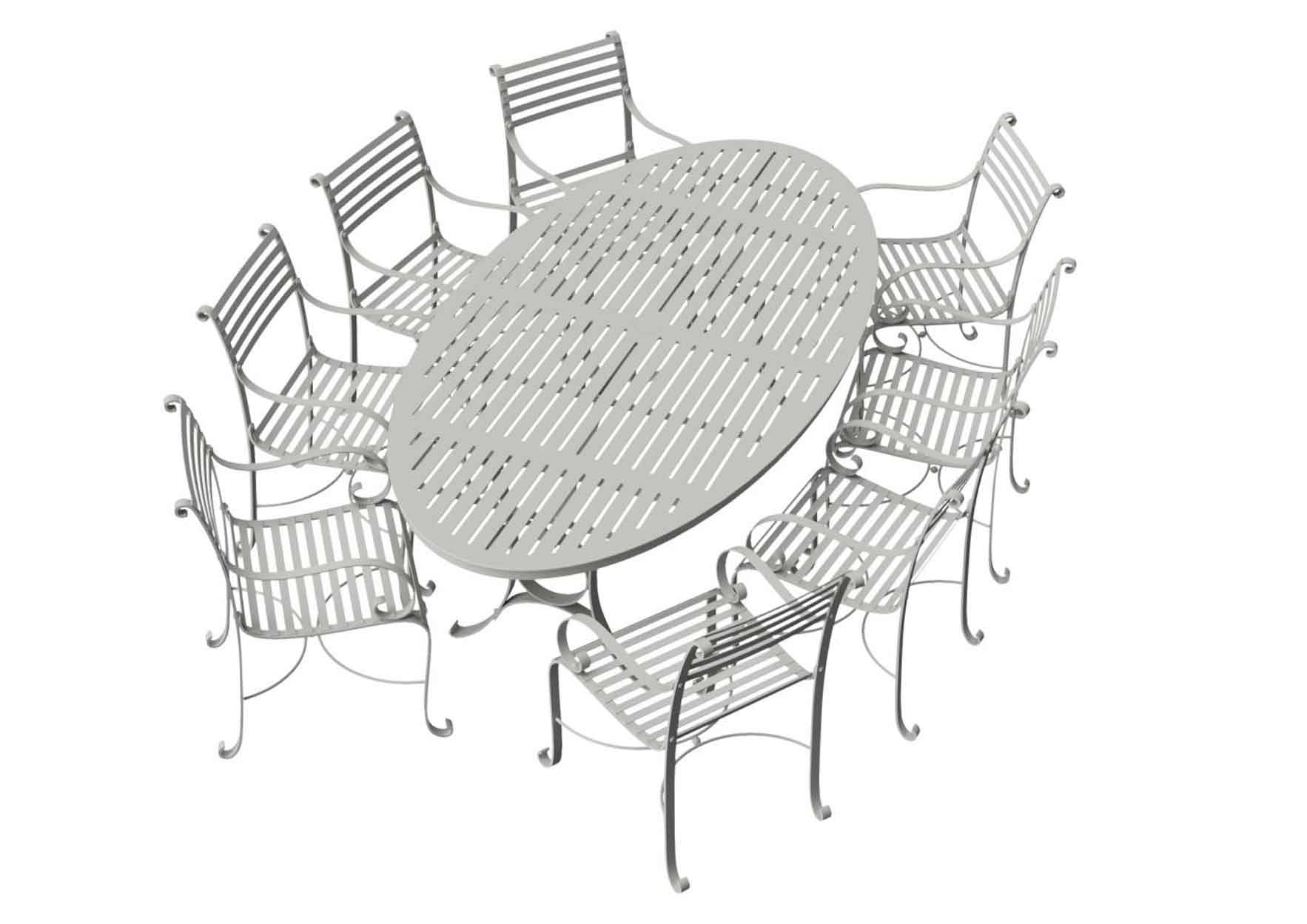 SOUTHWOLD GARDEN FURNITURE COLLECTION
This new handcrafted traditional furniture collection takes its name from the popular Suffolk coastal town of Southwold, just a short distance from Harrod Horticultural where we design and manufacture the range in our workshops.
TIMELESS ELEGANCE
The range is inspired by traditional blacksmith furniture which became popular at the start of the industrial revolution over 200 years ago. Many of the shapes, forms and general look and feel quote directly from this heritage.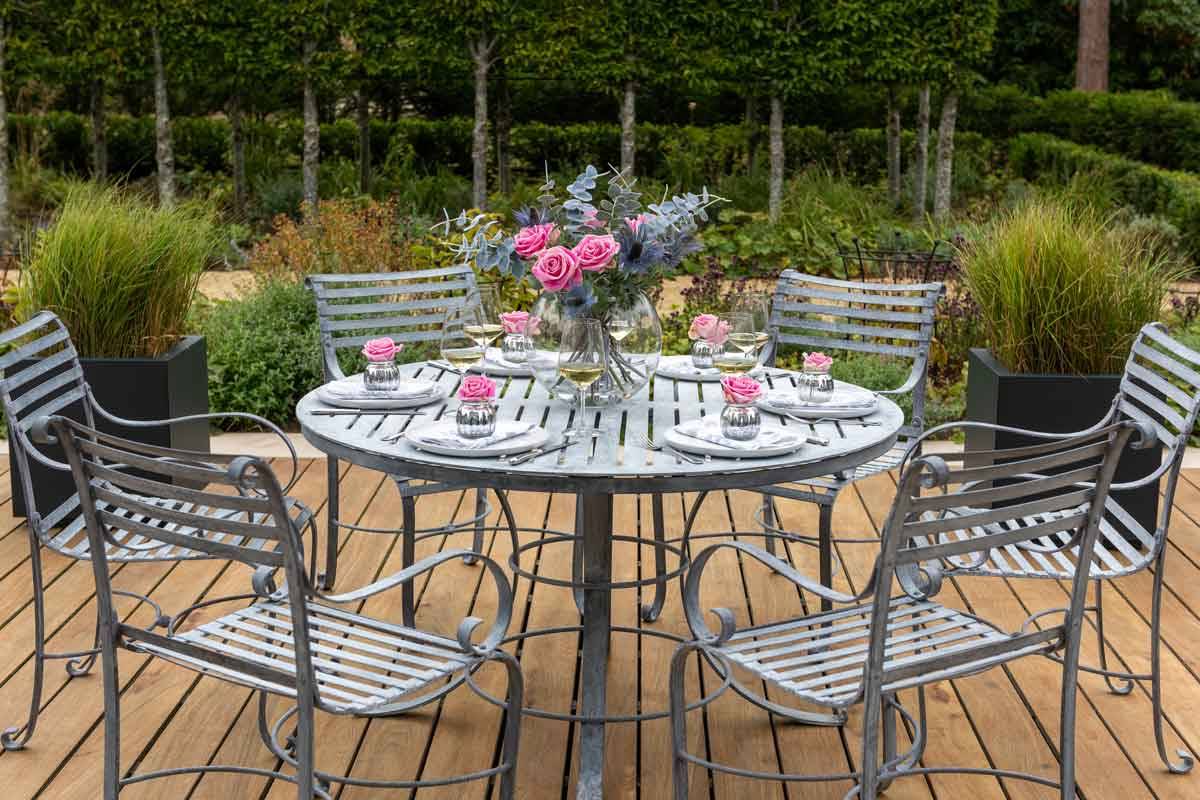 ENDURING COMFORT
Where our designs differ from tradition however, is the depth of study and care we have taken to ensure that our furniture is as much comfortable as beautiful. Much thought has gone into the ergonomics of the seat designs and careful selection of material section and thickness to ensure just the right amount of 'give' is coupled with the required structural strength. The chair designs for example use a range of thicknesses of strip steel depending on the design need. The legs use 8mm thick strip for strength and rigidity whereas the seat base and back rest use 3mm slats to give comfort and spring to the seat. Cushions can be ordered with your furniture for ultimate comfort but we are confident that even without padding our chairs will be kind to your behind.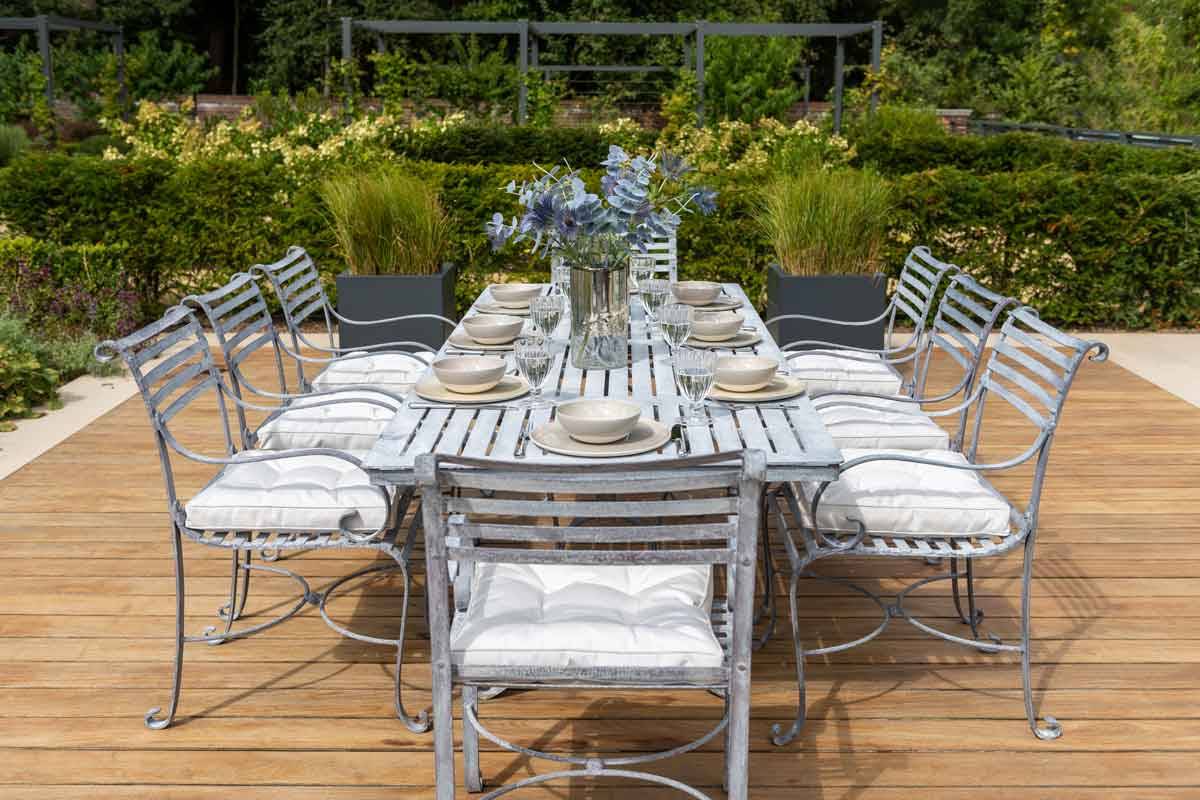 HIGH SKILLED PRODUCTION
All of our furniture is hand made by skilled technicians and finished in our workshops in Suffolk where we have been manufacturing for over 65 years. Due to the handmade nature of the products all pieces are unique, these slight differences add up to sets of furniture with real soul and charm in a world of mass produced conformity. Before final finishing all of the products are dipped in a bath of molten zinc which envelops the steel in a blanket of sacrificial rust protection. Each furniture piece is therefore extremely tough and durable, and with a substantial weight, so will withstand the most extreme British weather.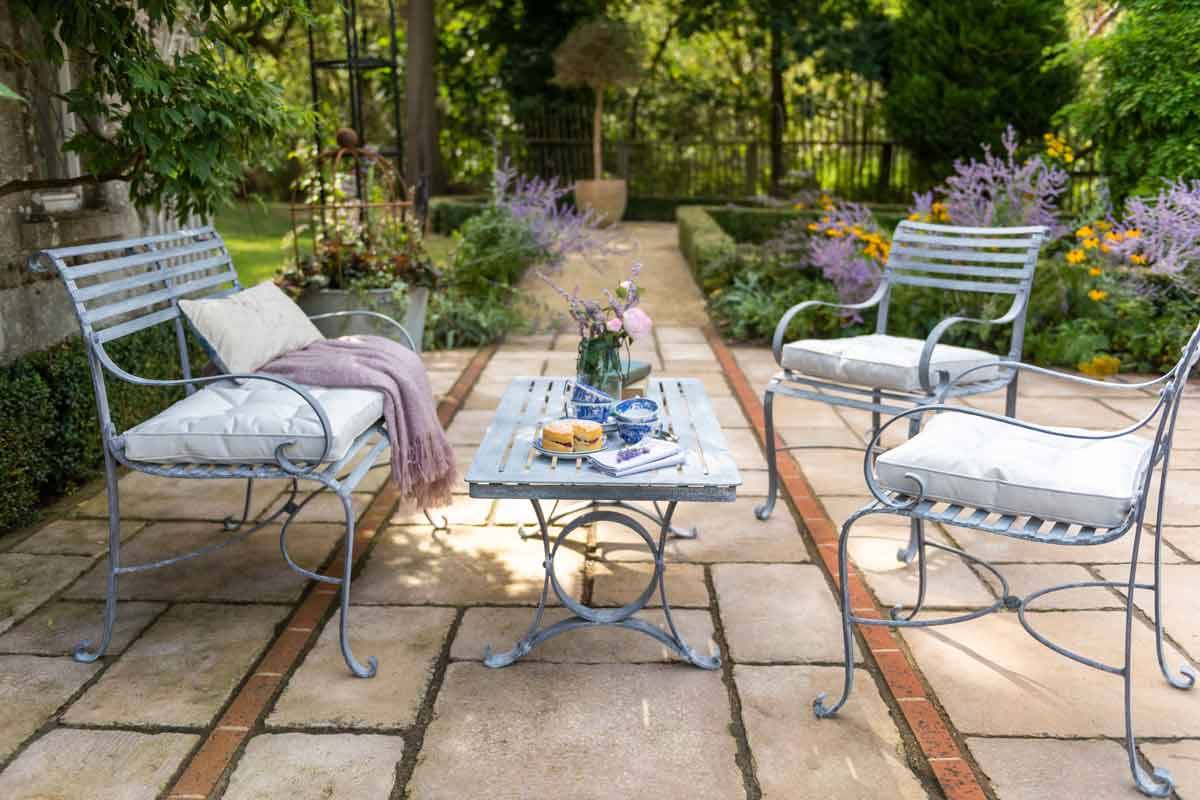 DURABLE FINISHES
The furniture collection is structurally guaranteed for 25 years, but our testing suggests that the furniture can genuinely be considered as heirloom pieces that will last for generations if looked after. Before the final finish, all furniture is hot dip galvanised.
'Hand Etched' finish - the product is chemically 'etched' by hand after the zinc coating is applied leaving an antiqued patina appearance which improves as the product weathers. The magic of the finish, is that the character of each piece only improves with age, the more the seasons pass the more the appearance is enhanced.
CARE GUIDE
Each piece of furniture is handmade and finished, the joy of this hand process means that every piece has its own subtle character that develops with age. The etched zinc finish evolves with time and use, colours vary from almost white to dark grey with occasional mottling of dark red oxides. When the furniture arrives, it can take a few weeks for the aged patina to start to develop. This is normal and depends on the weather conditions. The characteristic white dusty oxides form over the initial dark grey.
All our furniture will arrive pre-waxed. We advise applying beeswax polish in the Autumn (or earlier depending on weather conditions and how the furniture looks) and in the Spring. Beeswax polish is available from Harrod Horticultural or from any good DIY store . This can be applied with a cotton cloth, simply wipe on and buff into all surfaces of the furniture. The wax is easier to apply if it's at room temperature or the jar can be warmed to soften the wax by placing in a bowl of hot (not boiling) water. DO NOT wax furniture in cold or extremely hot conditions.
It's not absolutely essential to wax the furniture, but it will enhance the appearance, stabilising the patina. The beeswax will also give the furniture a 'silky' feel, and when it rains you should notice water now 'beads' on the surface, also making it easier to clean. Make sure that you allow the wax to dry fully, and that any excess is wiped off before sitting on the furniture or using cushions.
Table tops and horizontal surfaces where water may collect may become very white if left for months unwaxed. This can be buffed off to the desired colour with a scouring pad and then wax applied to seal.
To clean your furniture, use no more than mild detergent, water and a nylon scrubbing brush. The furniture can be left outside year round in all weathers.
If you live very close to the sea please be aware that a salt laden atmosphere can greatly accelerate corrosion, so we recommend waxing frequently and ensuring that the furniture is washed down with fresh water before application. Please note that the white zinc oxides that develops are not harmful to the skin. Zinc oxide is used in wide range of cosmetics and personal care products.