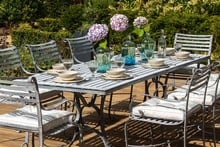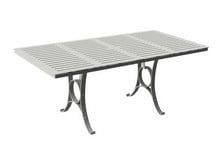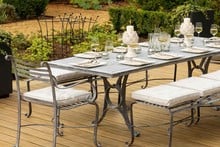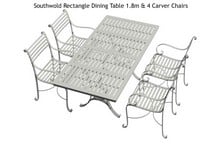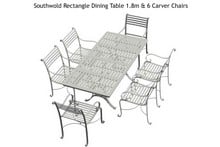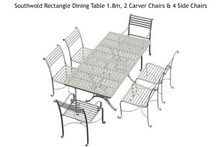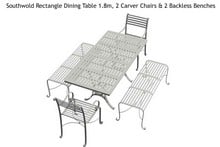 Southwold Rectangle Dining Table 1.8m
The Rectangle Dining Table 1.8m is part of the exclusive Harrod Southwold Garden Furniture Collection, a unique handcrafted range inspired by traditional English blacksmith furniture. This 1.8m rectangle dining table has an stylish profile with curved legs, scrolled feet and an attractive top design.
Read More
£19.95 Delivery
Need Convincing?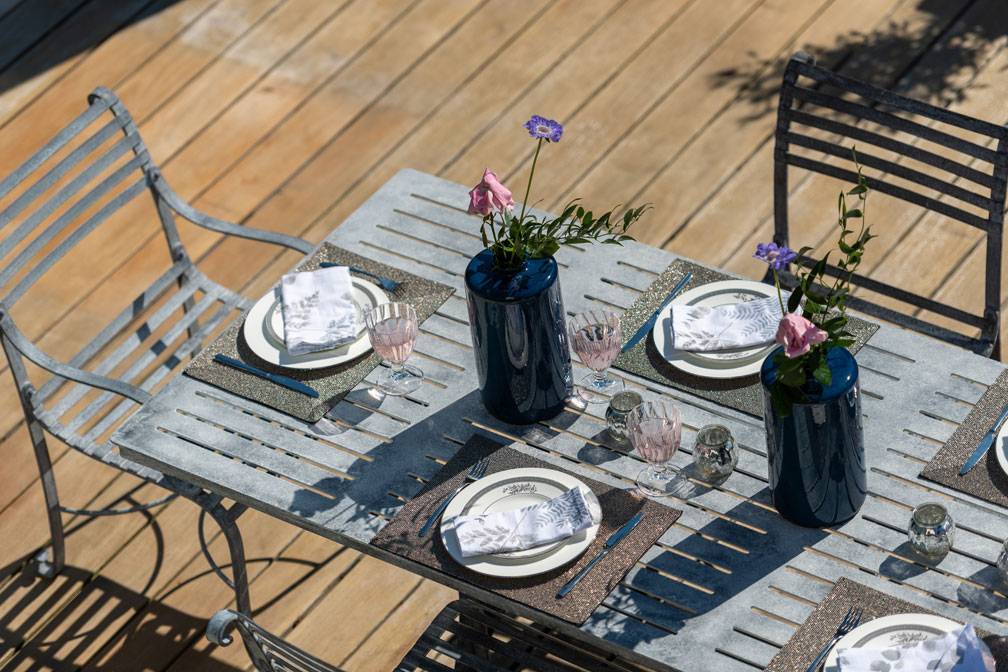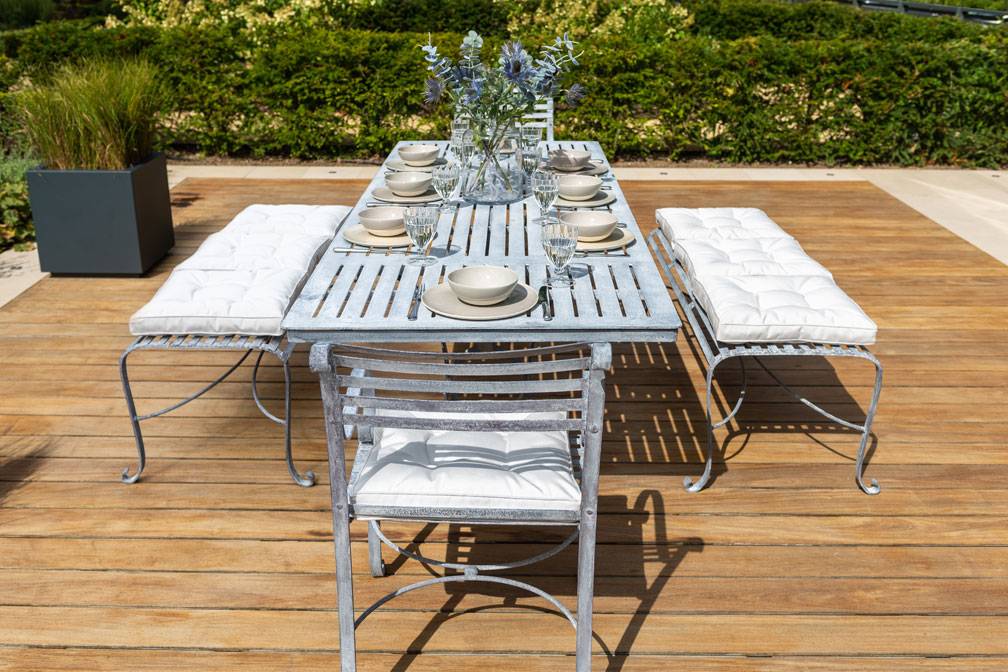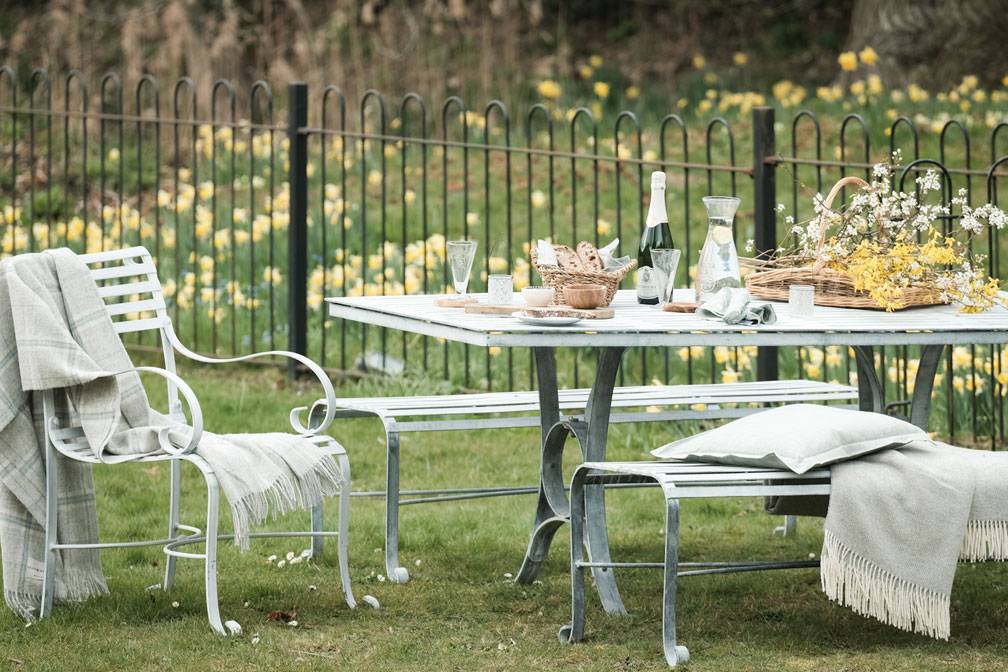 Southwold 1.8m Rectangle Dining Table
The Rectangle Dining Table 1.8m is part of the exclusive Harrod Southwold Garden Furniture Collection, a unique handcrafted range inspired by traditional English blacksmith furniture. The 1.8m rectangle dining table has an stylish profile with curved legs, scrolled feet and an attractive top design.
Every hand finished table has its own character...
Manufactured using high grade steel each table is chemically etched by hand after the zinc coating is applied leaving an antique finish. The joy of these hand processes means that every piece has its own character that evolves with age and improves as the product weathers. Colours can vary from light to dark grey. The finish is always varied, it is not a paint and is not intended to be completely uniform, which adds to the charm of these unique pieces.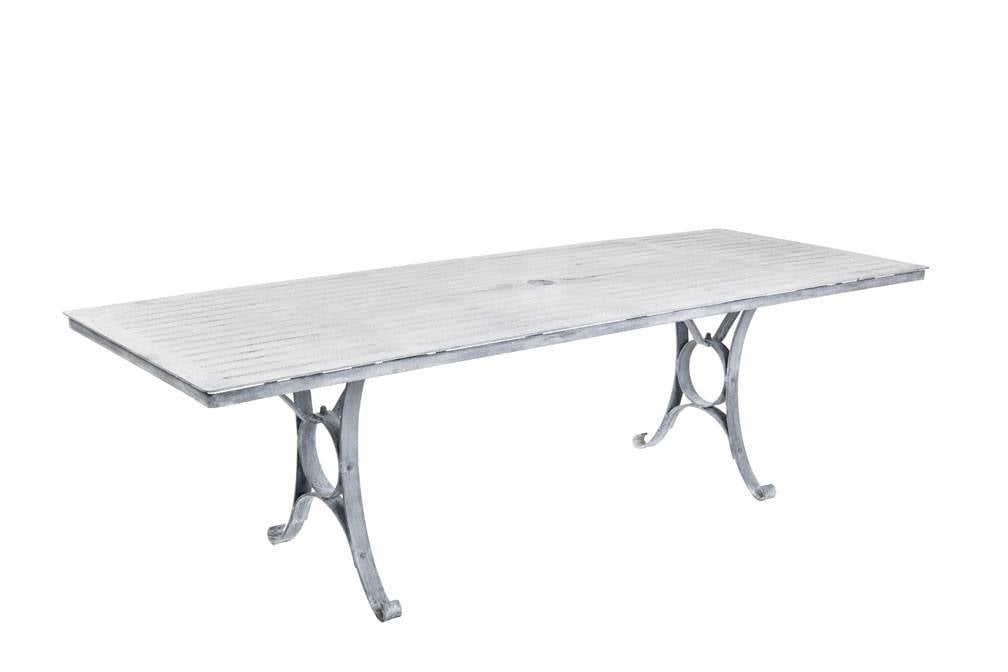 Handcrafted in the UK
This rectangle outdoor garden dining table is designed to seat up to 6 people, measuring 1.8m Long x 0.9m Deep and standing 73cm high.
The table is structurally guaranteed for 25 years, but our testing suggests that all the Southwold Furniture Collection can be genuinely considered as heirloom pieces that will last for generations if looked after.

Complete your furniture set
Parasol is not supplied but is available to buy separately. Measuring 3m wide and 2.25m tall the parasol has an easy wind mechanism and can also be easily tilted. The aluminium frame and polyester canopy in stone colour, is shower resistant and has a UV50+ sun protection rating. A base is also available which weighs 32kg, providing stable support for the canopy.
18th October 2022
I had been admiring this furniture online for a long time as we have recently redesigned our garden and needed something new. However, I had some doubts in my mind about it. We have a very small garden, we are recently retired (so not as young as we used to be) we live in a very modest house on a very ordinary housing estate. My concern was that the furniture was too big for our small garden, expensive (would we get the good out of it) and too ostentatious for our modest home. In the end I really couldn't find anything I liked as much so we decided to take the plunge and treat ourselves to a table and a selection of other pieces that would give us flexibility. We are so glad we did buy it and can honestly say it is the best purchase we have made in a long time. Yes, it is big and it does dominate our small garden but it is so beautiful to look at it feels like a work of art in the garden. It's so lovely to look at out of our living room window and even looks good on a dull wet day. It is a real focus for the garden and turns our outdoor space into a lovely dining and entertaining area. We use the garden so much more than we used to, hardly a day goes by when we are not out there with coffee or a glass of wine or eating with family and friends. Yes, it is expensive (by our standards) but it is worth every penny. Not only because of the use we get from it and it's good looks but also because it is so well made and robust. It will certainly outlive us but we have already told our children they will inherit certain pieces and they are more than happy with that arrangement, a real heirloom as I think it will outlive them too. We will never have to spend money on new furniture and will never have to spend time maintaining it, in fact it is getting better with age as it is developing a nice patina. Therefore it is an investment and worth the initial expense. Yes, it is a bit ostentatious for an ordinary back garden on an ordinary estate but the pleasure we get from looking at our garden and sitting outside outweighs any of that. Our friends and family comment on how it has transformed our garden and the quality of the workmanship. Even the window cleaner says he tells everyone about our lovely garden. Our Grandchildren love sitting outside and eating their meals out there and I never worry about them spilling anything as it is so easy to clean. We are so glad we treated ourselves, Truly the best purchase in a long time.
Many thanks for your fabulous review. We are so pleased you love the Southwold furniture collection as much as we do.
Southwold 1.8m Rectangle Table
Southwold Rectangle Garden Dining Table 1.8m (Table only chairs and benches available separately)
Measures 1.8m Long x 0.9m Deep x 73cm High - 66mm umbrella hole with bung supplied
Weight 92kg
25 Year Structural Guarantee
Handcrafted and finished using high grade steel
Attractive curved legs, scrolled feet and top design
Hot dip galvanised then hand dressed for exceptional corrosion protection
Hand Etch finish for a unique antiqued patina appearance that improves as it weathers and ages
Full instructions supplied