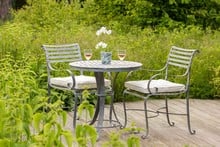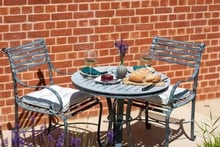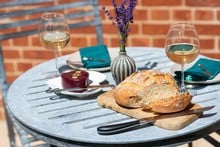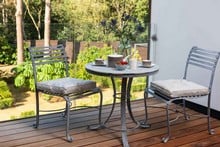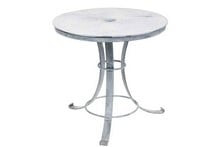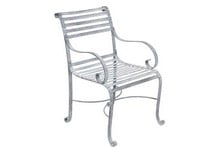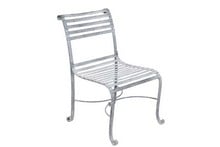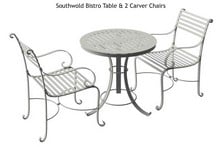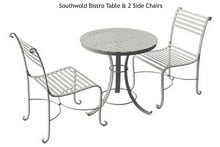 Southwold Bistro Table Sets
The Southwold Bistro Table and Chair Sets are ideal for the patio or deck, inspired by traditional English blacksmith furniture, this comfortable and stylish table and chair set are a great place to unwind in your outside space.
Read More
Free Delivery
Need Convincing?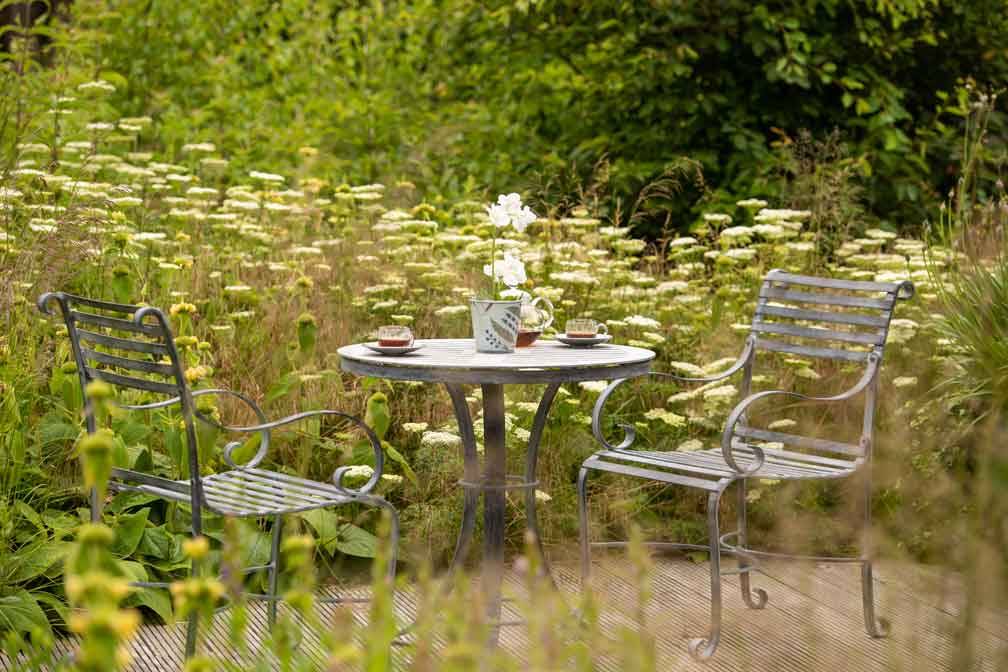 Southwold Bistro Table Sets
The Southwold Bistro Table and Chair Sets are ideal for the patio or deck, inspired by traditional English blacksmith furniture, this comfortable and stylish table and chair set are a great place to unwind in your outside space.
The Bistro garden furniture sets are part of our exclusive Harrod Southwold Garden Furniture Collection, handcrafted traditional style garden furniture made from high grade steel.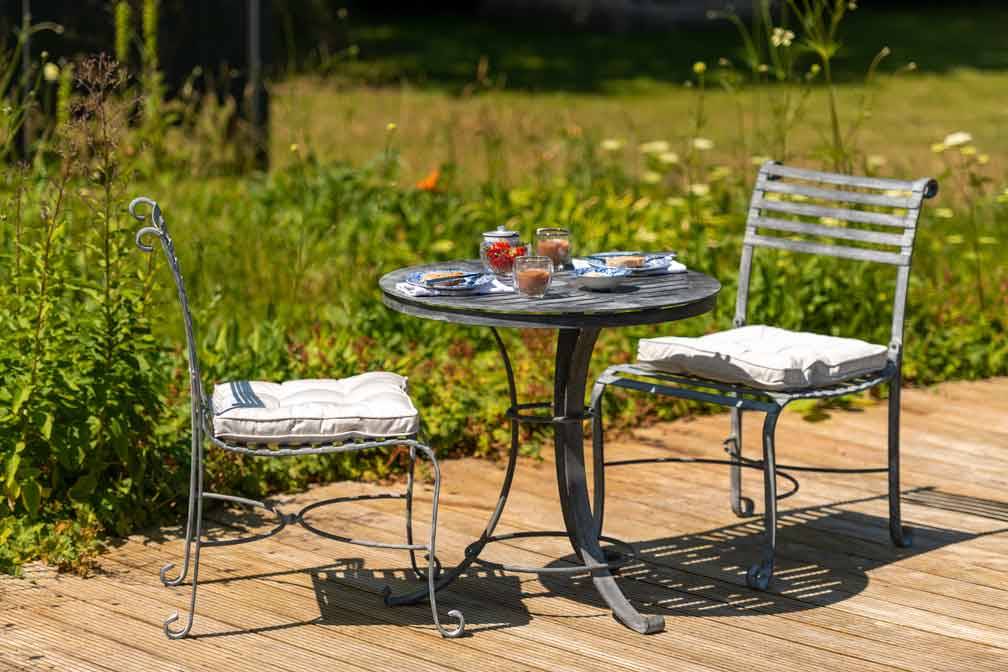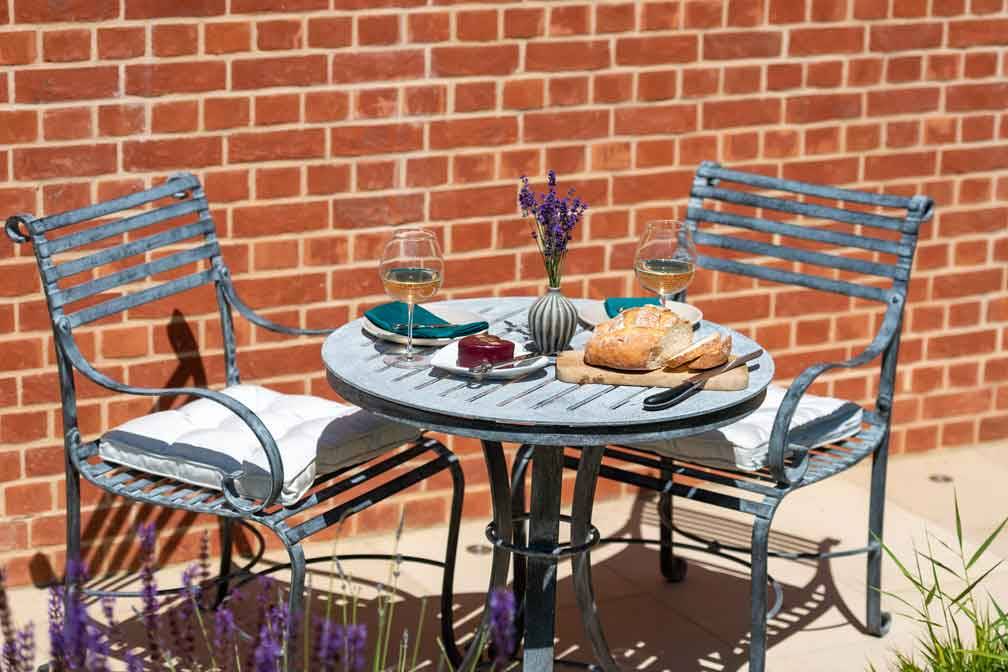 Every hand finished piece has its own character
Each piece of furniture is chemically etched by hand after the zinc coating is applied leaving an antique finish. The joy of these hand processes means that every piece has its own character that evolves with age and improves as the product weathers. Colours can vary from light to dark grey. The finish is always varied, it is not a paint and is not intended to be completely uniform, which adds to the charm of these unique pieces.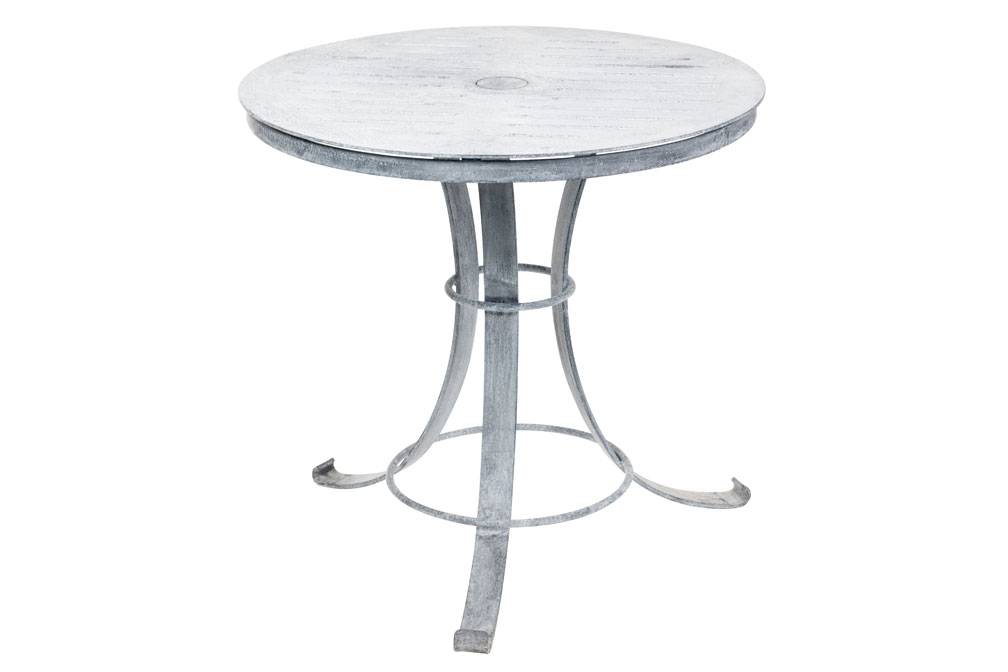 Bistro Table
The Southwold Bistro Table is a compact round table with stylish curved legs, scrolled feet and an attractive top design designed to seat 2 people and measures 75cm diameter, standing 73cm high.
Two sets are available; Bistro Table & 2 Carver Chairs or Bistro Table & 2 Side Chairs. The table and chairs are structurally guaranteed for 25 years, but our testing suggests that all the Southwold Furniture Collection can be genuinely considered as heirloom pieces that will last for generations if looked after.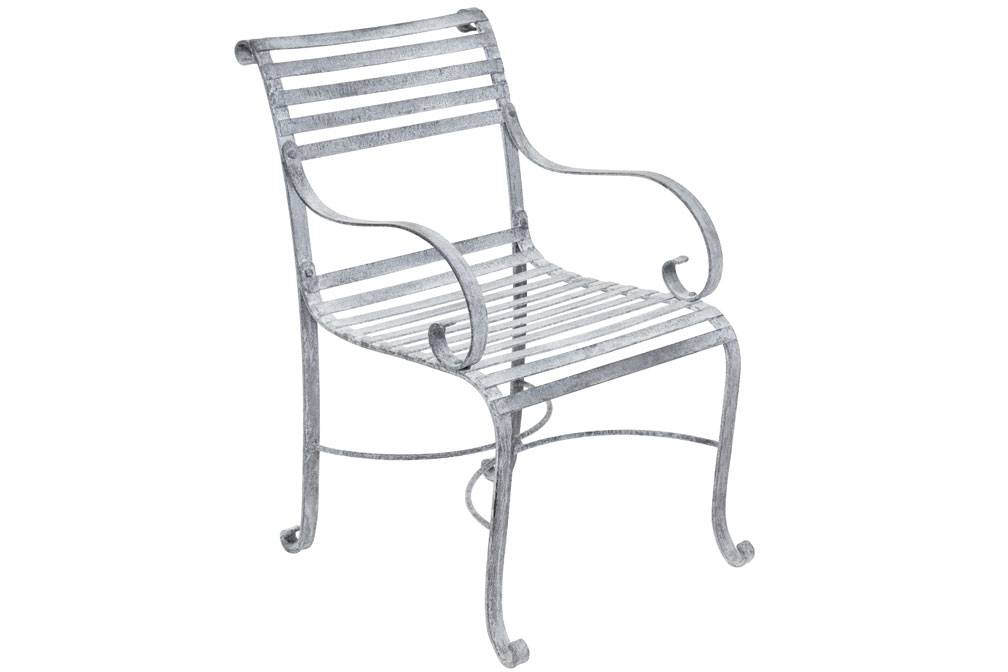 Carver Chairs
The Southwold Carver Chairs (with arms) and Side Chairs (without arms) in the sets have been designed to be both comfortable and beautiful. The material has been carefully selected using different thicknesses of steel to ensure the right amount of 'give' while retaining structural strength. The chair legs use 8mm thick steel for strength and rigidity and the seat base and back use 3mm slats to give comfort and spring to the seat. The arms on the Carver Chairs use 5mm thick steel strip.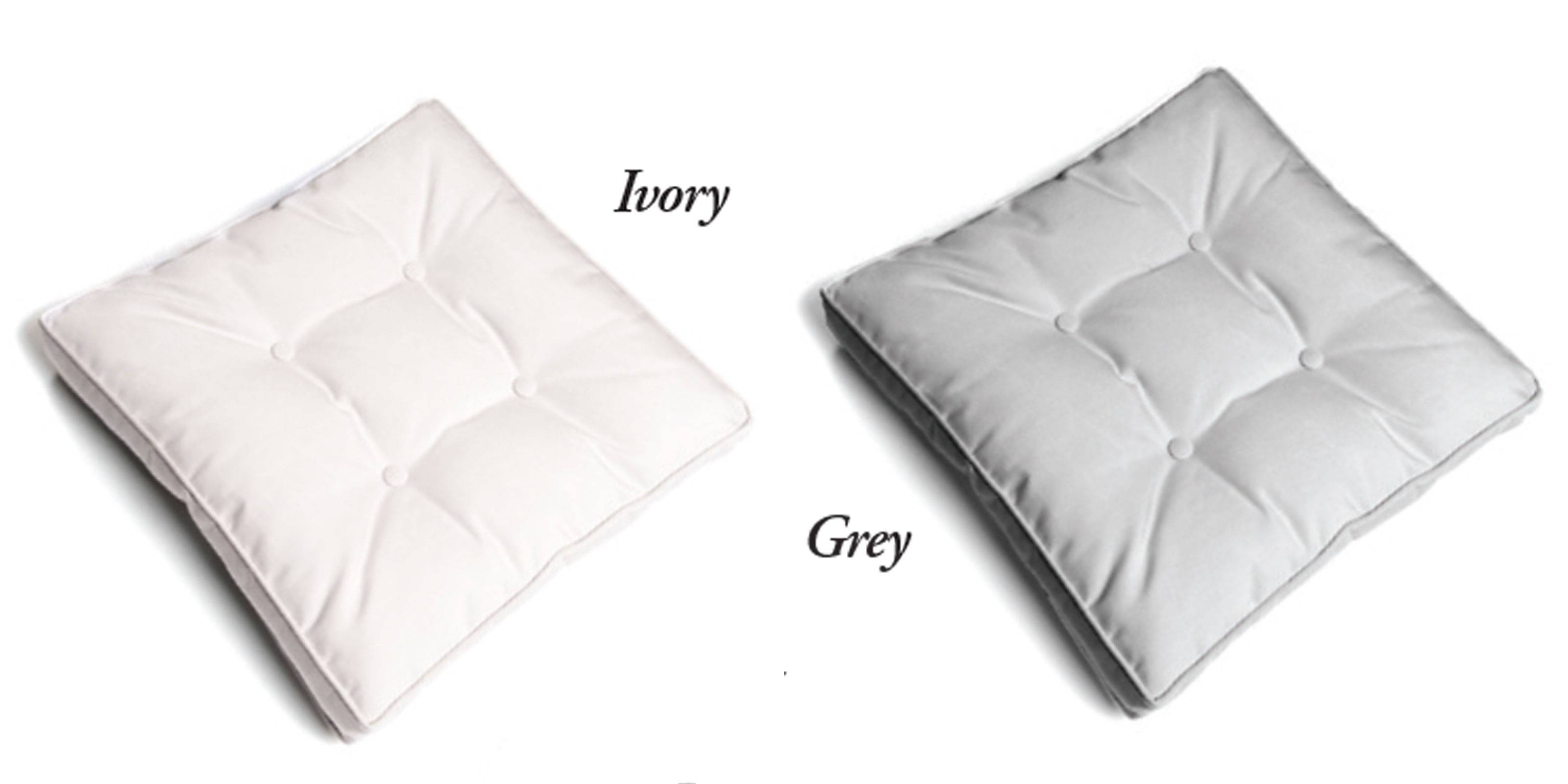 Add cushions to your bistro set
Cushions are not supplied but can be bought separately and are available in either Ivory or Grey. The cushions measure 47cm x 47cm x 4cm thick. Made with Acrylic Canvas the cushions are water resistant but store away during the winter and wet weather.
The cushions can be washed by hand at a cool temperature using hand washing detergent. They need to be allowed to dry fully which can take some time. Machine washing is not advised according to the material manufacturer.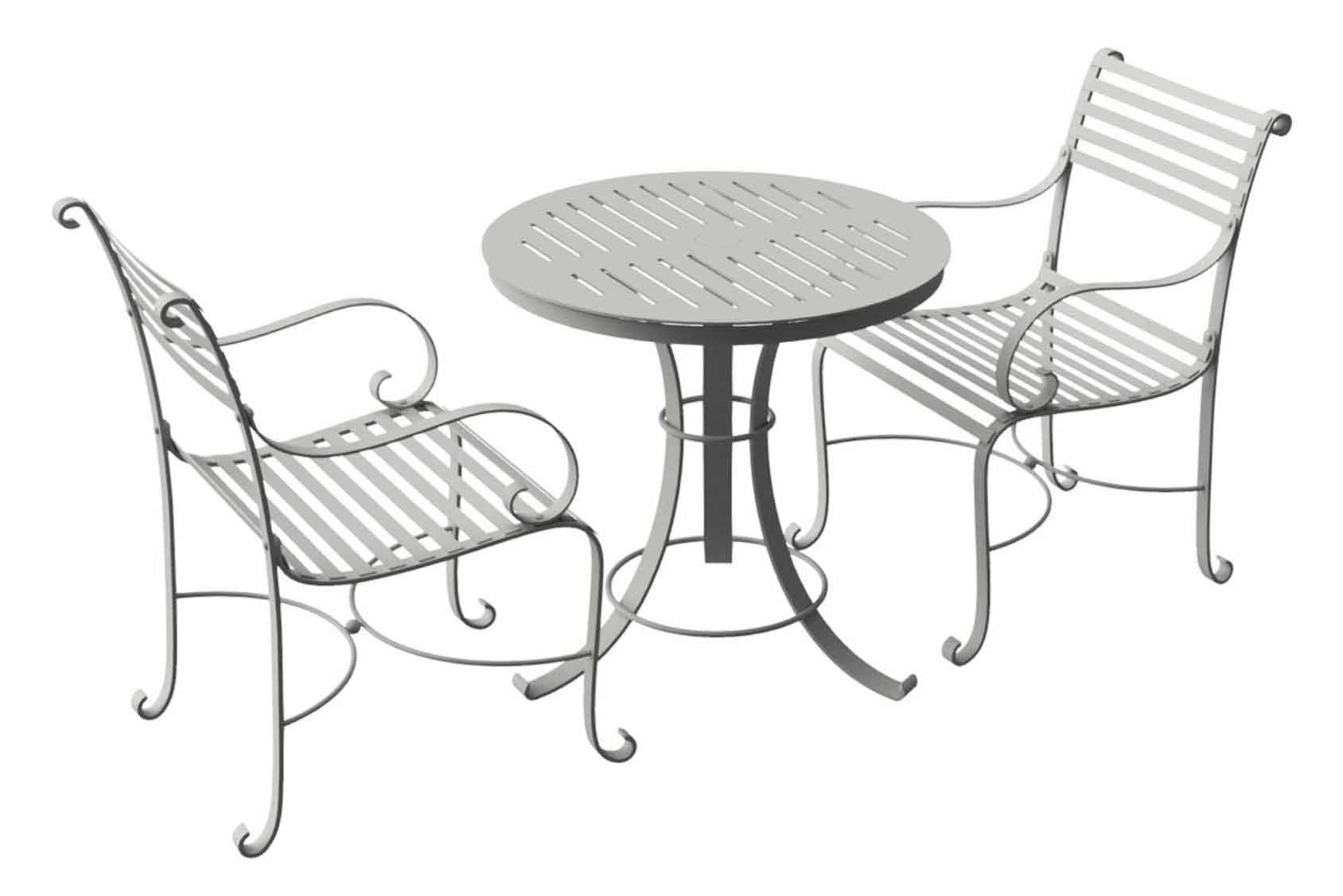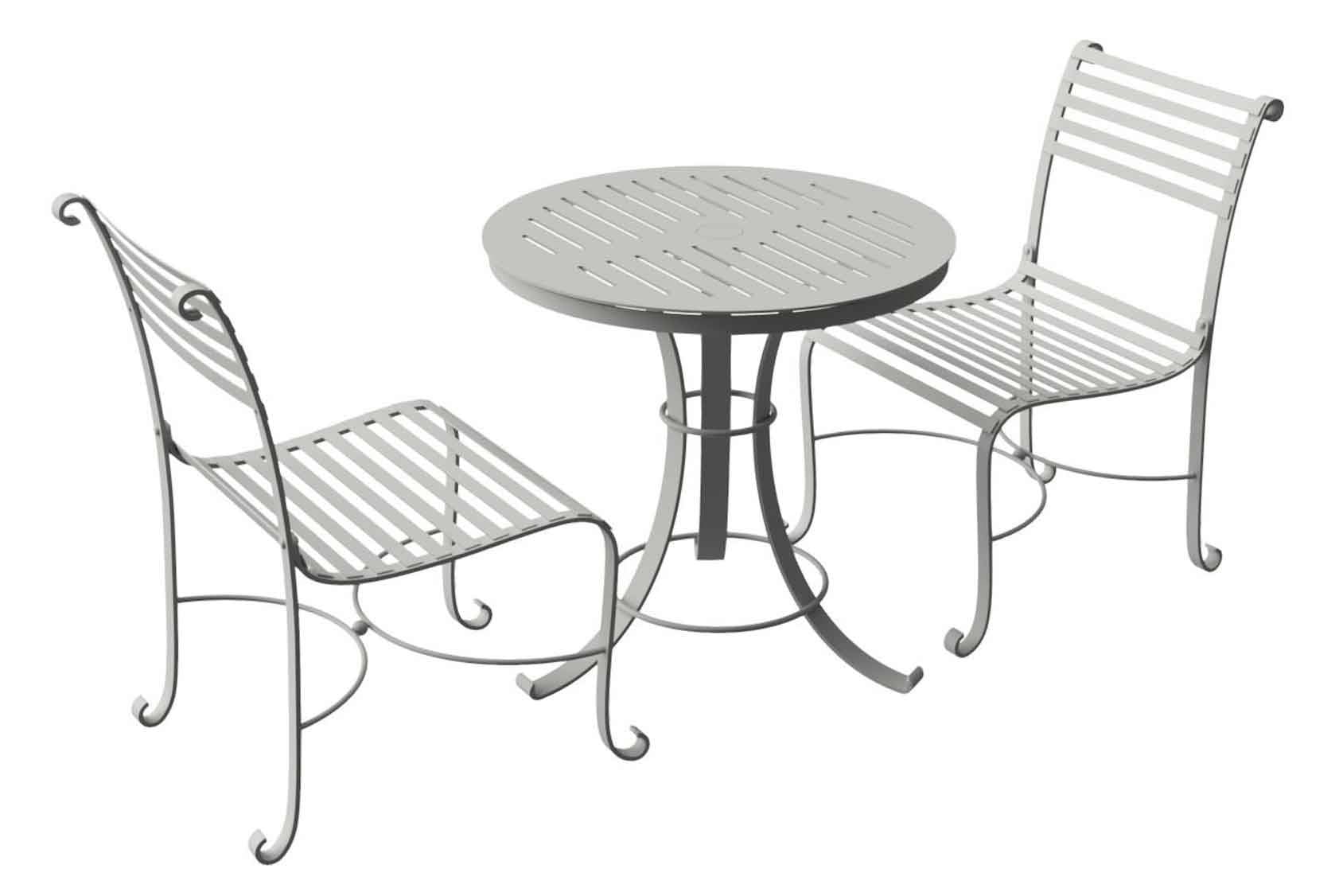 Available options:-
The Southwold Bistro Table Sets can be ordered with either 2 Carver Chairs with arms or 2 Side Chairs without arms as shown. The Bistro Set makes a great addition to any outside space positioned in a sunny spot to enjoy al fresco breakfasts or afternoon drinks.
2nd May 2023
Very comfortable, stylish and extremely hardwearing all-weather outdoor furniture. We're delighted with the bistro set. The table is a perfect size and, given its substantial weight, particularly stable! Great to not have to worry about it being subjected to all the extremes of the British weather.
31st October 2022
FABULOUS QUALITY.......IT IS OUTDOORS AND SITS PERFECTLY ON MY PATIO
30th October 2022
As you can see, mum is over the moon with her Southwold Bistro Table set, so much so that she is still enjoying it well into autumn. We chose this bistro set due to its solid, beautifully handcrafted workmanship teamed together with its timeless, elegant style which is a statement garden piece in its own right. Mum has mobility issues and it gives her much needed confidence together with all the support and comfort she needs. Thank you to the team at Harrod Horticultural. I suspect mum will still be enjoying her bistro table set at Christmas!
Southwold Bistro Set
Southwold Bistro Table & Chair Sets
Table Measures 75cm Diameter x 73cm High - 66mm umbrella hole
Table Weight 30kg
Carver Chair Measures 55cm Wide x 67.5cm Deep x 88cm High (seat height 45cm) arms are 63.5cm high and designed to fit under the bistro table
Carver Chair Weight 16kg
Side Chair Measures 55cm Wide x 67.5cm Deep x 88cm High (seat height 45cm)
Side Chair Weight 14kg
Chairs have a robust frame (8mm thick) with comfortable seat and back (3mm thick) - arms (5mm thick) on carver chair only
Chairs have tapered front and back shape for added comfort
Please note chairs do not stack
25 Year Structural Guarantee
Attractive curved leg and scrolled feet detail
Handcrafted and finished using high grade steel
Hot dip galvanised then hand dressed for exceptional corrosion protection
Hand Etch finish for a unique antiqued patina that improves as it weathers and ages
Full instructions supplied
PLEASE NOTE: Bistro Table Sets are likely to be delivered on a pallet service. If a pallet service is not suitable, please contact us at furniture@harrod.uk.com