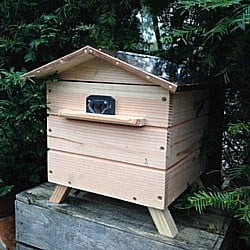 This week In Stephanie's Kitchen Garden we will be continuing to plant out our young vegetables. On the 1st May, we had an overnight ground frost. It's late in the year for ground frosts in our part of the UK and the cold nights are really holding us up in our planting out. Our greenhouse and cold frame are bursting with plants that we would normally have planted out by now. The forecasters promise us warmer temperatures next week so hopefully we can get our crops into the ground.
Our carrot and beetroot seeds, sown outside a few weeks ago, have been very sow to germinate. This may well be down to the cold nights, so we will be sowing these again and backing them up with trays sown in the greenhouse.
We will also be hanging our codling moths traps in our apple and pear trees, and our raspberry beetle traps in our fruit cage. These will be monitored for signs of these pests so that we can take action promptly if we need to. This is also an ideal time to put up the yellow sticky traps in the greenhouse.
This week we will be putting up our pea and bean frame ready for the runner bean plants that are growing in rootrainers in the greenhouse. We like to grow our plants to a reasonable size before planting them out to give them a good start.
Amongst all the activity that takes place in the garden at this time of year, we will be taking time to sit in the warm sunshine (hopefully!) and watch the comings and goings of our new bees that have just taken up residence in our hive. Such a relaxing pastime – but beware, hours can pass without you knowing!