Here at Stephanie's Kitchen Garden this week we will be planting our brassicas into our vegetable cage. We have some lovely healthy young brussel sprout, broccoli and kale plants that have been hardening off in our cold frame and are now ready to be planted into their final growing places.
We use a trug of compost and mix fish, blood and bone, lime and some crushed eggshells into it and then add this mixture to the planting holes before planting. The lime and eggshells will hopefully help prevent the dreaded clubroot. After planting we will add a cabbage collar around each plant to protect against cabbage root fly.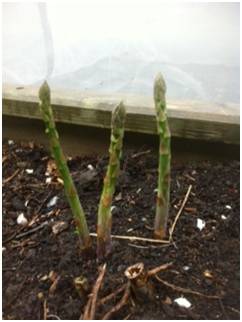 Also this week, we are potting our greenhouse crops into their final pots. Aubergines and peppers are planted in quadgrows and tomatoes into tomato success kits, tomato towers and plant halos in the greenhouse border. These will all help to keep the plants supplied with plenty of water when required.
Exciting times this week as we are harvesting our very first asparagus - a real treat and one of my own favourites.


Stephanie's Simple Asparagus Recipe
In honour of this occasion, and the lovely natural flavour of the asparagus, Stephanies's recipe this week is very simple...
Simply lightly steam the asparagus spears and serve with a soft boiled egg...pure decadence!