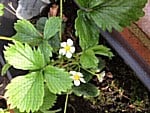 This week in the Kitchen Garden, we will be planting out peas. We have been growing Pea 'Norli' in rootrainers in the cold frame and they are now at a really good size to be planted out. We will be training them up an obelisk. Unfortunately, our local pigeon population loves pea plants, so we will surround them with chicken wire to protect them until they are well established and bearing flowers.
We will also be planting out salads and rocket into the manger near the kitchen door. These will be covered with cloches initially until the weather is a little warmer at night.
Our strawberry plants that were taken into the greenhouse in March have now begun to flower so this week we will begin standing them outside in the garden during the day to encourage the pollinating insects to do their work. Just in case our buzzing friends are still feeling a little sleepy, Jo will use a small paintbrush to undertake some hand pollination as a fail safe.
In the greenhouse this week, we will be sowing squashes and sweetcorn. These are favourites of mine as they always look good in the garden as well as tasting great too. Squash are hungry feeders so we will be starting them off in individual pots. We always start sweetcorn off in rootrainers and get really good results with them, so we will be doing the same this year.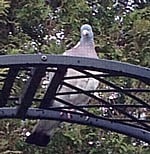 We are enjoying some beautiful warm spring weather in Stephanie's Kitchen Garden at the moment, and I am keen to take down the bubble wrap from the greenhouse. I love the way it slowly reveals the greenhouse back to all its glory and the light floods in to the crops inside. However, some nights have been extremely cold and some frosty so I am going to resist the temptation for a little bit longer......