The late Spring has certainly proved to be a challenge to vegetable growers this year, but despite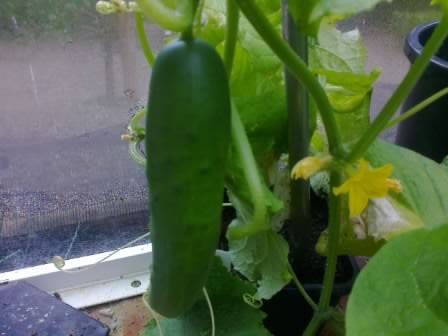 the slow start, the Kitchen Garden is filling out with lush green growth all around. We've harvested our first cucumbers this month and tomatoes are rapidly appearing on the plants in the greenhouse, waiting hopefully for some warm sunshine to ripen them ready for eating.
Aubergines, peppers and courgettes are also beginning to form and our strawberry plants are covered in an abundance of white flowers. Our fruit trees have been dripping in blossom for most of the month, and our blackcurrants and blueberry bushes have been flowering as well. We are feeding our pot grown fruit trees on a fortnightly basis and all of our fruit is grown either in a fruit cage or under netting to stop the birds from beating us to the harvest.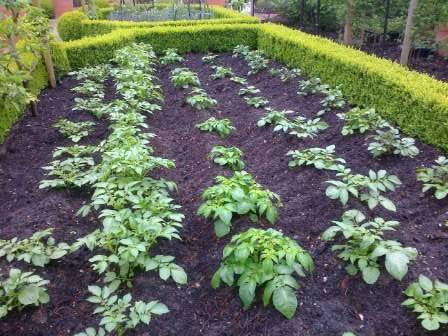 The potatoes planted in the ground have now been earthed up several times and are enjoying the wet weather, putting on lots of lush growth. The potato bags have now been completely filled with compost and are happily growing away. We started off some early potatoes in bags way back in February in the greenhouse and we will be eating these any day now.
This month we've planted out sweetcorn, underplanted with courgettes and kept them protected under a PVC tunnel. Celery has also been planted out under cover. Salads have been slow to get going outside, so we've covered them with a Longrow Super Cloche and now they are romping away. Today we've planted out our squash plants as they have been bursting out of the cold frame deperate for a nice deep root run to really get going.
During May we've sown peas, beans, courgettes, herbs, fennel and cauliflower and these are already healthy little plants ready for life outside. Our sweet potato slips arrived early in the month and these are rapidly taking over the greenhouse! We will be planting them out in the next few days and keeping them covered to protect them from the erratic weather.
This week our Superfoods Vegetable Garden arrived and was unpacked with great excitement. If you lack growing space, or have struggled to get vegetable plants growing in the cold weather, this is an excellent way to get your kitchen garden stocked up and growing. Perfect little plug plants arrive carefully packaged ready to start growing on your plot. I recommend it!
Jo has been emptying compost bins this month, using the contents to earth up our potatoes and for improving the soil in planting holes for young plants. Our tumbler composters have been particularly successful, providing rich, crumbly compost. Jo has been really impressed with the ease in which compost can be removed from the tumblers by simply parking the wheel barrow underneath and tipping it in - no heavy digging required!
Our big project this month has been a new hazel hurdle fence behind our superior beds. Not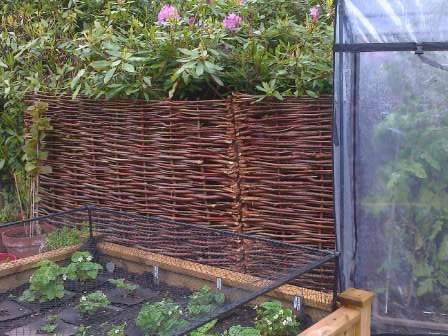 only does this look amazing, it is a practical windbreak and also hides our rabbit wire fence. It was an amazing transformation.
Last week Jo took delivery of her favourite new toy - the Sneeboer Royal Dutch Hoe. This was nominated for the Garden Product of Year at this year's Chelsea Flower Show and we can see why. Jo is happily hoeing weeds off - one of her favourite jobs made even more pleasing.
Today we have started clipping the lovely box hedge that surrounds the beds in our Kitchen Garden. This a job best done on a dull day as the sun can scorch newly clipped leaves. Jo used our Topiary Hedge Shears, which made it easy work. She also loves the Topiary Trimming Shears for clipping the large box balls. The topiary mats make it easy to clear away clippings afterwards, a tedious task made less time consuming.
Here are some of the jobs we've got planned for June in Stephanie's Kitchen Garden:
Sow salad leaves and rocket at regular intervals to ensure a continuous crop.
Continue to feed tomatoes, cucumbers and peppers weekly.
Apply a 2nd application of Nemaslug to keep the slug population at bay.
Pinch out the tops of Broad Beans to try and prevent blackfly from appearing.
We're always here to offer advice and support. Go to the Ask the Expert section on the website and Email Horticultural Advisor Jo Blackwell with your Kitchen Garden queries or Pest Control expert Gavin Hatt and they'll do their best to help!
We're busy tweeting about all things Harrod Horticultural - what we're doing, special offers, gardening tips and advice and you can always use Twitter or Facebook to get in touch with us as well. With our webteam manning the Tweet decks and Facebook site, you can be sure you'll get the best service we can offer!


Our 116-page 2013 catalogue is out now and it's packed full of gardening ideas, products and solutions to the problems every gardener faces, plus plenty more seasonal ideas to help get the harvest in and keep it fresh!

Happy gardening!